In Malmköping a successful photo-exhibition was shown in the town hall, in the middle of the market place. What made those famous photographers want to move to this small town?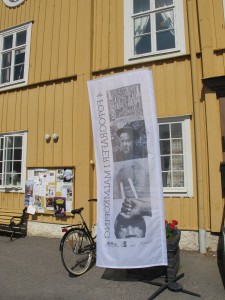 Malmköping:
Is situated in the heart of Sörmland – a lush region rich in lakes – only one hour from Stockholm. It's one of the few urban sites that wasn't totally destroyed during Sweden's 1960s and -70s "cultural revolution" when most of the ancient wooden houses were demolished in a socialist modernizing frenzy. This small town has kept many of its old houses and thus preserved its charm and soul.
Its founder – G A von Siegroth – had hoped that this village called Malma (ore) would develop into a large city however King Gustaf III thought otherwise and Malmahed was founded in 1785 where the regional regiment was located. To remind the visitor of its past, a huge soldier has been placed in the roundabout at the entrance of Malmköping. The town still has some fine regiment's buildings as well as a museum filled with ancient trams from around the country. A tour is offered to the summer-visitor.
A yearly market draws people from all over the country with music, agricultural products, crafts and shows. Tents and shops are put up during this three-day long festival on the field where the regiment used to exercise. This otherwise somewhat dormant place then comes to life.
The reoccurring food markets also draw more and more people especially with the increasing demands for ecologically and nearby produced crops – so-called slow food.
Poets, amongst whom Bo Setterlind, have lingered in the region and written beautifully about its scenery and famous painters such as Åke W. Andersson have taken a pleasure in drawing landscape paintings.
Malmköping has become known world-wide lately thanks to the international best-seller The Hundred-Year old Man who Climbed out the Window and Disappeared (by Jonas Jonasson) with its hero, the 100-year old Allan Larsson, who escaped the home for old people and his adventures that takes the reader around the world during the 20th century.  There are even tours in his footsteps around the little town and its vicinity…
With all this in mind, it's not so surprising that four of Sweden's best photographers have also found their way to this charming township.
Four photographers:
This summer we had the privilege of viewing some of Sweden's best photographers in Malmköping that despite King Gustaf III's resistance is becoming hipper and hipper! The mostly black and white photographs were hung in simple but striking wooden stands.
Bo Arrhed told me that he and his wife decided to settle there when their "dream-house" came up for sale. The green-painted ancient wooden house with its lovely little garden is perfectly situated in the main street with the small shop – with the town's best ice cream – that Bo's wife, Anita, is responsible for.
When I asked Bo why his famous portraits displayed here, were in black and white, he showed me one of his photography books where they were in colour. I agreed that, although they were interesting too, in this setting, together with the other photographers' pictures, it was a better choice. The shadows and lights in black and white give a sense of timelessness and eternity like in his portrait of the homeless man with a plaster on his forehead.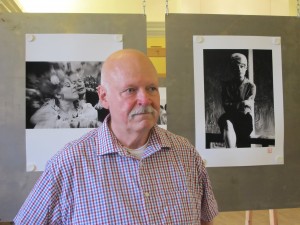 Bo Arrhed 
Bo presents himself as an "all-around" photographer – capable of taking all sorts of pictures except animals. He has worked extensively for different well-known Swedish magazines, During the -60s and -70s he photographed people like the Beatles, Rolling Stones and Jimmy Hendrix, which says a whole lot about his skilfulness.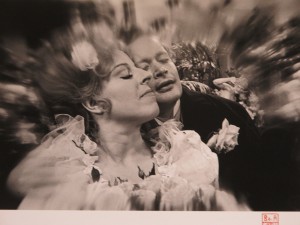 Magnus Elander has been living here for eight years now – that is when he's not out on some expedition to photograph wild animals because that's his speciality. He told a mesmerized public about one of his trips to Greenland. To live in minus 25 degrees in a tiny room for quite a length of time with as sole companions, polar bears, one has to be either mad or really passionate!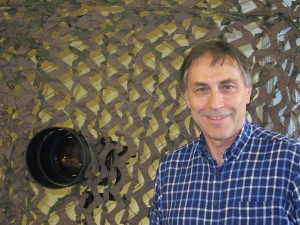 During a trip to the Arctic "Riviera" he was sun tanning along with three walruses. After having eaten a full meal of one ton of mussels, they sleep during four days. "If the animals aren't afraid of you, they're not aggressive," Magnus assured the audience. "To remain entirely still for a long time is a must for an animal photographer though," he continued and explained that that was how he managed to take his famous picture of a wood-grouse calling for his hen.
Magnus calls his animal photographs "portraits" because, according to him, each one has his individuality just as humans do. To get close to the wild animals, he puts out food for them, hides, and then waits and hopes for the best. It has worked out well as I could see, as his pictures are sensational and original. The number of prices he's won are evidence enough of his skills. His pictures remind me of another great Swedish artist and animal painter – Bruno Liljefors – and the famous painter and ornithologist Lars Johnson that Magnus has travelled with a few tim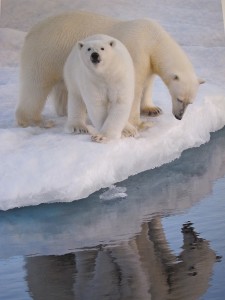 Ralf Turander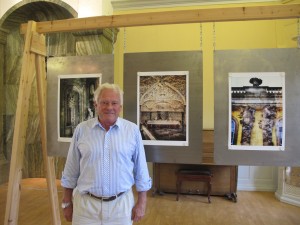 moved in to Malmköping relatively recently but is already fully integrated. "Our moving here was totally unplanned. My wife and I were here on a short visit and saw that the town's court-house was for sale. We both immediately fell in love with it and bought it!" Ralf tells me. Despite the unusually cold and long winter, they don't regret their decision at all. "There is a soul here, people are so kind and helpful."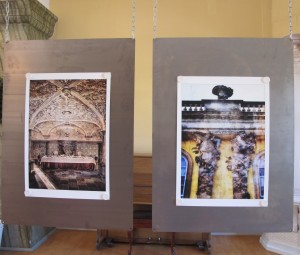 Ralf is a self-made man who had the chance to start as an apprentice in the darkroom at one of Sweden's best photo-ateliers, Tio Fotografer. "It took a long time then to develop the pictures". Through the known fashion-photographer Stickan Forsberg, he got introduced into that world. That led to a job for Harper's Bazaar. "For that I even got a leave from the Military service!" Ralf says with a smile. He continued with Richard Avedon and Hiro, Paris fashion collections and advertising. In Stockholm he started his own studio (Jan-Ralf) that grew into a group of photographers. Then it was the Ateljé before moving to Southern Sweden after some years in France.
I was impressed not only by his photographic skills but equally by his many picture books on such diverse subjects as fishing, castles, motorcycles… One series of double portraits particularly drew my attention. Why two pictures of the same mirroring each other? "Well we see ourselves in a mirror and our interlocutor sees us differently". It is indeed a different and interesting perspective.
In the castle Haga, the crown-princess Victoria and her husband Daniel have both hung up photographs of themselves taken by Ralf Turander. This well-prized photographer has taken all sorts of pictures from portraits, to interiors, to ancient houses and landscapes.
Hans Gedda is the last of the four but nevertheless the only one born in the region. His atelier is in the centre of Malmköping and Hans receives me in the midst of his blown-up photographs and own sculptures. It's difficult to concentrate on the interview surrounded as I am by all these fantastic works of art and especially the pictures from circuses, still lives, portraits… the eye is drawn here and there.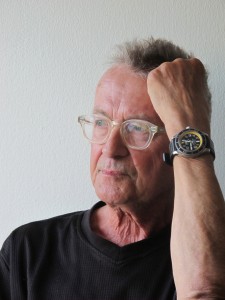 Geraldine Chaplin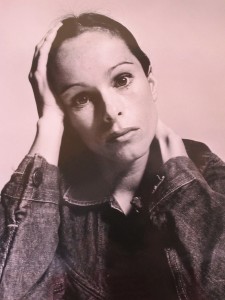 "I work fast" he says when I point at one of his wooden sculptures that he made with an electric saw. I understood that he is a true genius, working intuitively. Even his schoolteacher understood that this young boy was special and he won the school-paper's first photo-prize. That soon led to jobs with the best of photographers. The capital was waiting for him.
As several other photographers I met, Hans likes the anonymity of the darkroom. Can it be shyness? Like the circus artists that he photographed and lived with it's a world of magic.
Hans never converted from analogue to digital as most of his colleagues have done. I can't but be in awe for an art of the past that somehow is still superior to its digital follow-up although that has made our work so much easier.
His marriage to a French woman leads him to Geraldine Chaplin and Jane Birkin's exquisite portrait. However it's Mandela's striking black and white portrait – with long shadows and his freedom-fist lifted at his forehead – that made me linger. "I was Olof Palme's photographer and probably because of that I got a moment alone with Mandela," he told me. The Foreign Minister, Sten Anderson, held the lamp for him as he took the pictures with his Hasselblad. Not every photographer can brag about having a minister as assistant! The last picture of this roll of film became this famous photography. Well prized and exhibited at the National and Modern museum, Hans Gedda is well worth our admiration.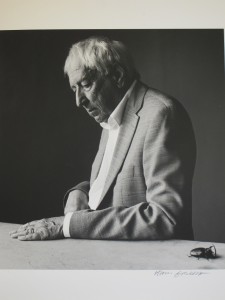 Tranströmmer
He could also have become an elite gymnast, which he was for a while but I'm happy that he did choose photography at the end for now we have the pleasure of admiring all his wonderful pictures.
This small urban centre that never became a city hides its jewels well but when they are discovered and shown they are well worth the detour. The town-house has come to life again. The Sleeping Beauty has definitely woken up, so don't miss coming to see one of Sweden's most charming places and who knows if you might bump into one of these great photographers at the pink-coloured local café on the main street or having lunch at the local inn?