Renewal in the Arab world was the title of this interesting two-day conference at the Institut du Monde Arabe in Paris. Jack Lang, former Minister of Culture, the Institute's director inaugurated the conference together with President Hollande.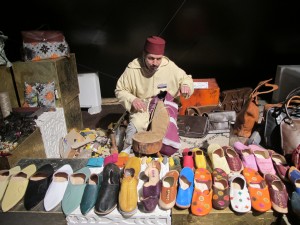 Dialogue and women:
Can the answer to terror be culture? That's what I wanted to figure out during this conference. Dialogue is important to create bridges between secular France and the conservative and deeply religious Arab countries.
Arab women shared their experiences with an intrigued Parisian audience.
Manal el Sharif – a Saudi feminist – explained that instead of confronting men and society head on, the women pursued a "pink revolution".  That might prove to be a smart move in one of the world's most repressive governments regarding women (who aren't even allowed to drive!) and minorities. It implies going ahead with projects and only afterwards asking the husband/father for permission.
The younger generation is even balder since the introduction of Facebook and Twitter in the country. They have discovered the pleasure of talking to the opposite sex on Internet, a new phenomenon in this otherwise totally segregated country.
Since one year, Saudi women are allowed to inherit shares and be active in their family businesses (nearly all business is privately owned). Independent NGOs have also surfaced lately where women can leave their marks. "Arab Women Rising" written by Nafeesa Syeed and Rahilla Zafar gives a good insight into Saudi women's fate.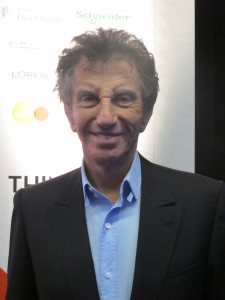 Jack Lang
Aïcha ech-Chenna – a Marockan feminist – was horrified at what she viewed as being a return to more conservative views on women. "Before the 70s and 80s, nobody was veiled in Morocco, now it's rare to see women who aren't", she complained. The actual government stems from an Islamist past. Despite improved laws for women since 2004, their lot hasn't changed in the minds of most people. Divorced or unmarried women suffer the most. A woman who gets pregnant outside of marriage is still punishable by law whilst the man can go free.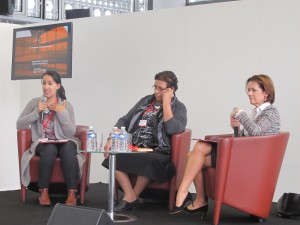 Tunisia is the most gender equal country in the Arab world according to activist Amira Yahyaouni. For the elite it works out well but for the rest of the society, reality is different.
The worst situation for women and children however one finds in war-ridden Syria. Dr Rola Hallam explained some of the horrors encountered on a daily basis by civilians and twelve million homeless inside and outside the country. Famine and poverty has reached epic levels.
The entire health-care system has been destroyed by the regime (90%) and by rebels (10%) who have systematically destroyed the centres/hospitals and harassed or killed its doctors. "This is a global problem that we must tackle on an international level because diseases know no borders and polio for example is spreading. " Rola started Hands for Syria and together with her team she tries to get funds to build new health-care units and train medics.
Finally I want to mention the interesting Egyptian/Canadian researcher, Shereen el Feki, who has taking a different approach to women's situation. Her speciality is sexuality and her book "Sex & the Citadel" has stirred some controversy in the Arab world. "Everything starts in the bedroom" she said and explained that: "sexuality in Egypt is more related to power than to desire". Female genital mutilation (FGM) is still very prevalent among middle and lower classes in Egypt. "The problem is a lack of respect for women" which seems to be rampant with more than 90% of women having experienced some form of sexual harassment in the country (according to a UN-report).
Shereen doesn't give up however and is envisaging another research with this time the men being interviewed about their sexual problems and/or views. "Some taboos were broken during the revolution and now women and men speak rather openly about their concerns anonymously on the web."
There is an abyss between the oppressive laws and deeply seated patriarchal systems in the Arab world on one side and the women's incredible strength and inventiveness on the other.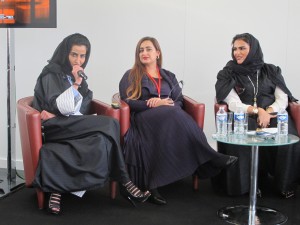 Interactive museums:
Culturally wise, the Arab world is changing too with huge investments being made in the hope of attracting tourists as well as students and of showing the region's specificities.
Mesopotamia used to cover vast lands but not many archaeological discoveries have been made in the United Arab Emirates (UAE) however. Despite that three important museums are being built there:
The Louvre in Abu Dhabi, Guggenheim and Al Zayed National Museum. Moreover, Dubai – the country's largest city – has become the region's most important art-trade centre.
Hissa Al Dhaheri – a Saudi beauty in high heels wearing a slight veil and manager for the Louvre in Abu Dhabi – expressed her passion for the project. "The Museum will present collections from different epochs borrowed from museums or private collectors to show history from a global perspective. "
The Guggenheim-hall – designedby Frank Gehry –situated on the island Saadyat in Abu Dhabi showing contemporary and modern art will be inaugurated in 2017.
Al Zayed National Museum is telling the story about Sheikh Zayed bin Sultan Al Nahyan (1918-2004) who united UAE in 1971. The museum, to be inaugurated in 2016, will incorporate both ethnographic and Islamic art but it shall mostly be an active centre for education, research, exhibitions and conferences. The sheik's interest in falconry inspired the architect to construct the building in the form of falcon-feathers made out of steel, the longest one being 125 meters high.
Active art:
In the meantime there is the Jeddah Art Week in Saudi Arabia. Lina Lazaar Jameel who started that art week discovered that there was a group of Philippines who took pictures of their view of Saudi Arabia. She decided to show them (among other contemporary artists) and the success was immediate! 90 % of the workers in the Gulf are immigrants and few of them have the same privileges as the Saudis.
Ammar Abo Bakris an Egyptian art professor and graffiti artist. "I want everybody to have access to art. We need to take art to the streets because the majority of Egyptians never set foot in galleries." The Arab Spring made a positive impact on graffiti artists. A new movement has started with interactivity between citizens and artists.
The journalist Hind Meddeb explained why ElectroChaabi (https://www.youtube.com/watch?v=hziO8XoFLzY) has become so popular in Egypt. "The youth continue to criticize corruption and hypocrisy through their music", she said. Rapp and electro are some of their tools. "The Arab world isn't Islamism or dictatorships but the youth's energy and freedom." As the large majority of the population is under the age of 25, Hind does have a point here.
Adel Esaadani has created a cultural association in his homeland Morocco and insists on the importance of culture for social stability and human development. "How shall an individual who can't read or write go and vote?" he wondered. "People need to get a basic education if we're to hope for democracy." He aspires to take the children along to theatre plays as well as to other cultural activities. "There are old slaughter-houses that I hope to recuperate and open up for the public where our youth can be culturally active", he said.
So of course that there are innovative forces within most Arab countries. If you're still doubtful about their sense of renewal, just take a lock at this incredible Egyptian invention: click-funding (http://because.bz/gamechangers/bassita-at-the-first-innovative-international-forum-of-the-arab-world-in-paris/).
Despite some countries' economical crisis, dictatorships or severe imams, there is renewal, art and creativity everywhere. Humans always keep striving forward. There is no barrier strong enough to hinder their inventiveness.
Anne Edelstam, Paris.