Fashion is far from superficial and, especially in France, the profession is taken seriously. It's thanks to the fashion industry that art crafts continue that otherwise would have disappeared.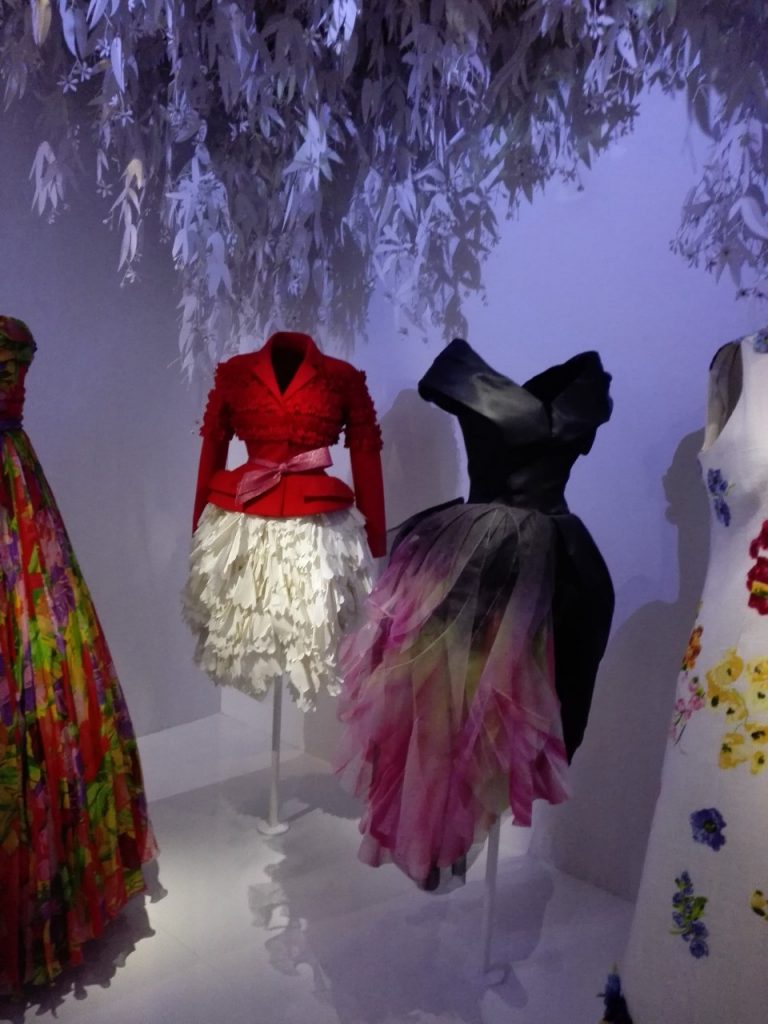 Christian Dior at the Arts Décoratifs:
This amazing exhibition that celebrates Dior's 70s jubilee is called "the dream creator". Several floors showing the most fantastic creations that this fashion house has created keep the dreams alive. Fashion designers Yves Saint Laurent, Marc Bohan, Gianfranco Ferré, John Galliano, Raf Simons and the actual director, Maria Grazia Chiuri, followed in Christian Dior's footsteps. Each one giving their personal touch while staying true to Dior's taste and style.
More than 300 creations from 1947 until now have common traits, albeit stemming from different life stories, inspirations, travels and backgrounds. Cloths, photographs, illustrations, sketches, letters, advertisements, as well as jewels, perfume flasks, belts, hats, shoes and bags add to the exhibition's interest.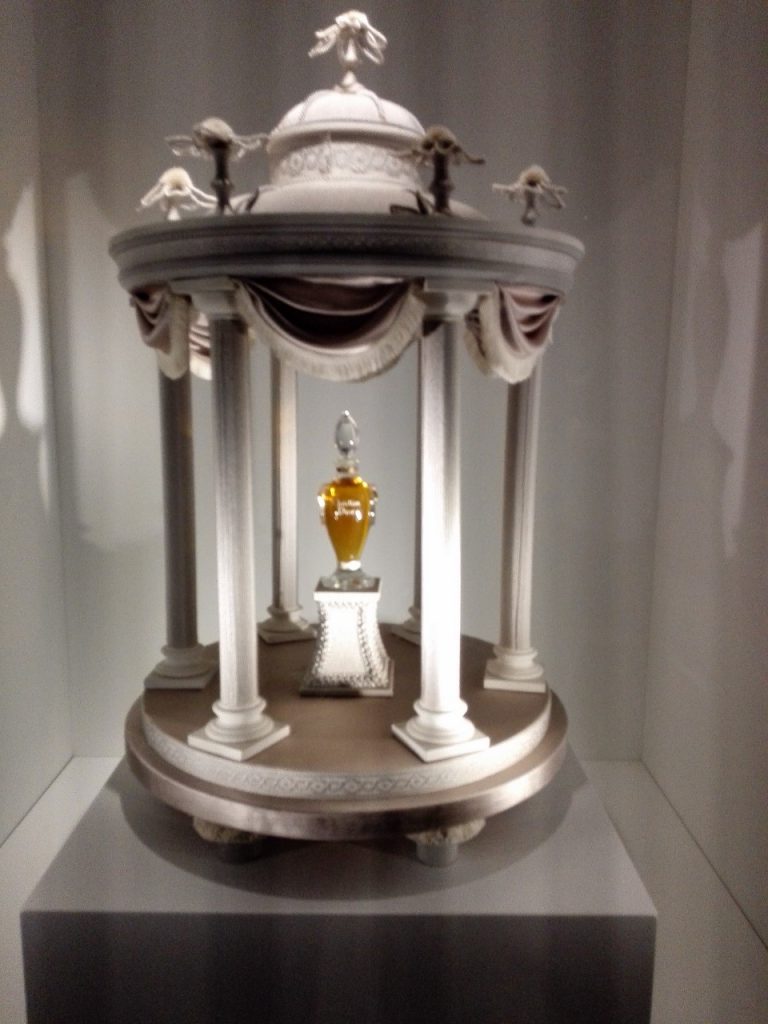 Christian Dior was a great art-lover, as the visitor learns in this retrospective, where some of his works of art, antique furniture as well as artefacts are presented. The three thousand square meter large show follows a chronological and thematic-order. When I arrived, the queue circled long outside the museum.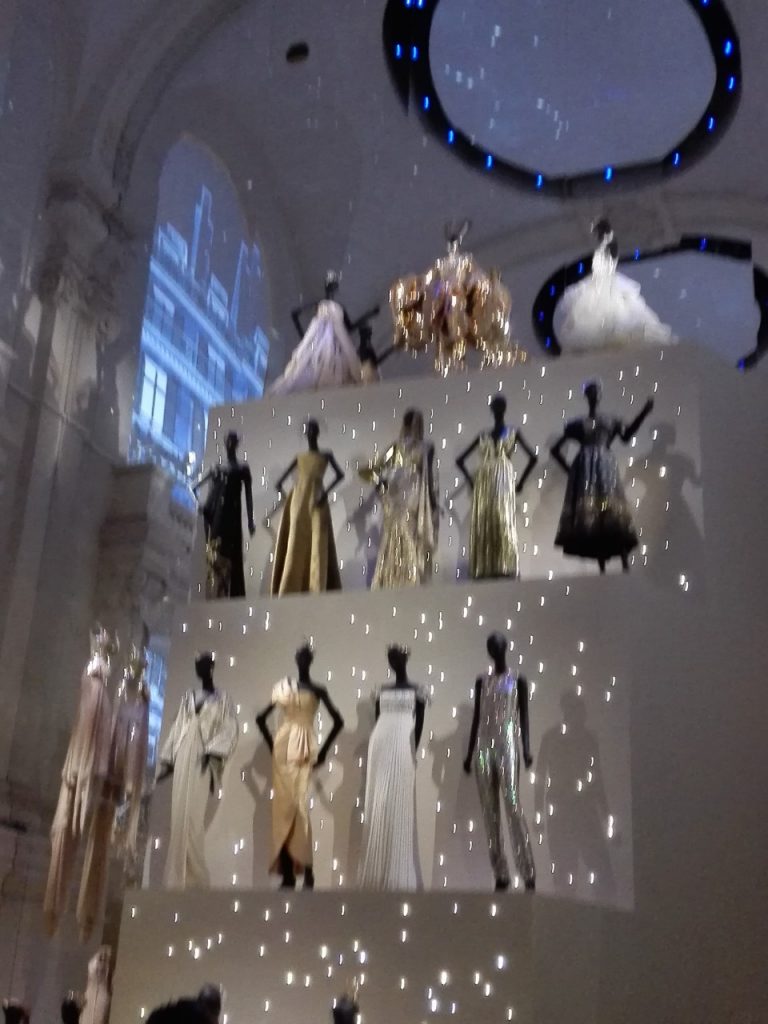 A dream comes true:
The fashion house opened in 1947, just a couple of years after WWII. Christian Dior launched the feminine look – abandoning the masculine war silhouette – with wide skirts, thin waists and soft shoulders. He helped to develop the otherwise stagnant textile industry, embroidery, and other art-crafts such as accessories and jewels. Paris recaptured its place as the capital of fashion.
The exhibition starts with displaying Christian Dior's childhood propriety in Granville with its blooming garden that inspired him throughout his life. "After women, flowers are what God made best in this world." His interest for fashion started after his art-gallery period (1928- 1934). A mini-gallery with some of his works of art is part of the exposition with works of Giacometti, Dali, Calder, Max Jacob, Jean Cocteau. These artists, some of whom became his friends, inspired his fashion designs. Travels and Orientalism also became part of his sphere of interests. "My foremost inspiration is the female body. It's the fashion designer's duty to show its natural beauty."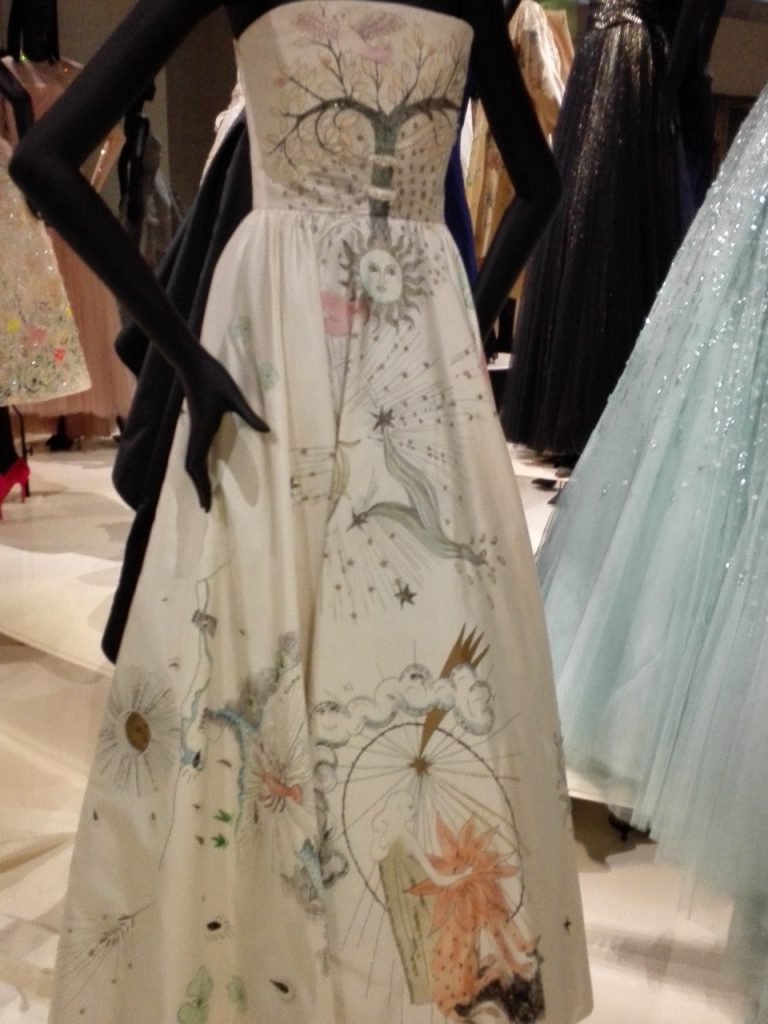 After his death, in 1957, his fashion house continued with the young and inexperienced Yves Saint Laurent, who passed the test with bravura. When he opened his own fashion house, different fashion designers replaced him, Maria Grazia Chiuri being the last in line, with her feministic vision of fashion. They have continued in Dior's spirit: "making women happier and more beautiful" thanks to their creations.
On one floor, the visitor gets a view into the world of experts and techniques via an atelier where seamstresses work, surrounded by models, cutters, sketches and cloths. In Paris back yards one still finds craftsmen that have disappeared in many parts of the world to be replaced by industrially made clothes. It's thanks to France's Haute Couture that these otherwise dying professions continue to thrive.
Films, fashion shows and videos demonstrate how Dior's fashion has changed and evolved throughout the ages. The exhibition finishes in style in a glittering ball-room, displaying some stars' dresses made by Dior, such as Ingrid Bergman, Princess Grace or Sharon Stone.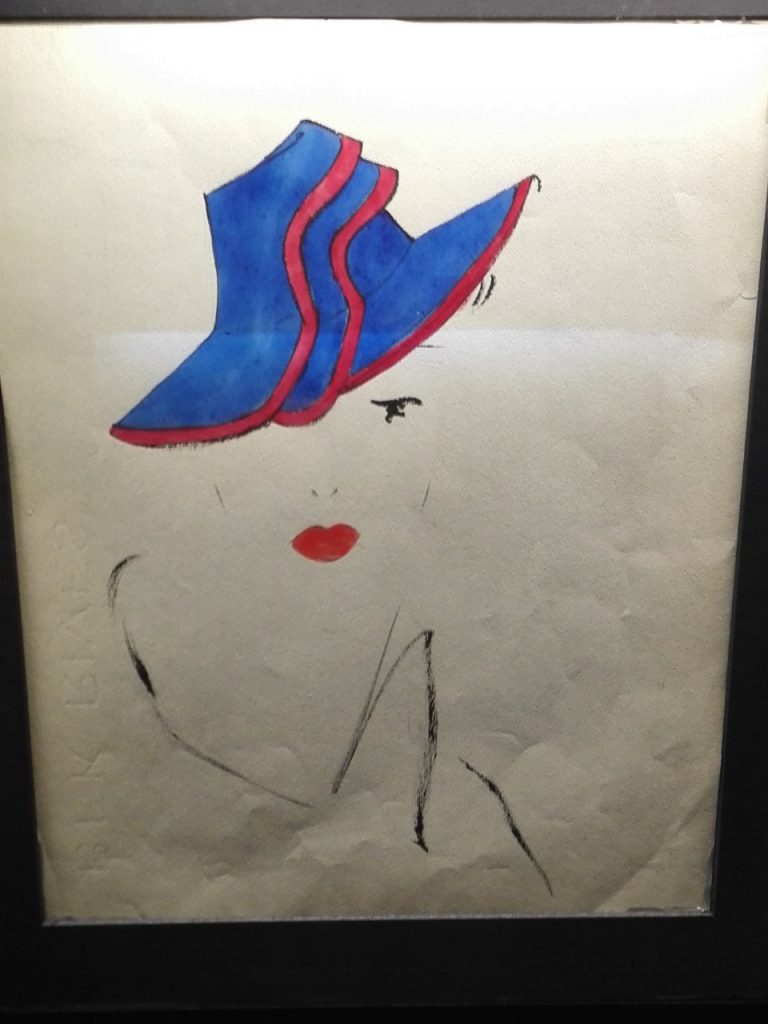 How dull our lives would be without our visions and creations! Beauty is everywhere but sometimes we need to be reminded of it. So I encourage those among you, who can, to come to Paris, dreaming away in glitter and vanity for a while.
Anne Edelstam, Paris