Her movie "Soeurs d'Armes", or Sisters in Arms, is a realistic movie about a group of female Kurdish soldiers.
The French journalist, Caroline Forest, who used to work for the French magazine, Charlie Hebdo that was attacked during a Paris terror assault, has taken up filming.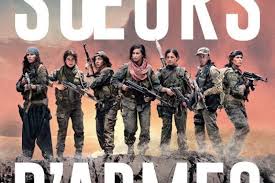 The movie came out in Paris this fall and is coming to USA by the end of October 2019. It's a thriller based on investigative journalism. The viewer is invited to follow a group of Kurdish female soldiers, who have been joined by some foreign volunteers. That 'international brigade' encompasses among others, one American, one German and two young French women, Kenza and Jaël, who arrived there to help their 'sisters in arms" combat Daesh/Isis warriors.
Parallel to these scenes, filmed in beautiful desert landscapes, runs the story of a Yazidi young woman, Zara, who's been captured and sold as a sex slave to an English Daesh warrior. After a nerve-wracking escape, she decides to join the Kurdish women force. If you want to learn more about these women, fleeing slavery in the hands of Daesh, I recommend the excellent book, written by an Iraqi journalist and poet, Dunya Mikhail, called 'The Beekeeper of Sinjar'.
Returning to our movie however: there is a dramatic combat scene of how these Kurdish and international women soldiers got one of our contemporary's world's most bloodthirsty terror groups to flee. It's the same people whose perverted ideology is about terror, persecution and arbitrary executions that the Turkish army is currently letting out of jails and camps guarded by Kurds. The US army, by leaving the country, has let loose a monster that nobody knows how and where it will spread.
The future of the country now seems to be in the hands of its bloodthirsty dictator: Bashar al-Assad. The Cannes film festival awarded best documentary, 'For Sama', was filmed during the occupation of Aleppo. It shows the horrors of its long siege and attacks on civilians.
All Syrian hopes for freedom and democracy have been crushed by the atrocities committed by Assad on his own people on one hand, and Daesh and now the Turks on the other. Christians as well as Yazidis that haven't been brutally murdered have fled and are filling up the already overcrowded camps.
Soeurs d'Armes isn't a feminist movie per se but a true adventure film, with incredible war-scenes and fantastic views. The viewer discovers an enclave, in Kurdistan, in the otherwise so patriarchal Middle Eastern world. Here men and women fight side by side and Yazidies, Christians and Muslims live peacefully alongside each other.
It's for this half-autonomous Kurdish state, now on the way of being extinguished, that these brigades have been fighting. The over 30 million Kurds, mostly Muslims, have regularly been submitted to genocides but have managed to survive despite that. It's probably the world's largest stateless population.
For how long will this massacre be permitted to continue without anybody trying to stop it? And what are their Muslim brothers and sisters from oil-rich countries doing to help them? Where is their sense of solidarity?
Anne Edelstam, Paris.