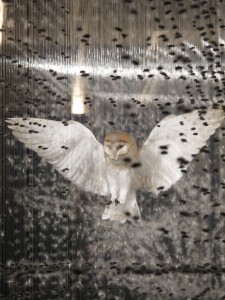 Denna udda utställning visas på Paris "concièrgerie" – slottsfogdes bostad – närmare känt som Marie-Antoinettes och Ludvig XVI:s fängelsehåla. Mitt i den äldsta delen av huvudstaden, längst med floden, ligger detta gamla kungapalats som nu får dela sina salar med diverse konstnärers syn på djur.
This exhibition of a different kind is shown at Paris "concièrgerie"- more known as the prison of the late King Louis XVI and his wife Marie-Antoinette. This ancient palace is situated along the river Seine, in the oldest part of the capital. Its vaults share for the time being their space with different artists views on animals.
Vilka är då dessa andra levande varelser?
Verken som är utställda är deras svar på frågan angående djuren som lever jäms med oss på jorden. Vad betyder deras tystnad? Vad ser de när de vilar sina ögon på oss och utöver oss?
Djurlivet tillhör en samtida reflektion som många av oss funderar över. För vissa konstnärer innebär djuren enbart ett motiv i tjänst åt det personliga skapandet. Olika men nära oss, utövar de vår emotionella projektion.
Därför – genom att göra dem till objekt – återspeglar vissa verk en slags känslomässig tillbakadragning. Människan sätts på en piedestal i jämförelse med djuren. Ibland ser vi i djuren en deformerad bild av oss själva. Gapet mellan naturen och kulturen förstärks.
Who are these others?
That is the question that a number of artists have been asked. Their answers can be seen here through their art works. More questions follow though such as: what does their silence imply? What do the animals see when they look at us or beyond us? The animal world represents a contemporary reflection. Some artists only use the animals as a subject in service of a personal creation. For some, they are different from us, but also a mirror of our own emotional balance. By turning them into objects, they represent an emotional withdrawal. Man is put on a piedestal in comparison to the animals. Sometimes we see in the animals a deformed image of ourselves. The gap is then widened between nature and culture.
Barnen närmare djurriket än kultureliten.
Under jullovet, trängs det en massa barnfamiljer på utställningen. När jag går in i den nakna salen med dess ståtliga alkov, slås jag av skönheten i de enkla linjerna. Det blir en chockartad upplevelse att konfronteras med en vit uggla omgiven av tusentals flugor i en upplyst strålkaskad runt hörnet. Flera verk gömmer sig bland skuggorna och dyker plötsligt upp. En flock hästar i trä hänger i taket, nedanför stöter jag på en ren med enorma horn som flyter ut och aldrig tycks ta slut. Den lilla pojken bredvid mig vill klättra på hornen och stoppas i sista minuten av sin pappa. Hans lillasyster dras till valen som vilar på en hopkrupen man.
genom att göra dem till objekt – återspeglar vissa verk en slags känslomässig tillbakadragning. Levande flugor flyger omkring i en gigantisk tygspiral som väcker uppmärksamhet. Jag ruggar till av en hästliknande skulptur gjord av flera hästskinn och tänker på de som slaktas och äts upp. Hästkött är fortfarande väldigt uppskattat i Frankrike. Men i Kambodja äter de paddor, vi äter surströmming, i vissa stammar slaktar man sälar för att överleva… Vem har rätt att döma vem?
På vägen ut konfronteras jag med en video med människor med nakna överkroppar och djuransikten. Det djuriska i människan är aldrig långt borta tänker jag.
Kanske är det ändå passande att visa denna utställning just här – en före detta fängelsehåla – i alla fall om man ska tolka konstnärernas syn på hur vi behandlar de där "andra"? De djur vi har så svårt att ta till oss eller kan det vara det djuriska inom oss? Vill jag vara varg eller lammunge? Vi har trots allt alltid ett val. Det inbjuder till eftertanke inför hur vi vill leva under det nya året.