Youssef Nabil's photography
Paris är känt som en filmstad men börjar alltmer framträda även som ett centrum för fotografiutställningar. Diane Arbus retrospektiv ger en bister men klar bild av Amerika under 1950- och -60talen; Jean-Paul Goudes retrospektiv är tvärtemot glatt och färgrikt och slutligen Youssef Nabil visar upp nostalgiska och provokativa fotografier från Mellersta Östern.
Paris being known as a 'film-capital', is evolving towards a center for great photography shows. Diane Arbus reptrospective gives a somber albeit clear picture of America in the the 1950s-60s; the retrospective of Jean-Paul Goude is on the contrary playful and full of colour and finally Youssef Nabil's show opens up the door for nostalgic Middle Eastern movies.
Youssef Nabil
Diane Arbus
Diane levde och verkade i New York 1923-71. Hon var en nyckelfigur i 1900-talets konstvärld. Jeu de Paume visar i detta första retrospektiv ett urval på cirka 200 fotografier. Dessa har lånats från muséer och från privata kollektioner och innefattar allt från hennes mest kända till andra helt okända bilder.
Efter en tid som modefotograf, revolutionerade hon konsten med sina teman och sitt raka och enkla sätt att fotografera människor i vad de har som intimast. New York var den stad där hon hittade de flesta av sina motiv. Men hon nöjde sig inte med att gå runt med kameran på gatorna utan hon tog sig in i nudistläger, bland cirkusaktörer, hos transvestiter, homosexuella och unga som gamla par. Bildmaterialet är inte konstlat utan taget i stunden. De kanske mest störande bilderna är de från ett mentalsjukhus och av handikappade. Deras förtvivlade blickar följde mig ut på Paris gator och släppte inte taget trots en solig vinterdag.
Inte heller tycktes de lämna henne ifred för hon tog livet av sig i höjden av sin karriär.
Denna borgerligt uppfostrade kvinna lämnade tryggheten – eller kanske ett alltför kvävande hem – och rebellerade i tidig ålder. Hon attraherades av utsatta och udda gestalter och kanske drogs hon till sist ned i deras avgrund och lyckades inte hitta mod att ta sig upp igen?
Det får vi nog aldrig veta men vi kan ana hennes spegelbild i fotografierna. Det är sedan upp till betraktaren om han vill se världen genom hennes ögon eller vända bort blicken.
Diane Arbus
Diane lived and worked in New York between 1923-71. She was a key-figure within the art-world of the 1900s. Jeu de Paume show in this first retrospective of around 200 pictures – borrowed from museums and private collections – known as well as unknown photographies of hers.
After some time as a fashion photographer, she revolutionized the art with her themes and her simple and direct way of photographing individuals in their most intimate lives. She found most of her motives in New York. But she didn't only stroll around the streets in search of motives, she integrated nudist camps and circuses; met transvestites, homosexuals and old as well as young couples. Her pictures give a sensation of immediacy unlike stiff posing. The photographs that disturbed me most were the ones from a mental hospital and the ones of handicapped. Their desperate looks followed me out into the streets of Paris and didn't leave me despite that sunny winterday.
They don't seem to have left her either because she committed suicide in the height of her career. Was it despite her rather bourgeois upbringing or maybe because of it that she was attracted towards odd and vulnerable individuals? Or maybe she was dragged down by them and couldn't find the courage to work herself up again?
We will never know for sure, we can only imagine it through the mirroring of her photographies. It is up to the visitor to decide if he wishes to see the world through her lens or if he prefers to close his eyes.
Jean-Paul Goude
Fyrtio års karriär ställs ut på Musée des Arts Décoratifs i form av fotografier, videofilmer, installationer, modeteckningar, affischer, objekt. Dessa visas i intima salar blandat med en gigantisk installation av ett lokomotiv längs med vilken filmer kan beskådas som återger den franska revolutionens 200-års jubileum 1989. President Mitterands förtroende för denna konstnär var så stort att han anlitade Goude för detta för nationen så viktiga evenemang. Uppförstorade fotografier av de olika etniska grupperna ur kortegen hänger runt om i salen för att illustrera den multikulturella värld vi lever i.
Goudes bild av Grace Jones
Goude började sin karriär som illustratör och dekoratör innan han fortsatte med reklam, fotografier och kläder.
"Mitt yrke cirkulerar runt skönheten. Mitt intresse för mystiska mandariner och afrikanska prinsessor kommer från en barnslig och förtryckt dröm om resor till exotiska länder" förklarar konstnären.
En kvinna med uppsatt hår, klädd i en vit, fotlång sidenklänning cirkulerar runt i salen och låter sig villigt fotograferas. Jag får en känsla av att befinna mig mer på teatern än på ett museum. Grace Jones, Goudes musa, uppblåsta bilder i alla möjliga attiraljer och poser lite var stans ger ytterligare en overklig touche till helheten. Platåskor höga som styltor, massor med solglasögon, masker, hattar utgör finurliga tillrop i de färgglada montrarna. Goude drar sig inte för att – likt en konstnärlig kirurg – förlänga, förhärliga, och klippa i fotografierna av sina modeller.
Plötsligt befinner jag mig i en tunnelbanestation med tunnelbanan som rusar förbi men med tillräckligt avstånd för att jag ska hinna beundra reklambilderna på väggarna bakom. Kända märken som Chanel och Guerlain har använt sig av Goude för att göra sina reklamer.
Humorn och självironin är aldrig långt borta i denna upplyftande och annorlunda utställning som inte bör missas.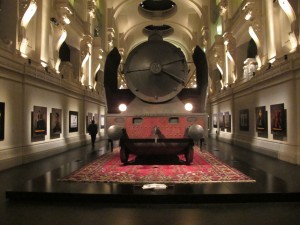 Jean-Paul Goude
I discovered forty years of a rich career of this extraordinary artist at the Musée des Arts Décoratifs. Videos, photos, installations, objects are shown in smaller, intimate rooms adjacent to a huge hall with in its center a locomotive that was used to celebrate the French revolution's 200 year jubilee, in 1989. President Mitterand's trust in Goude was such that he accorded him free hands to organize this grand event. Films related to the event as well as huge photographes are shown all around the room. Different ethnical groups were photographed to enhance the multicultural society we live in.
Goude started his career as an illustrator and decorator before he continued with publicity, photography and clothes.
"My profession circles around beauty. My interest for mystical Mandarines and African princesses comes from a childish longing for exotic countries," he says.
A woman dressed in a white, long silk dress, circulates around the room and gives the spectator a sence of being at the theater rather than at a museum. Grace Jones' – Goude's muse – blown-up pictures, in all kinds of poses and clothes, give another surreal touche to the exhibition. Shoes with heals so high that they resemble more objects than something to wear, masses of similar looking sunglasses, masks and hats are just a few of the objects assembled in colourful boxes. Goude – as an art surgeon – cuts, extends, beautify the pictures of his models.
Suddenly I find myself in a metro-station with the train passing by but not fast enough so that I don't see the publicity on the walls behind. Chanel and Guerlin are but a few of the known brands that have used Goude for their publicity.
The humor and the self-irony are never too far away in this different and vigorating exhibition not to be missed.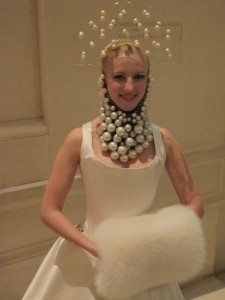 Youssef Nabil
På Maison Européenne de la Photographie möts jag av en helt annan värld. I denna fantastiska gamla byggnad tar jag mig upp på övervåningen där jag träffar Youssef, en glad egyptier, bosatt i New York. Hans fotografier andas både glädje och nostalgi. "Jag är passionerad av film, speciellt de gamla egyptiska filmerna" anförtror han mig.
Det kan jag ana när jag promenerar runt i salarna och betraktar de poserande figurerna som har retuscherats i färg, likt de gamla affischerna jag har sett på Kairos gator. Modellerna liknar atmosfären i de egyptiska svart-vita femtio-tals filmerna.
Även de franska skådespelarna som Catherine Deneuve och Fanny Ardant för att inte nämna Charlotte Rampling har en aura av en svunnen tid, utklädda som de är i svarta slöjor och målade. Men han porträtterar också individer av folket som en hel serie fiskare från Yemen, utställda tätt bredvid varandra, à la Andy Warhol.
Youssef fotograferar även sig själv under olika resor och poser. I en triptyk tar han med oss från livet till döden då han försvinner i ett alltför blått hav under en surrealistiskt vacker solnedgång. Det är en resa i tiden samt in i vårt inre.
Det är genom denna subtila konstform mellan fotografering och måleri, som Youssef för oss till en fantasifull realitet i dagens Mellersta Östern via Egyptens guldår inom filmkonsten och allt den hade att erbjuda av flamboyant stil.
Med dessa tre helt olika – i stil och teman – utställningar finns det utrymme för alla slags drömmar eller mardrömmar i dagens Paris.
Youssef Nabil
At the Maison de la Photographie in Paris art district, I step into an entirely different atmosphere. In this extraordinary, ancient building I walk up the stairs to meet a smiling Egyptian, living in New York, apparently far away from the "revolutionaries". But he makes his own revolution with these exotic pictures, offering a mixture of nostalgia and happiness.
"I'm thrilled by the old black and white Egyptian movies," he tells me. I can tell that from his pictures that are painted upon, like the ones I saw years ago in the streets of Cairo. They used to be publicity posters. Even his models bring back older times. Catherine Deneuve, Charlotte Rampling and Fanny Ardant just to mention a few are clad in transparent veils, giving them a sad and Middle Eastern touch. But he also photographs portraits of ordinary men such as fishermen in Yemen, hung next to each other, in a series à la Andy Warhol.
Youssef portrays himself in different poses and during different trips. In a triptych he takes us from life to death when he disappears in a surrealistically blue sea with a magnificent sunset. It depicts a travel in time and in our deeper self. It is through this suble artform of photography and painting that Youssef takes us with him to a dream-like voyage.
Finally with these three exhibitions offered to us we have the choice of seing the world through different lenses. Up to each one of us to choose the one we like best.
Anne Edelstam, Paris.