Koreografen Russel Maliphant valde Paris för denna första representation av sin balettföreställning – Le Projet Rodin – inspirerad av skulptören Auguste Rodin.
The choreographer Russel Maliphant choose Paris for his first ballet – le Projet Rodin – inspired by the sculptor Auguste Rodin.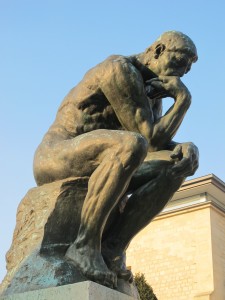 Föreställning på Théâtre Chaillot
I museets källare vid Trocadéroplatsen med utsikt över Eiffeltornet, ligger denna stora teater. Trots att det var första gången denna koreografi visades, var salen fullsatt. Russell Maliphant – en kanadensare installerad i London – är ett gesternas geni och hans möte med formernas geni kunde inte bli annat än sprakande.
Russell har själv dansat på Royal Ballet och flera andra kompanier och utövade även tai chi och yoga innan han utmärkte sig som koreograf 1996. Han har fascinerats av skulptören Rodin i många år men det var under ett Parisbesök förra året då han gick på Rodinmuseet som han inspirerades att göra denna koreografi baserad delvis på Rodins teckningar och delvis på hans skulpturer. Baletten är också uppdelad i två.
Scenen öppnas med sex dansare draperade i långa vita sjok som hänger ner från taket och som ligger utkastade på marken.
Dansen utspelar sig mycket estetiskt genom ett intimt spel mellan dansarna och draperierna. Musiken är dov och en aning metallisk.
Efter pausen är den andra delen mera skulptural i sin framställning, framförallt männens dans. Den store svarte dansaren med alla muskler synliggjorda kunde misstagas för en av Rodins skulpturer. Samtidigt var inte dansen statisk utan tvärtom var rörelsen ständigt i förnyelse och spelen mellan olika par, solon, män eller kvinnor emellan fascinerande i sin enkelhet och modernitet.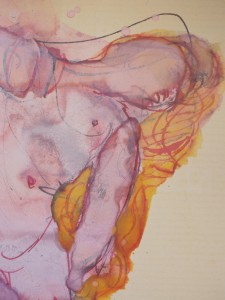 Show at Théâtre Chaillot
This theatre is situated in the basement of a museum, at Trocadéro, with a view over the Eiffel tower. Despite that this choreography was shown for the first time, the house was full. Russell Maliphant – a Canadian living in London – is a gestural genius and his meeting with an expert on form couldn't be anything but sparkling.
Russell was a dancer at the Royal Ballet among other companies and was a tai chi and yoga adept before his breakthrough as a choreographer in 1996. He has been fascinated by the sculptor Rodin for many years but it was during his last stay in Paris that, after an outing to the Rodin Museum, he got inspired to do this choreography based both on Rodins drawings and on his sculptures. The ballet is divided in two parts.
The opening scene showed the six dancers draped in long white cloth hanging down from the ceiling and thrown on the floor. The dance was very aesthetic, displaying an intimate relation between the dancers and the draperies. The music was hollow and somewhat metallic.
After the break, the second part was more sculptural, especially the men's performances. The large dark man with all his muscles showing could easily be mistaken for one of Rodin's bronze sculptures. But the dance was far from static and in constant movement and renewal. The play between the different couples, men or women and the solo dancing were all fascinating in their simplicity and yet modernity.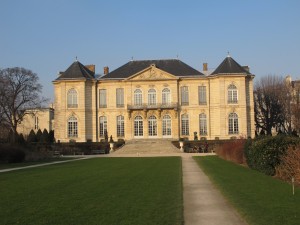 Musée Rodin
Dagen efter föreställningen tog jag mig till skulptörens museum, ett stenkast från Invaliddomen under en skinande vintersol. Jag drogs likt en magnet till "le penseur" – tänkaren – en av Rodins mest kända skulpturer i mörk brons som är högt placerad på en sockel nära parkens entré.
Likheten mellan dansaren jag sett kvällen innan var slående. Under promenaden runt i parken tyckte jag mig känna igen flera poser och sammanlänkningar mellan de utställda skulpturerna och föreställningen.
I början av 1890-talet och oberoende av sina skulpturer, tecknade Rodin levande modeller. 1896 tog hans teckningskarriär fart.
Han tecknade då modeller dagligen och visade upp flera av dessa under hans världsutställningar i slutet av århundradet i de olika Europeiska huvudstäderna. 1903 i Berlin och 1907 i Paris ställde han ut över trehundra teckningar. Totalt målade han cirka sextusen varav de flesta finns på Rodinmuseet.
Väl inne på denna retrospektiva och representativa utställning av Rodins teckningar hade jag lite svårare att se länken med dansen. Men draperierna återfann jag och de dova färgerna.
Kanske musikens lugna tempo under föreställningen inspirerades av den återhållsamma färgsättningen och erotiken i teckningarna?
Dessa är originella och fria, lätta och moderna i sin framställning.
När jag går därifrån, kan jag inte bestämma mig om jag föredrar dansen, skulpturerna eller teckningarna.
Men å andra sidan behöver jag det?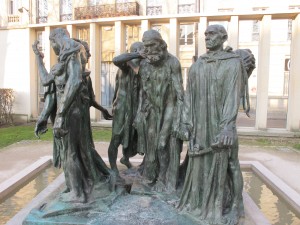 Rodin Museum
The very next day, a cold and sunny winter one, I went to revisit the Rodin Museum, located close to the Invalides' dome. I was, like a magnet, pulled towards, one of Rodin's most famous sculptures – le Penseur. The grand bronze sculpture is placed high on a piedestal, close to the entry but yet hidden by well-broomed hedges. The resemblance with the dancer I've watched the night before was striking. During my stroll around the park, watching the sculptures, I found several similar poses och links between those and the show's dancers.
At the start of the 1890s and independently off his sculptures, Rodin drew live models. 1896 his career as a draftsman took off. He started to daily paint models och showed several of his drawings at world exhibitions at the end of the century in different European capitals. 1903 in Berlin and 1907 in Paris he showed more than 300 drawings. All in all he painted around 6000 of which the majority exist at the Rodin Museum.
At the retrospective and representative exhibition of his drawings, I had a harder time to see the connection with the show. But I did recognize the draperies and the light colours in his paintings.
Perhaps the slow music's tempo during the performance was inspired by the drawings subdued colours and erotic themes? Those were exceptional and free, light and modern.
When I left, I couldn't make up my mind, if I preferred the dance, the sculptures or the drawings,
But do I need to?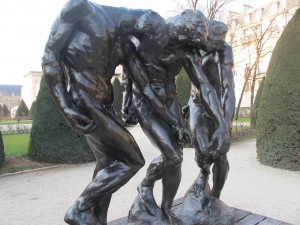 Text and photos Anne Edelstam, Paris