The entire city is preparing for Queen Elizabeth's jubilee – 60 years at the throne of Great Britain – and the Olympics following suit. In the meantime there are several good shows going on.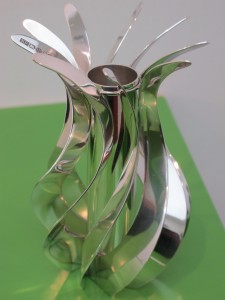 Saatchi gallery
Eurostar's inauguration:
Boarding the early morning train from Paris to London, I thought about another celebration: that of Eurostar's inauguration. The train linking France to England in a couple of hours, has revolutionized travelling between the two countries. London has become France's fifth city! That trend might well continue and expand with the socialists victory in the French elections – at least for the richest Frenchmen. Ironically, it was the last French socialist President – François Mitterand – who inaugurated the Eurostar together with Queen Elizabeth the 6 May, 1994. He was one of the Queen's favourite Presidents (she has had the time to meet many during her long reign…). He probably couldn't imagine then that there would be such an exodus among his fellow country-men.
Lucien Freuds portraits at the National Portrait Gallery in London.
Its thrilling to arrive in just a few hours to another city, full of expectations – that London easily fulfill. I started off with Lucien Freud's exceptional exhibition at the National Portrait Gallery. He must be one of the world's most interesting portraitists with brush-strokes and colours that few can compete with. His persons "from my life" demonstrate the psychological drama and the intesity of his work. "All are autobiographical and all paintings are portraits even when it's only a chair," says the artist.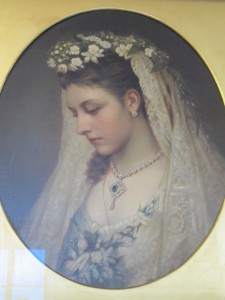 The castles are opening their doors
Times are not what they used to be and even royalties now have to spend less. Several royal castles have thus opened their doors for visitors. One of those is the newly renovated Kengsington Palace situated in the center of the city in a well-groomed and lush garden. The grey and rainy day was transformed as if by a miracle into a rainbow of glitter and gold with the small but exquisite exhibition about the late Princess Diana. A huge portrait of her decorates the entrance that takes the visitor back to her short but glamorous time before her tragic death (at Harrods it's worth taking a look at the controversial memorial of her as well).
On the upper floor, I viewed how Queen Victoria's diamond jubilee was celebrated over one hundred years ago. The only regent to have been on the throne longer than Elizabeth. It is amusing to see how the celebration was then and compare it to this one. It will certainly be different. Maybe less grand? Although nothing is less certain despite the shrinking Empire – without it's colonies. Queen Elizabeth is an estimated and loved monarch and probably as respected as her predecessor. Budget restrictions and financial crises at odds, no doubt that this jubilee will attract visitors from all over the world. After all royalty is about dreams – fulfilled or not – and who doesn't want to live for their dreams?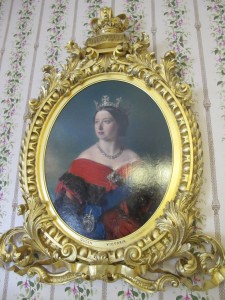 In Buckingham Palace a totally different but notheless impressing exhibition is shown: Leonard da Vinci's anatomical studies of the human body. It is fascinating to see these precise drawings made five hundred years ago. Leonard da Vinci thus proved not only a great artist but also a scientist. His works of dissicated bodies and in detail written scientific notes (left-handed and mirrored so one needs a mirror to decipher them) are proof of that. He studied human and well as animal bodies for years on end. Unfortunatly all this work exhibited here was left in a drawer and not published until the beginning of the 20th century. Otherwise sciences might have been able to take a leap forward much sooner. For the artist's soul, his drawings of hands and feet are specially remarkable. I also liked his reproductions of the rolled-up baby still in his mother's womb.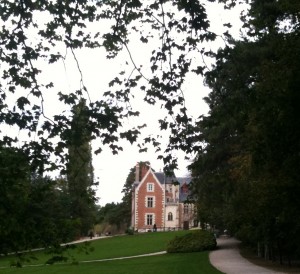 Leonard da Vincis house in Amboise, in the Loire
It is also worth taking the Eurostar to France to visit the museum about him and see the house where he spent his last years before passing away. It is situated in Amboise in the Loire valley. A different aspect of his work is present there but just as interesting.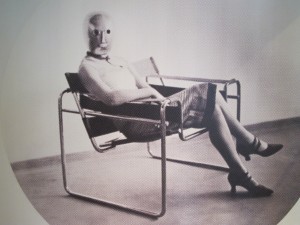 Design in different aspects
Bauhaus – modern design and futuristic ideals – are shown this summar at Barbican, in one London's industrial areas, interesting in itself and an area that I otherwise might have missed. "Art as Life" was the general philosophy of this design school with its broad range of activites and classes. It started in the beginning of the 20th century and continued until the nazis closed it in 1933. The school didn't only have courses in design, photography, painting but was also a way of living.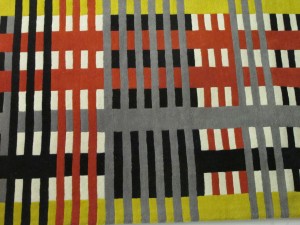 Bauhaus was started in 1919 by the architect Walter Gropius, in Weimar, by uniting an art-school with a handicraft school. So the visitor discovers not only designed furniture but also colourful toys made by Paul Klee, photographs, prints and paintings by, amongst others, Kandinsky, handmade ceramics och textiles. But the school wasn't only about work, it also had a jazzband, musicians and organized parties where people where disguised in all sorts of unimaginable garnments. Creativity was thus let loose in most domains. A red thread throughout seems nevertheless to have been the geometrical figures and lines as well as the clear and basic sample of colours and the playfulness. As a contrast to the darkness and the seriousness of the National Socialism that led to the closure of the school.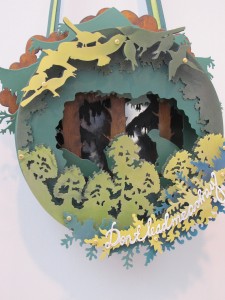 Another – yet similar – contemporary school exhibited some of their students' works in one of London's foremost galleries, Saatchi. The exhibition – Raw Craft – is touring around the country with some of their most beautiful creations, from jewellry to furniture. Original silverobjects from Finland, organically inspired jewellry from Norway, English and Japanese bowls in polished wood and ceramics were among the most beautiful I've never seen. Everything was for sale for an acceptable amount of money. "Art truly inspires and lifts the soul and thus have no price," I thought and lingered on for as long as I could in this modern Ali Baba's cave.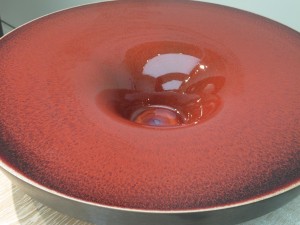 The reasons to travel to London are numerous: be it for the jubilee, the Olympics or just for the joy of discovering what this capital has to offer anybody interested in arts or in gardening with the yearly Chelsea flower show.
Anne Edelstam, Paris