Her movie "Soeurs d'Armes", or Sisters in Arms, is a realistic movie about a group of female Kurdish soldiers.
The French journalist, Caroline Forest, who used to work for the French magazine, Charlie Hebdo that was attacked during a Paris terror assault, has taken up filming.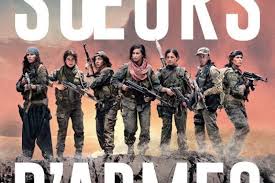 The movie came out in Paris this fall and is coming to USA by the end of October 2019. It's a thriller based on investigative journalism. The viewer is invited to follow a group of Kurdish female soldiers, who have been joined by some foreign volunteers. That 'international brigade' encompasses among others, one American, one German and two young French women, Kenza and Jaël, who arrived there to help their 'sisters in arms" combat Daesh/Isis warriors.