Mats Widbom will have to shoulder two posts at the same time: both as director of the Swedish Institute and as cultural councillor at the Swedish Embassy, starting from April 2012. He doesn't lack either cultural or international competence to lead Sweden's only international Institute forward.
Backround

The tall, sporty looking Mats, smiles a warm smile when we meet for the first time in the Institute's sunny courtyard this Parisian spring day. He has broad experience of being a director since the time when he was the art-director for national exhibitions, Museum director in Gothenburg and as cultural coucillor at the Embassy in W.D.C. as well as director of House of Sweden there. In Washington, Mats organized our five Nordic countries around a large cultural project that will take place in February 2013 in Kennedy Center. "It will show the very best from our Northern countries," he says. "I'll of course travel back to attend it."
We sit down in the shade amongst the greenery in the Institute's backyard where the typical Swedish Midsummer is yearly celebrated. Dancing around the pole with Swedish muscians coming to play for an enthousiastic public during the Paris music festival has become a tradition even among the French. "If only we could have a similar project as the one in the USA here in Paris!" I said. "Well, we'll have to see… first of all, I want to start with listening to  the personnel and feeling the atmoshpere here."
"The first time I came to the Institute was in 1981 as a young architect student." Then Lars Bergqvist was the director. "I couldn't have dreamt of one day sitting here as director!" he says, smiling, apparently happy to have returned.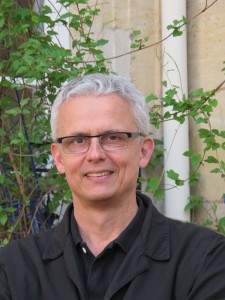 Plans:
"I want this fantastic building with its two outdoor spaces to be lifted forward. Maybe by organizing more activities during the summer," he says, his eyes sweeping around the garden with its still bare trees. "But I have two balls to play with," he continues. "As a cultural councillor with France as my base and then as director of the SI in Paris." His idea is therefore to organize exhibitions that can also be shown all over the country. "I like to work with a theme." Mats experiences from abroad have taught him that what attracts the public most are "stories" that are based on an idea rather than the "blue and yellow flagging". "To reach people it's important to engage them." In W.D.C. their eleven different themes were success-stories.
Cooperation:
"In Washington we had a fruitful cooperation with the other Nordic countries," Mats says. At the SI they cooperate with amongs others Norway but he hopes to be able to develop and expand that. He believes in the "Nordic potentiality". Obviously the Nordic effect increases when the countries fuse. Together we have a power that hopefully will come to good use.
Scandinavia, our culture and the Swedish language are more and more appreciated amonst the French. Swedish is being taught to an increasing number of Frenchmen as well. I'm looking forward to a new dynamic at the SI and many interesting Scandinavian events. Maybe we can even hope for the creation of other Swedish Institutes around the world that emphasize Scandinavian culture?
Anne Edelstam, Paris
www.tidningenkulturen.se