Marc Jacobs conception of  Louis Vuitton's women are that of modern, free and spontaneously elegant ones. At the Museum of Arts Décoratifs in Paris we can follow their relationship as well as the hate- and love-relationship between America (M.J.) and France (L.V.).
Louis Vuitton's hatbox
The American Marc Jacobs:
Truly incarnates the "American dream". His father died when he was seven, his mother remarried several times and he left home at the age of fifteen. His grandmother saved him and put him in Parsons School of Design in New York where his creativity got an outlet. The teachers notified him at an early stage and he won awards. From one fashion house to another, he soon came up with his own mark.
This excentric globetrotter, 48 years old, has since fifteen years, been associated with one of France's oldest and most prestigious luxury-marks, Louis Vuitton. He created their first ready-to-wear collection and has since started to cooperate with several known artists. Takashi Murakami, Richard Prince and the rapper Kanye West to mention a few. Marc Jacobs lives in Paris where he recently was honored the medal Chevalier des Arts et des Lettres. "I've finally the feeling of being adopted by France," he said.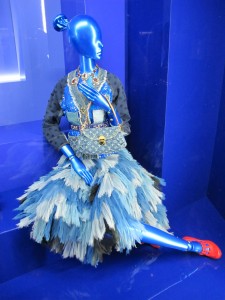 The Frenchman Louis Vuitton (1825-1892):
Is the name of the man who created the dynasty, the mark and the trade. In 1837 he started working as a packer in a known fashion-house. Because of his skills, he soon worked himself up in the business and became the Empress Eugenie's first packer. The son George (1857-1936) was the family's historian and introduced the mark "Louis Vuitton" and then the initials LV with their diamonds, stars and stylized flowers. The monogram was patented in 1905.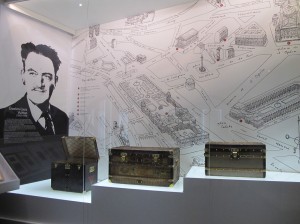 Vuitton has attended several international and universal shows where it has won different medals and extended the clientele internationally. Private persons as well as large fashion houses have made orders from LV. Since 2005, their shop is situated at the Champs-Elysées. There is a permanent line outside. But it's worth the trouble to see this "fashion palace", if not to shop at least for the pleasure of viewing everything from bags, to clothes, exhibited as in a Museum. And why not take the time to try on a dress or two?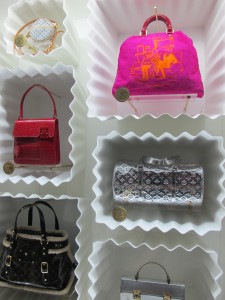 Retrospektive at the Musée des Arts Décoratifs
This museum, one of my favourites, is situated next to the Louvre, where this retrospective exhibition is showing the cooperation between two geniuses – Marc Jacobs and Louis Vuitoon – until mid-September 2012. Don't miss it! The visitor is met by an explosion of colours, creativity and feminity. "Fashion's pollination of art," as Marc Jacobs says very poetically. I can only agree as I walk around in the dark rooms, fascinated by everything from bags, to shoes, to dresses and more.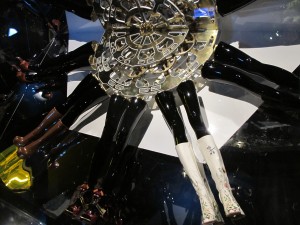 Although he insits on being a designer "who works intuitively and in cooperation" and not an artist, Marc has created a dynamic in LV's logo that could otherwise easily have been thought of as dated. Marc's motto – an ancient Chinese saying – is tatooed into his body: "I try to be a full-fledged human being in an accomplished world where everything that happens to me is nourrishmen for my soul."
I strive, as does Marc Jacobs, to live in the present, to honor life and to try to let go. It's so much easier to live by though when I'm honored with the priviledge of viewing such an inspiring exhibition.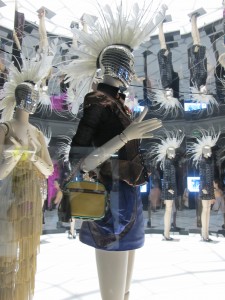 Anne Edelstam, Paris