Before photography there existed painters like Canaletto and Guardi. It's thanks to them that we can experience the Venice of the 18th century in such detail. There are two exhibitions not to be missed with these masters being shown in Paris this fall/winter at the Museums Maillol and Jacquemart-André.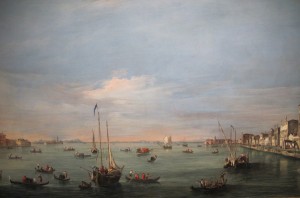 Canaletto:
Venice: the town of the "city of love" is unique. Each bridge, square or street is a theatre in its own right. Artists have since the 15th century been painting this pearl. But few have succeeded in depicting all the details and perspectives as Canaletto (Giovanni Antonio Canal) has. His paintings were discovered early on in his career and sold well during his lifetime (1697-1768). They were bought as souvenirs from this exquisite city to be remembered once at home. Just as photographies are nowadays.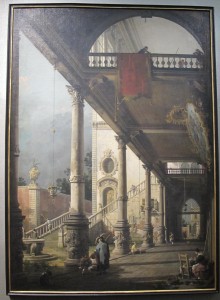 At the Museum Maillol there are – in addition to the fifty paintings/drawings/etchings collected from museums and private collectors all over the world – one of his tools: a camera obscura. Canaletto carried it with him as he sat in the gondola, floating up and down the canals, drawing.
Canaletto started his career with his father, Bernardo Canal, a known scenographer. He painted first the decor to some of Venice's larger theatres and then decided to specialize on urban views – vedute. His artworks resemble theatre sceneries. He quickly became famous and sought-after, whether in Venice or in London where he also spent several years. The English were very fond of his art and ordered paintings from both Venice and London (he also painted from Rome).
Canaletto's Venice
Most paintings and drawings belong to the English Crown. Nearly all these were originally orders by the English Counselor – Joseph Smith – when he was stationed in Venice in the middle of the 18th century. Eventually he sold his collection to the English King, George III.
Maillol's exhibition concentrates on paintings, drawings and engravings from Venice only. Walking around there, I felt like I was strolling around Venice with the best guide ever: Canaletto himself. I got drawn into his world through his large paintings. The perspectives seemed precise and his wide-angles makes any modern photography bleaken in comparison. The vivid colours, the light, the details as the small dog in the corner who looks like he's wagging his tail and the water that splashes reminds me of the Swedish painter Anders Zorn – known for his mastery in painting water – a minutious work that few can measure up to. Or?
Canaletto and Guardi at Jaquemart-André: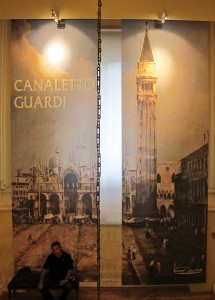 Upon entering this magnificient palace, the visitor is taken across its paved yard. Overlooking which is a lunch restaurant I highly recommend especially for its incredible assortment of cakes that come in all colours and shapes! After a look into this furnished palace, I reached the grand staircase, the exhibition with another fifty works of art was shown on top of it.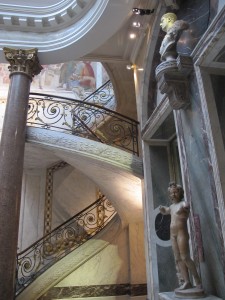 After a short introductory film, I walked into the first hall.
Francesco Guardi's Venice
The vedute are shown side by side – painted by different artists – enabling the visitor to compare styles and palettes. I started to grasp the width of this special urban way of painting – called vedutisti – that continued throughout the 18th century. It came to an end with the death of Francesco Guardi (1712-93) and the fall of the Republic. The buyers consisted mostly of wealthy Venitians, Englishmen and Germans.
Despite his excellency, Francesco Bellotto (the first pic) – one of Canaletto's students – never reaches the fame of his teacher or that of Guardi. But he impresses with his innovative compositions, his cooler, more silvery palette.
Francesco Guardi (1712-93) was approaching fifty when he painted his first vedute – probably encouraged by his teacher's fame (and maybe helped by his long stay in London…). But his career was less brilliant and he had to work hard for his living. He died alone and poor and wasn't rediscovered until one century later, in France, through the French interests in rococo. The paintings' romantic aura with their warm colours and soft light, probably helped restore Guardi posthumously. The impressionists were inspired by his sensitvity, his sense of atmosphere, his personal palette and his vivid imagination.
When I left the museum, I felt as if I had come back from a trip to Venice, where I had listened to the canal waters' splashing, the gondoliers' songs, met gentlemen in wigs and capes in different colours, talked with a woman selling fish and petted the little dog…
Anne Edelstam, Paris.