This somewhat forgotten Swiss artist lived between two centuries  (1865-1925) and in two cultures. Félix Vallotton's retrospective at the Grand Palais in Paris includes a large perspective of this multi-facetted artist: from the well-known engraver to the expressive colourist he became, painting large oils with varying realistic motives.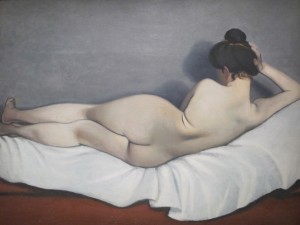 Woman on a red couch, 1906
The Nabis:
Félix Vallotton was born in Lausanne, Switzerland, but educated in Paris, France, at the well-known Académie Julian, like several other post-impressionistic artists. Before even having reached the age of 30, he was internationally known thanks to his smaller, black and white, often sarcastic, wooden engravings. They also made sensation among a group of artists called the Nabis.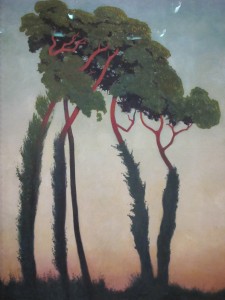 They protested – during the end of the 19th century – against the usual academic art and pretended to be "inspired" – they wanted to introduce spirituality into the art world. Paul Sérusier, Edouard Vuillard, Pierre Bonnard are but some "Nabis". They were recognizable by their clear colours, their simple lines and their deliberate neglect of perspectives.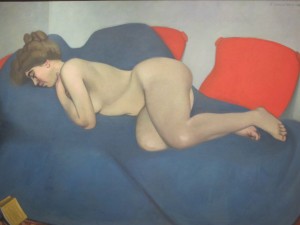 Le Sommeil 1908
In the middle of his life (1899) Vallotton stopped making engravings, despite his enormous success, to start painting oils. He was passionate and lived for his art which the 1700 works he left after his death show along with his different styles: portraits, nudes, landscapes, still life and even historical/mythological scenes. His style is recognizable by his thin layer of paint, his refined palette and flat perspectives he borrowed from Japanese prints and photographs.
Vallotton's personal and modern style is divided into themes rather than into chronological order under this interesting exhibition.
From idealism and sexuality to war:
The several exhibition rooms, containing a mixture of oils and prints, continue even on the upper floor that are reached through the ancient, beautiful marble stairs overlooking the Petit Palais.
Vallotton's realistic style is far away from a mechanic reconstitution of reality. He used common motives to incorporate them into a world dominated by his own fantasy. But for his photography (that he discovered in the second part of his life) he often used only a detail from a picture and painted just that. He dreamt of "paintings freed from the respect of nature… with landscapes that restore the emotions through only one or two details."
The works painted after his marriage to Gabrielle Rodrigues-Henriques, in 1899, show a satirical and humoristic view of the social role of a married bourgeois couple and… the mistresses' avidity. His view on women is a mixture of hate and sexuality but hardly of love. He rather expressed the formal role of marriage where money and status ruled. The portrayed people move in stereotyped and simplified environments resembling scenes in a theatre play. Vallotton also wrote theatre plays and books – that's maybe why some of his paintings look like theatre scenes?
His usually clear palette differed when it came to nudes. Women in different poses, often together with other women or men are portrayed in cold, marble like colours, often in different tones of blue. His sense of humour was present even in his nudes though as in the painting with the bathers coming in silhouettes of all ages. Conflicts between men and women are also recurrent themes.
However another – worse – conflict would change that: WWI. He was out in the field himself for two weeks as the army's official artist. He drew and painted effortlessly for a period of two weeks, which resulted in some interesting and scary oils from, for example, the battle of Verdu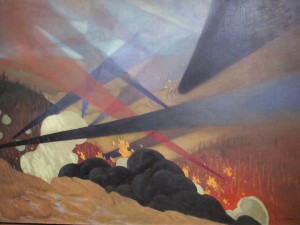 Verdun 1917
Despite his differing styles and motives there are recurrent themes in Vallotton's art amongst others his fragmentations and repetitions. His art is nearly as abstract as some avant-gardists such as the famous trio: Duchamp, Man Ray and Picabia with women's torsos as leitmotivs in a mixture of erotic and plasticity.
I also thought of Hopper and his lonely persons, but Félix Vallotton isn't like any other artist; he has his own unique style and palette.
For those amongst you who still haven't discovered this timid Swiss, you have something to look forward to.
Anne Edelstam, Paris.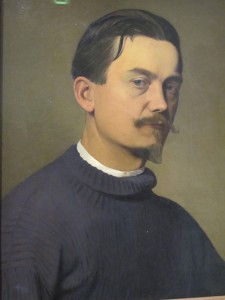 Autoportrait 1897