We have grown accustomed to his ready-mades (such as the famous urinoir – called La Fontaine) but much less to his paintings. This fall we have the chance to get acquainted with another aspect of his works at Centre Pompidou in Paris.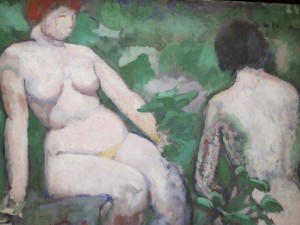 Deux nus, 1910
"The art of painting is dead": 
was one of the Frenchman Marcel Duchamp's (1887-1968) favourite expressions. However the inventor of ready-mades (usual objects turned into art) and one of the 20th century's most renowned and provocative artists was himself a skilled painter.
Through some 100 works of art – collected for the first time at Centre Pompidou – dating from 1910 until 1923 when he finished his monumental work Le Grand Verre (the Great Glass), we discover Duchamp the painter.
This exhibition shows the underlying thoughts behind his work as well as his sources: scientific, literary, technical and artistic. Duchamp showed an interest in the societal changes of his time in different fields such as optical ones, literature, mechanics and the occult.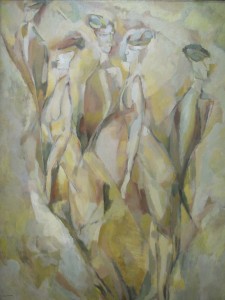 Portrait du père de l'artiste 1910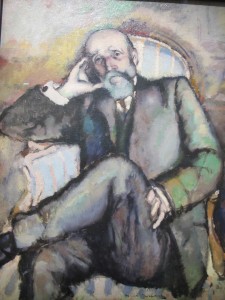 The humourist:
The exhibition starts with a tone of humour showing some caricatures in the style of his elder brother's, Jacques Villon, works. The relation between literature and ironic or amusing drawings was present at the start of his career.
Impressed by Edouard Manet's painting of 1905, as an 18-year old boy, Duchamp started to paint nudes in an impressionistic style before continuing in a more cubistic and abstract fashion. He also showed an interest in the new science of X-rays and implemented it into his works by painting an "aura" around his figures. He thus wanted to show his disdain for the figurative and the creation of the "invisible". His awareness for theosophy, spirituality and symbolism had been awakened.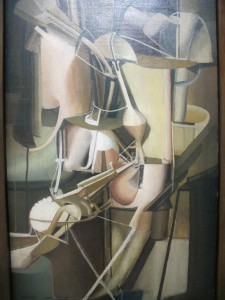 La mariée 1912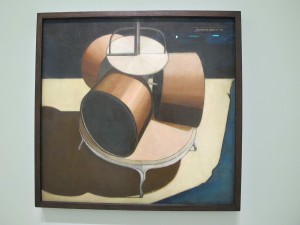 Post-cubism:
At the end of 1911, Duchamp joined a cubistic group of artists. He then painted several paintings in a cubistic-futuristic style. His painting Nu descendant un escalier (naked woman going down the stairs), exhibited in Paris in 1912 and afterwards in NYC where it made a huge success.
Duchamp then created a series of optical and filmic works. That same year, accompanied by Brancusi and Léger, he went to an airplane exhibition where he got drawn to the mechanical precision of a propeller. It led him to start mixing mechanics with his painting. During a road-trip with his friends the artist Francis Picabia and the poet Guillaume Apollinaire to Southern France, he was finally convinced that "the body and mechanics are tightly interrelated".
Le Grand Verre
Between the years 1913 and 1915, when he left for the USA, he worked in a scientific library. There he deepened his knowledge about mathematics and geometry. Between 1915 and 1923 he travelled back and forth between France and the USA. His search led him – together with Picabia and Man Ray – to Dadaism and the creation of the "legend Duchamp", turning his attention to playing chess.
The optical attention led to his last painting in 1923: the monumental work the "Great Glass" painted on two separate vertical planes of which one signed copy is in Stockholm. After that his work consisted mainly of experimental projects with films, machines and his renowned ready-mades.
Centre Pompidou offers the visitor another, just as exiting, aspect of the great artist he definitely was. Enjoy!
Anne Edelstam, Paris.
AnnAnne Edelstam, Paris.