Marseilles is France's second town. A Mediterranean harbour, until recently mostly cited on the news because of gang- or immigration-problems. However in view of its nomination as the cultural capital of 2013, a general face-lift and cleaning-up was undertaken.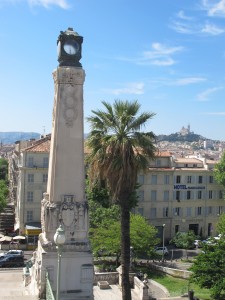 Conference on fundamentalism:
I travelled there as Sweden's representative for FECRIS (www.fecris.org ) – an umbrella organisation that informs and does research about totalitarian cults in all its forms. These manipulative groups show different façades from personal development, ecology, pyramid scams, to religious pretences… This year's conference touched amongst others upon the subject of Islamic fundamentalism. There are similarities between all these movements such as:
the adherents are the "property" of the organization.
Secret information only the leaders know about. The façade they show outwards is entirely different.
Fooling and lies are a part of the structure and the recruitment.
Violence and terror is allowed (physical and/or psychological) to silence the enemy or the adherents who start to doubt.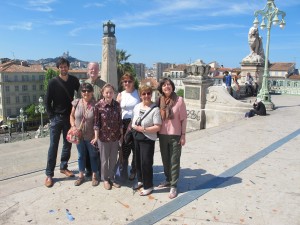 The recruitment of youngsters has increased. It represents an enormous problem in France with hundreds who have travelled to fight with ISIS in Syria. A blond, French woman with her equally blond daughter told me how her other daughter had, since several months ago, disappeared in Syria. The possibilities to find her are minimal. An organisation has been created to help these desperate families (Turquoise Freedom – Association of Victims of Radical Islam). A Ministry (Miviludes) exists in France, which exclusively handle totalitarian cult problems. Fecris' hope is that a similar department could be established at a European level.
MUCEM:
After the conference, I walked down to the harbour where the fishermen line up their fresh fish each morning and where others sell the famous Marseilles soaps. Bouillabaisse is the region's speciality – a fish soup made of several different species served with a garlic-based mayonnaise – but if one wants to enjoy a good one, one has to pay for it! The real bouillabaisse is really expensive. After lunch, I walked along the seashore until I reached the end of the harbor.
An ancient fort is situated there, perched high on a hill, with a fantastic view overlooking the sea. This is where the MUCEM was built.
This spring they showed an exhibition of the three monotheistic religions and their holy places. The emphasis was on tolerance and coexistence. I discovered the similarities between them such as their common veneration for Mother Mary, certain scriptures, prophets and of course Abraham who was at the start of it all. Marseilles is a living example of a happy mixture of different populations and religions.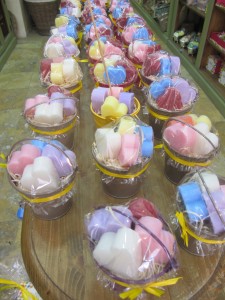 Notre-Dame de la Garde:
The Basilica stands majestically overlooking the city and its inhabitants. I took a small train from the harbour climbing upwards on narrow, whirling streets until it reached the imposing basilica. Notre-Dame de la Garde was constructed during the 19th century in Romano-Byzantine style with beautiful white stone arcades. The interior is dominated by red and white marble with gold mosaic roofs. Its' crypt is much older and simpler in its conception than the rest of the basilica.
Two years ago, the basilica was extended with a museum showing eight centuries of Marseilles' highlights. Pictures, videos, paintings, sculptures, documents lead the   visitor through its rich historical events.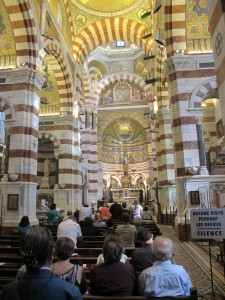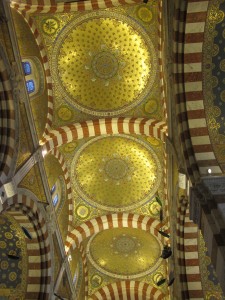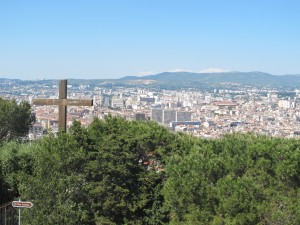 In an epoch when parts of the world, not too far away from Marseilles, goes up in smoke and its' historical monuments are being looted, it's important for us to remember other happier times. Times when tolerance and cooperation unified Muslims, Jews and Christians. Marseilles is one of the oldest Mediterranean harbours to have witnessed people come and leave. Within its walls history still echoes. Why don't you come and feel it for yourselves?
Anne Edelstam, Marseilles.