The Egyptian who made all women dream of meeting an Arab prince has left us, at the age of 83, handsome and elegant until the end.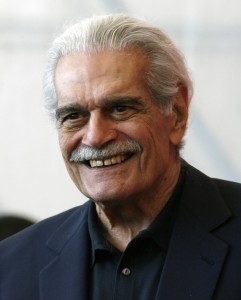 His career:
Michel Demitri Chalhoub, originally a Christian Lebanese, was born in Alexandria in April 10, 1932 (he died 10 July 2015). However, his love for the then already famous Egyptian actress, Fatem Hamama, made him convert to Islam to marry her. From then on he became known as the actor Omar el-Sharif.
His career started already in 1954 with a film by the Egyptian filmmaker Youssef Chahine. He became an international icon after his role in the film Lawrence of Arabia, in 1962, where he played the second character, got two Golden Globe awards and was even nominated for an Oscar. Three years later his role in Doctor Zjivago earned him another Golden Globe award.
The gap between his front teeth made this elegant man even more attractive – he was the ideal male figure without being perfect. His charm never left him as I can ascertain after having seen him play an elderly Muslim shopkeeper in the film "Monsieur Ibrahim", in 2003. Still as handsome and witty as his younger version.
His love affairs:
After the divorce with Fatem and his move to Hollywood, he never remarried. Of course he had affairs, like the Swedish woman he told me about one evening in a Parisian hotel, remembering a few Swedish words, the love of his life remained his late Egyptian wife.
Maybe it was in order to forget her, that he spent so much time playing cards or betting on horses? He was a common customer at casinos and horse-races all around the globe. Sometimes he won, but just as often he lost all his possessions. He lived the life of an exiled, always on the go, his home was mostly hotel-rooms until it was time for him to meet Osiris, the god of the dead – when he moved back to his beloved homeland.
Funeral:
Tarek – Omar's only child with Fatem Hamama who passed away six months before him – attended the funeral along with his tiny family, friends and colleagues, in Cairo. The funeral, on 12 July 2015 will be remembered as a mostly private business – despite the journalists present – for what had been a very official person.
The last years in life, Omar was sick with Alzheimer. He lived a secluded life. It reminded me of another star's last years, the Swedish actress Greta Garbo's. The loneliness of such famous people at the end of their time among us, is sad. But maybe that's the backside of fame? Either a star or nothing? Omar Sharif might have left us, but he's still very present in our hearts. Myths tend to survive their instigators.
Anne Edelstam, Paris.
 Photographs: Wikipedia