New Zealand's indigenous population, the Maoris, were the first to arrive to Aotearoa – i.e. New Zealand. One of Quai Branly's exhibitions in Paris is about their holy stone. The other is about Picasso's inspiration from Africa. The Museum has a huge collection from exotic places. It's unique in its genre with an outer wall entirely covered in greenery, a garden with unusual plants and a building that looks like a gigantic anaconda stretching along the Seine.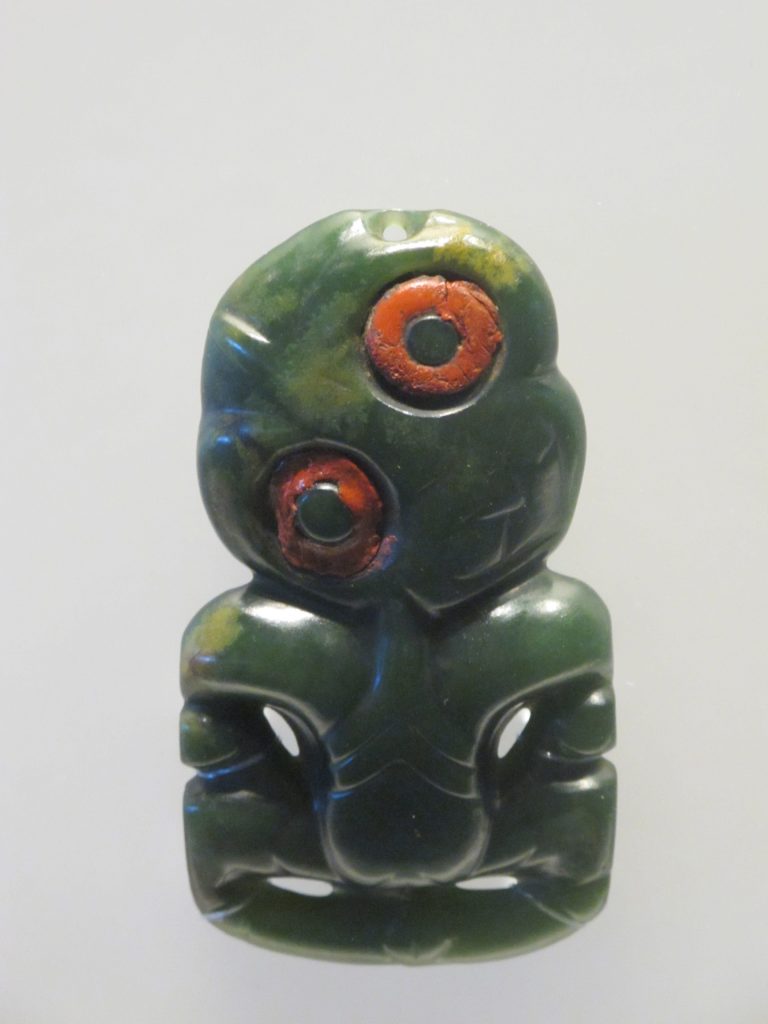 Hei Tiki
Maori:
The indigenous' ancestors arrived to this largely inhabited island (although it's controversial who actually came there first) in canoes from the Pacific Ocean about one thousand years ago. They then named the island Aotearoa – Long white cloud – inspired by their first vision. The English didn't colonize the island before the 18th century. Their culture still thrives. They make around 14 % of todays population and one recognizes them thanks to their tattoos – the men in their faces and the women on their chin.
Their dances, myths and songs make up the links to their venerated ancestors. The greenstone that this exhibition is all about is considered holy and has developed to become part of the Maori identity.
Poonamu:
Is the name of this special stone that resembles jade but isn't really the same – this stone only exists in some isolated parts of New Zealand. Ngai Tahu is the name of the tribe that guards the poonamu stones. They are mostly found in rivers where they have been shaped and smoothed after years rolling around in the torrents. The stones come in different green colours – from very light and nearly transparent to the darkest bottle greens. The exhibition showed their usage, as shaped into weapons, decorations and jewels. The objects are not just beautiful though: they harbour mana – i.e. the ancestors' prestige and power, as well as the spirits' influence.
Hei Tiki:
Small funny charms, hei tiki, are worn around the neck (hei means necklace). The anthropomorphic looking objects refer to the mythological person, Tiki – the first man to arrive on earth sent down from the gods. They were worn by men and women of prestigious classes.
In Maoridom, the set of beliefs that guide Maori culture,
humans are considered equal to and at one with the land, sea and rivers. The idea is reflected in the Maori word 'kaitiakitanga' which means guarding and protecting the environment in order to respect ancestors and ensure its protection for future generations.
Nowadays, even modern jewels are made of the poonamu stone but they are mostly carried on from generation to generation and can never be bought for oneself. They have to be a gift. Maybe it's these powerful necklaces that give the rugby players from New Zealand such self-confidence and power?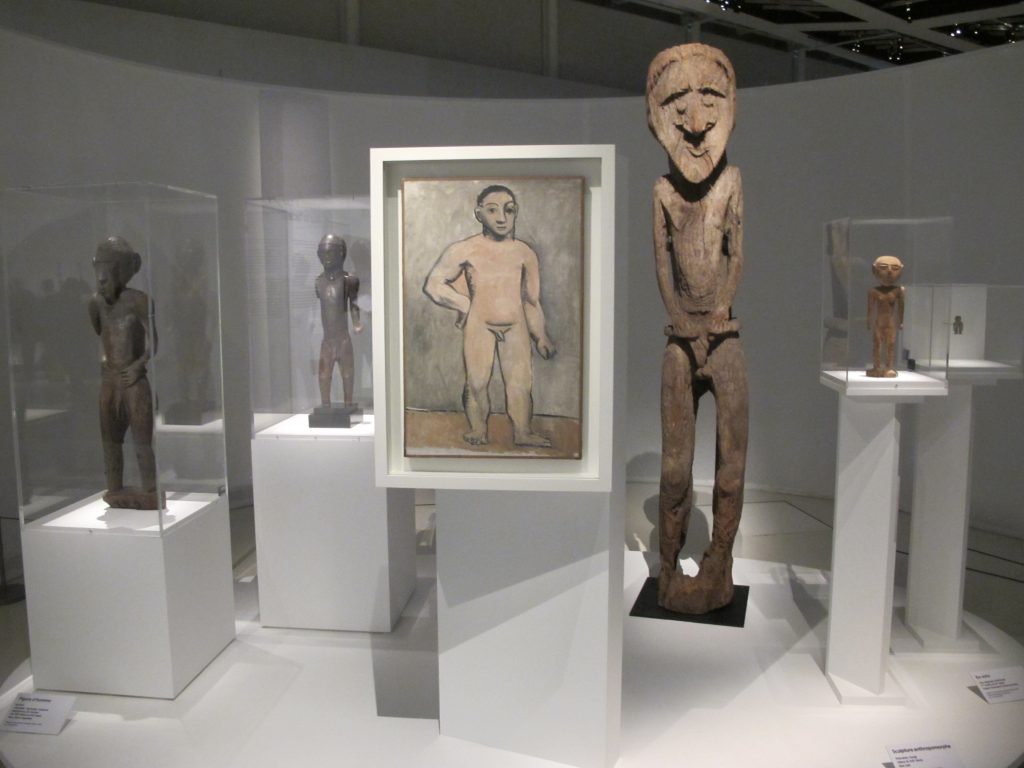 Picasso inspired by African art
From one continent to another: Picasso's African inspiration
This chronological exhibition, one floor downstairs, stretches from 1900 to 1974, one year after the death of the artist. The visitor is invited to follow Picasso's interests that weren't only about African handicraft but includes many other cultures and arts that inspired him throughout his life.
His interest for archetypes is shown through his own works as well as through the so-called "primitive" handicrafts that inspired him. Picasso sometimes mixes human representations with animal ones to establish a kind of metamorphosis. The objects and the way they are composed give them a different life force.
Cubism:
Or "no-form", that many of his art works also can be called where realism has given place to a fantasy world, is an essential part of his collective art. As any exorcist, he transforms the person, or object, to reach its inner pulse and doubts. Like magical entities or masks carried by holy men or "witches" in parts of the world.
Not much has changed throughout times: the human unconscious seems to move like an anaconda – the museum resembles – from one continent to another and back again, with inspirations taken here and there and remodelled. If that isn't an example of globalisation or unity of all things, I don't know what is?
Anne Edelstam