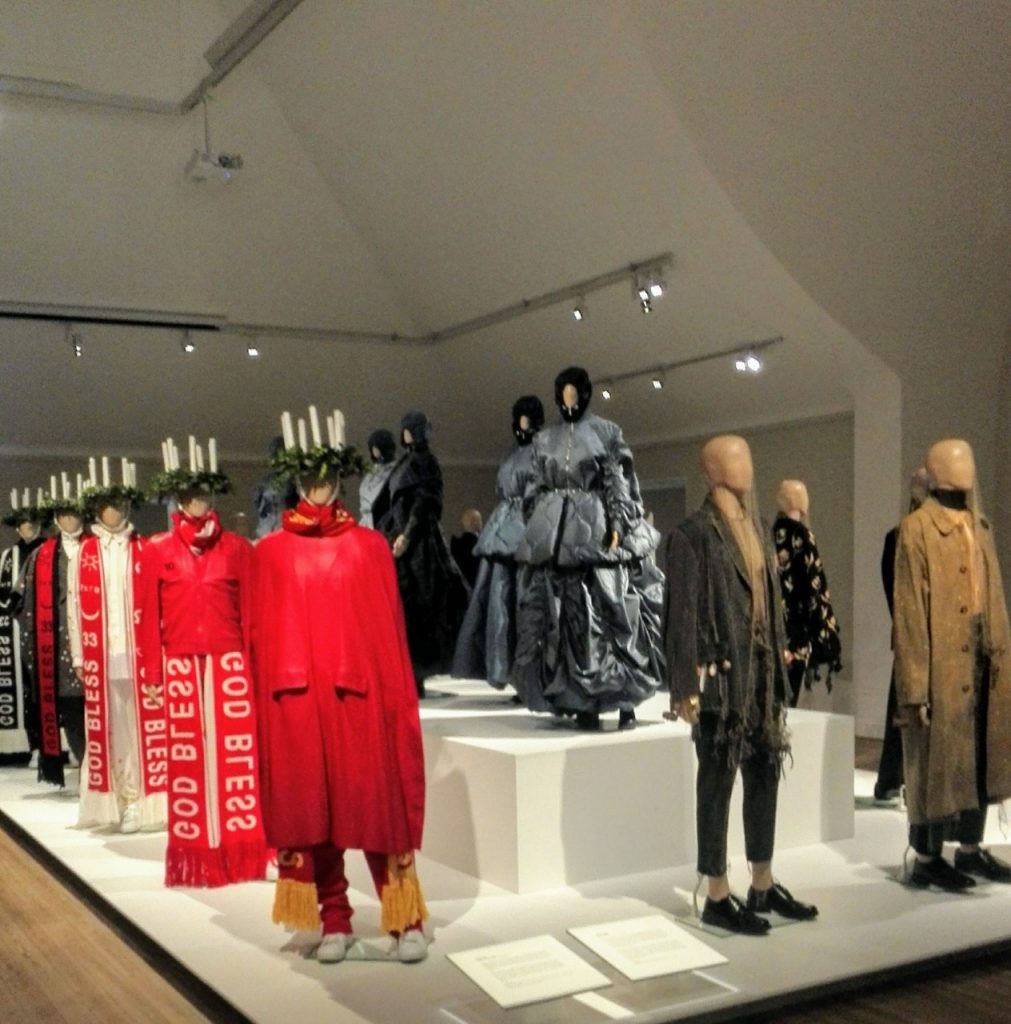 The nordic fashion that's shown at Prince Eugene, Waldemarsudde, situated in Stockholm Royal Park, doesn't have much resemblance to anything Nordic except for its name.
What is Nordic anyways? After having been a rather homogeneous country, Sweden has become very cosmopolitan. This fashion exhibition mirrors this international development. Not only that but the concept of fashion itself has developed from superficial utter garments to becoming more and more of a social manifestation. It's asking questions about the relationship that we have between fashion, art, identity and sustainability.
This exhibition, in the upstairs' atelier at Waldemarsudde, points in that direction. Several designers are represented in this somewhat odd show that also encompass films with cat walks and interviews. I will only concentrate on four main designers for the sake of this article. Hopefully this little taste will make you curious to go and find out about all the others as well.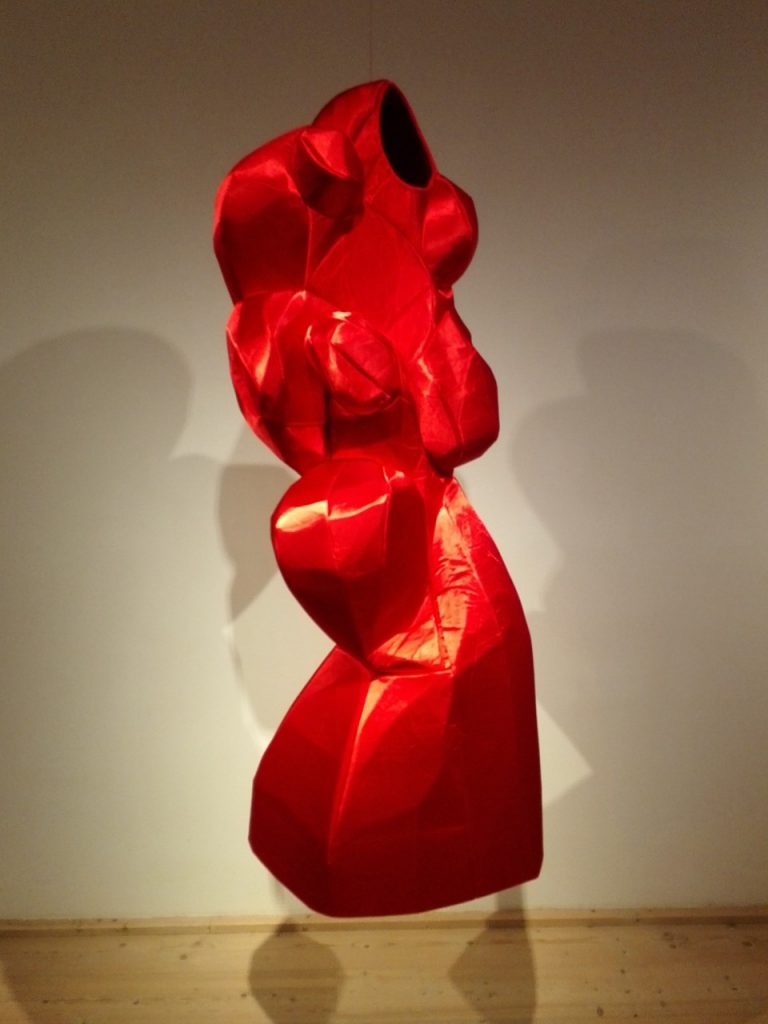 These young designers won a prize this year for their works: Elina Äärelä, Ines Kalliala, Idaliina Friman and Kristian David. They are exhibited on a podium in the large middle room. I was immediately intrigued by their unusual, quite extravagant and interesting designs.
Elina Äärelä grew up with a Christian background very present, as her father was a pastor. Her design is centered around the Christian message, inspired by the Church's liturgic clothes and Christly messages. Her collection is called Silent Voice and brings the thoughts to our inner voice, to a personal communication with God. However, she has transformed the formal religious uniforms to sporty versions of the former, with hoodies, sweatpants and gym shoes. By transforming the superficial into something spiritual, she's not only modernizing but also deepening our connection to fashion.
Kristian David is Swedish with roots from Lebanon, Syria and Iraq. To Construct a Bridge is a fitting title for such a multicultural background. His hybrid collection shows this complexity. He's using the Palestinian shawl, keffiyeh, the long caftan with over-emphasized shoulders to mark a power relation between men and women and between the East and the West. Via this hybrid collection he provokes both worlds.
Idaliina Friman uses her family's past from Northern Finland to personalize her collection called Hetta. Unusual fabrics are used such as pet bottles as padding for her almost out-of-space looking clothes. They cover the entire body and even most of the face. The design refers to the very harsh Finnish winters and gave me the shivers just to look at the clothes!
Ines Kalliala's collection is called Personal Uniform and as the name refers to: it consists mostly of personified suits for women and men. She uses ready-mades and vintage materials. Her motto is: "to mend and repair my favorite clothes". Sustainability is the red thread throughout her work. The fishing net used as a veil was certainly an unusual ingredient, I thought.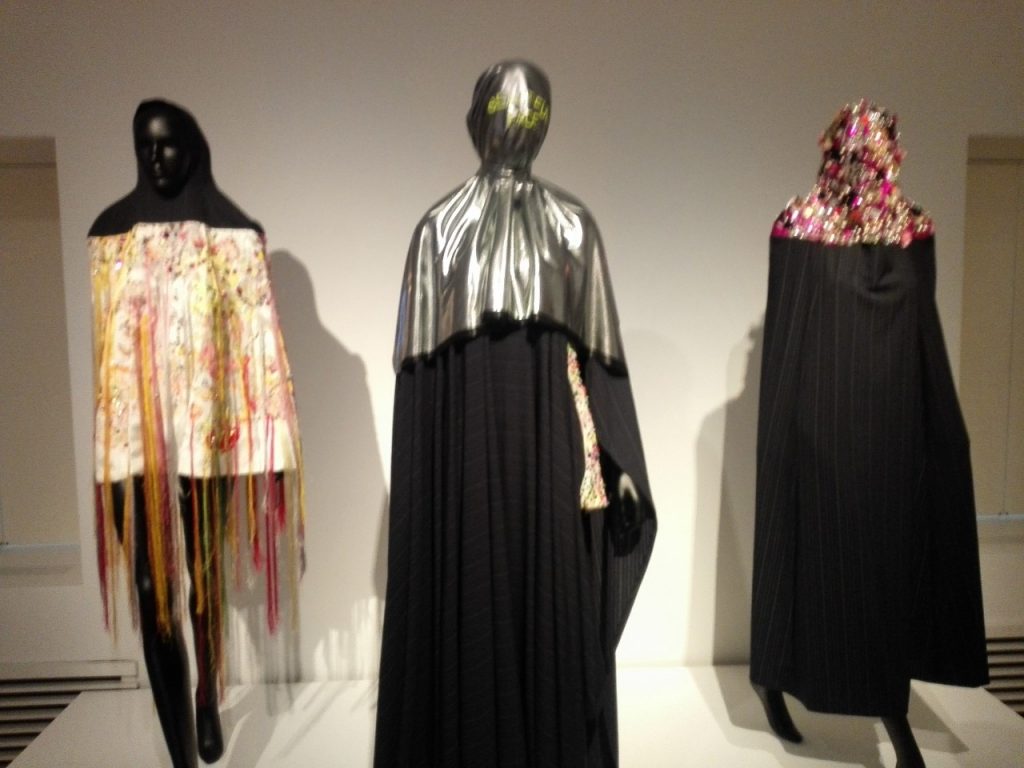 None of the designers lack imagination that's for sure. Even if the clothes aren't easy to wear, they're certainly fun to look at and pushes one's fantasy to its limits. It's refreshing to see fashion as a means for esthetic communication about how our lives are shaped by the social and cultural environments we've grown up in.
Like any contemporary work of art, these designs make us reflect about our stereotypes and pre-conceived ideas. This trend seems to be here to stay. Sustainability, cultural variations, personal identities and new ways of re-using old materials and fabrics is the new fashion, at least if we consider these young designers.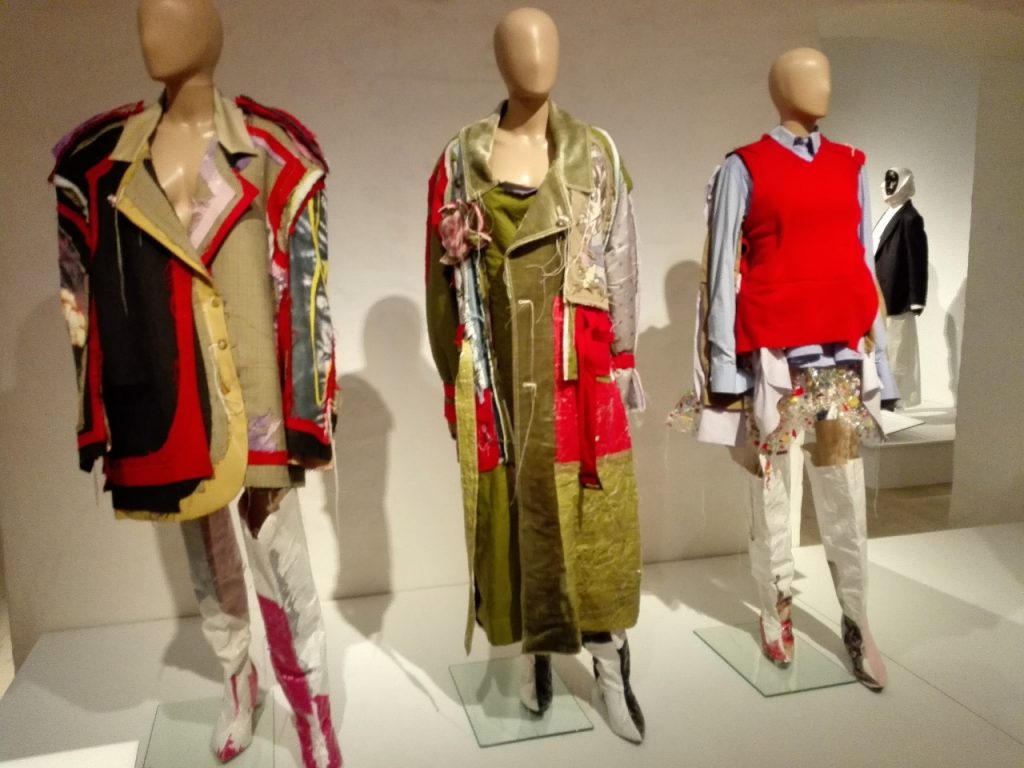 This Nordic fashion might not be so rooted in Scandinavian traditions, but it's certainly stained by a new international trend, coupled with a sustainable vision for our future world. A world that is in dire need of repair, a return to nature and to God, as this exhibition has taught me.
Anne Edelstam
Future Nordic Fashion
Prins Eugene, Waldmarsudde, Stockholm.
April 24 – Octobre 3, 2021