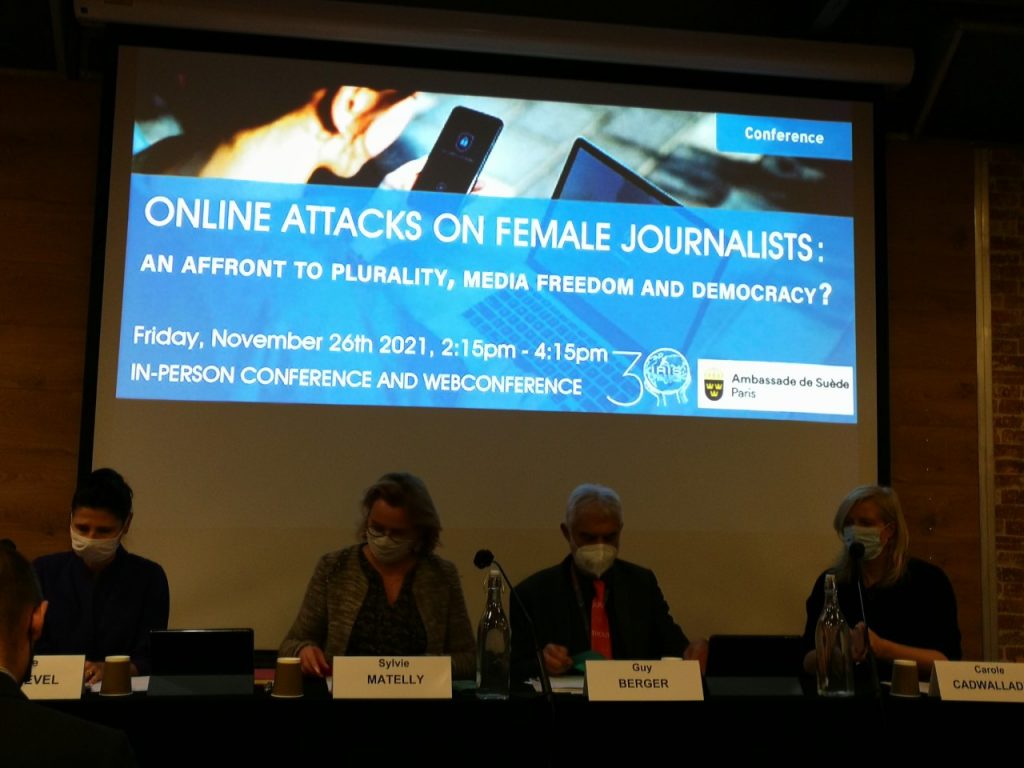 The Swedish embassy in Paris together with the French Institute for International and Strategic Relations (IRIS) organised a conference, 26 November, 2021. The discussions evolved around the threats against female journalists on Internet.
– In Sweden, we have implemented, since a few years back, a feminist foreign policy; explained the Swedish Ambassador to France, Håkan Åkesson, in his introductory speech, this winter day.
A brochure was handed out that read "Sweden's feministic foreign policy" (freely translated from French). OSCE also handed out a manual about safety for women journalists on social media.
The tone of voice on Internet gets rawer and rawer. Anonymity seems to brake normal civic codes. Teresa Ribeiro, representing freedom of speech at OSCE, talked about the daily attacks women journalists are submitted to in most parts of the world, on social media. Added to sexual harassments, women face threats to their children and families on a much larger scale than their male counterparts.
– Politicians and governments must take their responsibilities and defend these women. Human rights should become standard and safety measures implemented, at least within the EU, to start with.
We were reminded of the Maltese investigative journalist, Daphne Caruana Galicia, who was murdered in a car bomb explosion, in 2017, after having exposed her government's corruption and crimes. That same year, a Swedish journalist, Kim Wall, was murdered by the Danish inventor, Peter Madsen, while doing her job.
According to Ribeiro, these acts have to be seen as a major problem, affecting the entire society, and not only as a "women issue".
Pauline Adès-Mével, Reporters Without Borders' spokesperson, clearified that another major problem on Internet is: the fake news. The amount of fake news flourishing on social media represent a real threat to serious journalism and to our democracies – based on trust, need it be repeated? It's a gigantic and very lucrative industry. We've seen how it works lately, during the pandemic, with its massive anti-vaccine propaganda, for example.
The French digital specialist, Henri Verdier, explained to the audience the difference between Internet and social media. It's the latter (such as Facebook, Instagram or Twitter) that cause the problems. They are owned by private corporations who need to take their responisbilities and stop both the threats against female journalists and the fake news. He recommended us all to be vigilant and report it, as soon as we encounter any.
– Don't forget that it was hate speeches, threats and false informations, spread on social media, that led to the decapitation of the French teacher, Samuel Paty; he added.
Likewise, the murder of the Maltese journalist had also started with threats on social media before she was actually killed. Anonymous threats and hate propaganda have led to pogroms in the past – such as during the Nazi regime in Germany – and lately we witnessed what happened in the Capitol in Washington D.C. when it was taken over by hulligans.
– As many as three quarters of women journalists are threatened, of which one fifth lead to actual attacks; said UNESCO's General Secretary, Audrey Azoulay.
– As a result, many women journalists stop doing their jobs. It's a global problem that needs to be adressed internationally.
The conference finished on a concensus: that rules need to be implemented to stop these threats, as well as the fake news circulating on social media. However, it demands that the EU and governments implement tougher measures. Not to forget the responsibilities of chief editors and male colleagues, who should also assist their female co-workers.
Anne Edelstam