Ulrika Peppler is fascinated by art and especially by Oriental art. Her passion led her to choose to leave her safe job at UNESCO to embark upon the hazardous Parisian gallery scene.
Gallery documents 15:
is situated in Saint Germain – the former Parisian artist area – where Simone de Beauvoir and Jean-Paul Sartre used to meet other writers and artists, drinking and eating at Café de Flore or Lipp, engaged in lively discussions throughout the nights.
The location is especially suited for this opening with the Moroccan painter Mahi Binebine who's also a famous writer. His happy, roundish face showing a broad smile, contrasted sharply with his paintings where the figures are devoid of expressions and seem to be wearing masks.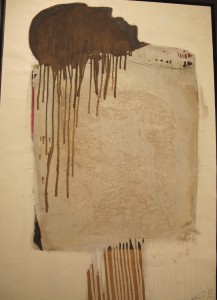 The small gallery was filled to the brim and people flocked outside despite the cool autumn winds. "He's a known artist, especially among the Moroccan elite", Ulrika whispered in my ears. He must however also be famous in France I understood after having seen a senator among the guests. Mahi is exhibited internationally even at such established museums as Guggenheim. He's lived and worked both in Paris and in New York before moving back to Morocco.
Ulrika confided in me that after years employed at UNESCO, she wanted to fulfill her dreams. "It was in 2009 at an art-fair in Venice that my interest in the Arabic art scene aroused," she admitted. In January 2012, she left her job and started to look for a gallery in Paris until she found this one where she's been a partner since June 2013. "We specialize in prints," she explained.
However this exhibition is much more than that: collage and sculptures are also exhibited. Who then is this artist? The man behind these anguished yet so intriguing masks?
The artist Mahi Binebine:
Mahi Binebine in front of one of his sculptures
Am I talking to the writer, the painter, the sculptor, the adventurer or the humanist? I wondered as I stood in front of this exceptional artist. With a twinkle in his eye, he assured me when I asked him about the red spot in his otherwise totally beige figures: "Oh! That was just some red colour that was hanging around so I used it!" I understood that he was in no mood for an interview that evening – which was understandable. I decided to return another day when the gallery wasn't so full of people.
Then, to my surprise, he called me back, and handed me a signed newly published, thick and well-documented book about his life and works (publisher Art Point, Philippe Rey) with at least fifteen writers' comments in it. The book is dedicated to his older brother, Aziz, "whose destiny has inspired my work".
The father worked close to King Hassan II – the actual King's father – while his eldest son tried to overthrow him in a miscalculated coup. He was caught and sent to the much-feared prison for political prisoners. There he was held for 18 years. That must have strongly affected the younger and sensitive Mahi because according to his brother "I've left the prison-cell but Mahi is still in there…"
For this engaged humanist, freedom or rather the lack of freedom is a recurrent theme. His paintings show the prison's confinement with his straight and cutting lines and through the unidentifiable persons seeking freedom by trying to flee in dangerous boats from poverty in Africa to what they hope will be a better and freer life in Europe. Too often those boats are stranded and people's destinies and dreams end up at the bottom of the ocean. His figures, devoid of faces, are incorporated into each other, naked without a trace of eroticism, with an inner anguish that the artist shows subtlety through his compositions and colours or rather lack of colours.
Mahi's sculptures are somewhat less filled with distress but are just as penetrating. Masks convey a different feeling when sculptured. However they are just as beautiful if not more so than the waxed paintings. The artist always manages to illustrate man's resistance towards the outer harsh and cruel reality.
One of Mahi's paintings
Mahi Binebine belongs to that rare category of people who both writes and paints.  Several painters have written but then mostly concerning their own works such as Kandinsky, Barnett Newman, Mark Rothko and Jean Dubuffet.
Binebine works with his brushes, uses wax, penetrates the materials, binds and combines silhouettes, adds magical pigments to his drawings and then he goes home to Marrakesh – several kilometres from his atelier – and starts to write his novels…
Mahi has written novels translated into several languages and one has been filmed and is actually presented at different film festivals. His novels are based on humanitarian catastrophes: the boat people, misery in the slums of Morocco, the regime's oppression, terror as a consequence of poverty…
"To paint is a relief compared to writing a book," he confessed. If his novels are as anguished as his paintings, I couldn't but agree. However, isn't that just what art is all about? To lift the veil off the eyes of ignorant or uninterested individuals through the cunningness of an artist's sensitivity in order to get us to react?
Mahi has succeeded well in that task. Thank you and thank you Ulrika Peppler for allowing us to discover a wonderful artist and for contributing to make the Parisian art scene more interesting and more humane.
Anne Edelstam, Paris.