To find out more about my ancestors, I took a boat from Mariefred out to Birka – one of the Norsemen's most important port-towns.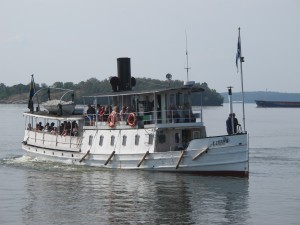 A guided boat-tour:
Daily during summer, a boat departs from Mariefred's charming little 18th century town, in Mälaren's archipelago, not far from Stockholm, taking visitors to what used to be one of the Vikings' landmarks. Since 1993, Birka has been appointed world heritage. According to UNESCO's definition, it is: "one of the most unique, complete and undestroyed trade centres during Viking-times from 700 to 980 A.C".
I sat on deck, in the sunshine, admiring the beautiful landscape for a little more than an hour, being entertained by our host, the archaeologist and excellent guide: Andreas Forsgren. He explained to us – both in Swedish and in English – some of the Vikings' history that lasted from around the years 700 to 1100.
The rune-stones that are standing at Mariefred's castle – Gripsholm – one of Sweden's most imposing castles – tell, as do many other rune-stones, a tale about an important battle. These memorial stones are but some of the 3000 rune-stones that have been found around Sweden (Norway has only 100 and Denmark 400) through which inscriptions we can hope to get some clues about Viking mythology and religion.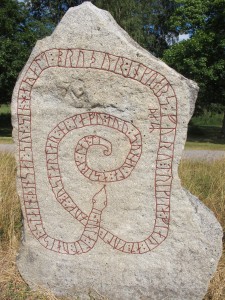 Birka:
Is nowadays only inhabited by some sheep, a few islanders and archaeologists, except for the tourists of course. There seemed at first glance to be more to discover hidden under the many grave-hills than there was above ground though… Without our guide's vivid explanations, it would have been a rather dull place with only a small museum and some reconstructed houses. Most discoveries made here are beautifully displaced at the Historical Museum in the centre of Stockholm.
Andreas pulled apart all the myths about Vikings that we might have picked up seeing Hollywood films or reading in Asterix and Obelix type comic strips. He assured us also that the Vikings never wore helmets with horns on. Horns were only used to drink from as shown by our Viking-dressed guide who had one attached to his belt. Moreover he told us that Vikings weren't called as such at the time. The Vikings were only a small per cent of the population of Norsemen who sailed out as tradesmen and plunderers. The majority of the population were farmers. Swedish Vikings travelled mostly towards the East, some even as far as Bagdad (their encounters are mentioned in my book Three ladies in Cairo). They traded in amber, furs, swords, slaves… against silver, pearls, crystals as shown in the museums.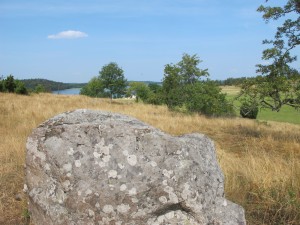 Trading:
Birka as most Swedish towns was built in wood and hence nothing is left of the original buildings. However there are hidden treasures excavated from the times when the city was buzzing with activities, telling us some of its secrets. There were around 2-300 hundred wooden houses of 40m2 each, aligned along straight wooden pavements. The thousand or so inhabitants were all involved in the trade- or sea-business; like welders, seam streamers, wood carvers…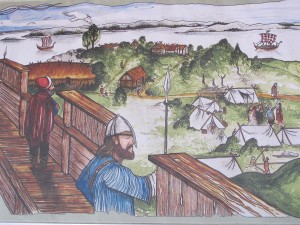 Their lives weren't primitive but traditional without imposing stone-houses or temples. A fort seems to have existed on top of the city's surrounding hill. Maybe to guard against enemies? Another one surrounded Birka as an administrative border for its inhabitants being given the authorisation to live there by the King.
Few written evidences have been found about their lives. An exception being the Benedictine monk Ansgar's memoirs. He visited Birka twice in the 9th century in a vain effort to convert its inhabitants to Christianity. The dead were still cremated according to ancient rites as opposed to Christians who buried their dead. Inside the graves of richer families have been found jewellery, clothes, animals and even slaves.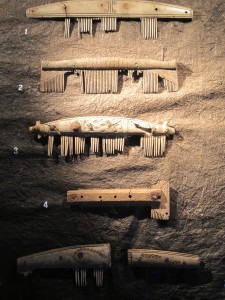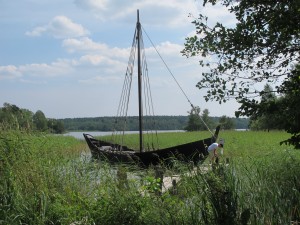 Birka is abandoned:
It might have been the introduction and slow conversion of the Norsemen to Christianity that finally in 980 ended Birka's role as an important harbour. Sigtuna, North of what is today Stockholm, then replaced Birka and became the centre where both Kingdom and Church co-existed. It might also have been political problems that led to the abandonment of Birka. Whatever the reason, by the end of the 10th century, the town was totally discarded.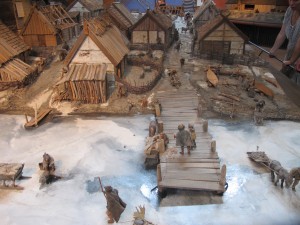 The King's house – situated on a nearby island – continued to be used for some time however, probably as a summer residence but has since disappeared as well.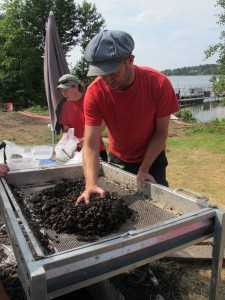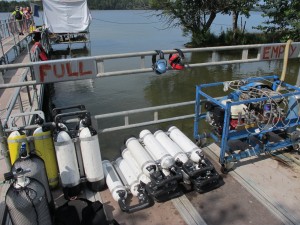 Before leaving the island, I interviewed one of the marine archaeologists and was led to see some of their latest findings. It seems that the Vikings still have many secrets to reveal to us…
Anne Edelstam.