Swedish fashion is getting increasingly appreciated internationally especially since the beginning of the 21-century. We can follow the development from this summer's exhibition at Sven-Harry's museum in Stockholm to this autumn's exhibition in Paris, at the Swedish Institute. Where next?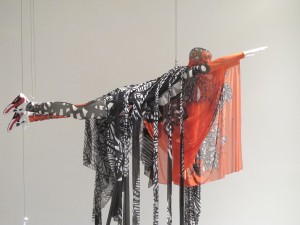 Fashion's creative development:
From the year 2000 onwards the Swedish fashion-scene experienced an explosive creativity. This summer some of the best creations were showed around the city but the most interesting exhibition was invariably at Sven-Harry's.
The clothes were shown in groups with similar colours but different styles in several adjoining rooms.
To show the possibilities of different materials, dolls had been hung up in the roofs dressed in light cloths like flying astronauts. Not only were new materials honoured: the role that jeans had and still play was shown by a pair of jeans with golden threads. They had been put into Plexiglas cubes like any piece of art. Hats – or rather headgears – were shown too, one more extravagant than the other.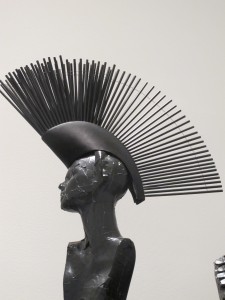 In the adjoining room clothes with similar colours had been put together whether sporty of evening dress.
One peculiarity of Swedish design and fashion is Swedes' love for mixing the very elegant together with street wear.
Nobody will lift an eyebrow if a woman wears a long silk dress and a pair of sneakers…
The mannequins were mixed with film-clips from fashion shows, enlarged fashion pictures and some drawings. However some of the most interesting clothes are part of a new trend of "slow art" – i.e. art that takes forever to accomplish and where the pleasure lies in the artist's work rather than in any commercial pursuit – where the dresses are made of plissé bits of paper or meters and meters of taffeta, or of pieces of sunglasses intricately assembled together…
Accessories such as gloves with attached long nails, sunglasses with a leopard as decoration and jewellery for both men and women are part of the show.
Names of Swedish fashion designers to be remembered are
Acne Studios, Cheap Monday, Ann-Sofie Back, Helena Hörstedt, Tiger of Sweden, V Ave Shoe Repair amongst others.
So if you missed Stockholm this summer, be sure to come to Paris and go to the Marais and the Swedish Institute there to follow the latest trends within Swedish fashion from 2000 to 2015.
Anne Edelstam, Paris