This question the Swedish Institute in Paris tries to answer with a different exhibition. The opening was quite an event and the Parisians were apparently interested in the creativity of our small country.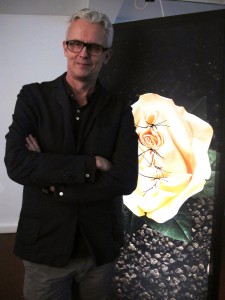 Mats Widbom, director of the Swedish Institute 
Advertisement:
Is often looked down upon by artists who consider art-directors as "people who sell their souls". However this exhibition showed another side of advertisement: an engaged side that surprised the public and touched their hearts. It's increasingly being used by NGOs such as Amnesty International and Save the Children.
Mats Widbom, the Swedish Institute's director, posed willingly next to the sown rose – representing the campaign against female circumcision (by Amnesty International 2008). A beautiful way of approaching a delicate, and in many countries, taboo topic. Some of the videos were really funny too such as the one when Jesus "recruits" Judas (from a recruiting agency obviously) or the one about diapers with a baby climbing up the top of a mountain.
These "engaged advertisements" also illustrate a different view on our society and criticize some outmoded ways. One of these is Björn Borg's advertisement about underwear where there is a very clear message to homosexuals and transsexuals in Russia with a pile of underwear in the colours of the rainbow and one word: "da" – meaning yes in Russian.
The public could see the development of fathers' leave in Sweden in the -70s or the forbidden sale of alcohol except for in specific shops.  Fathers' leave start very slowly to make its way into France but one must remember that the mothers here only have three months maternity leave, compared to Sweden's 12 months! The wine-drinking French find it especially hard to understand the restrictive Swedish relations to alcohol. However they were more tolerant towards the mentally handicapped man doing advertisement for a food chain because when it comes to handicapped France has surpassed Sweden. In France handicapped persons are more and more employed in the public (and to a certain extent in the private) sphere. However many were impressed by the seemingly live person advertising for the cancer-foundation in the Swedish subway.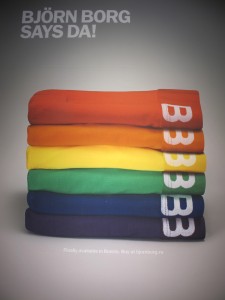 This exhibition shows that emotions such as humour and tenderness are universal and a great way to touch and hopefully change people in a positive way. Still a lot can be made to engage us but this is one way – a way that seems to work.
Anne Edelstam, Paris