Is the name of the Tessin collection – inaugurated this October by Queen Sylvia of Sweden – at the Louvre in cooperation with the Swedish National Museum.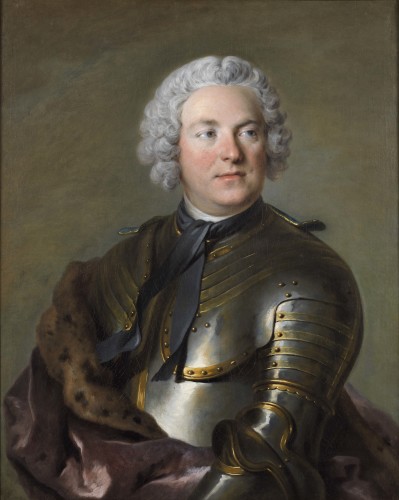 Portrait of Carl Gustaf Tessin: photo from the National Museum
Tessin collection:
Count Carl Gustaf Tessin, Swedish Ambassador in France between 1739 and 1742, was a cultivated man with an extensive interest for arts. During those years, he acquired some of the times' most appreciated pieces from artists such as Boucher, Dürer, Rembrandt… Most of those luckily landed in the hands of the National Museum in Stockholm later on.
Of the around one hundred art-works that are shown this winter (until 16 January 2017) in Paris, most haven't been back in the French capital since Tessin purchased them over two hundred years ago. It's, for the Parisians, interesting to discover the art market and taste that was once theirs thanks to this Swedish Count's amazing collection.
Carl-Gustaf with his wife Ulrika (born Sparre, from an aristocratic family) were invited to the French court, met other collectors and artists, went to auctions, to artist' ateliers and antique shops. The Count developed a sure taste that reflects Paris under the 1730s-40s. However he lived frivolously and his fortune diminished to a degree that he became so indebted that he had to sell his entire collection, in 1949, to the Swedish King. Thanks to whom, it ended up in the National Museum where director Magnus Olausson, in cooperation with the Louvre's director, organized this exhibition.
The Swedish Institute in Paris also owns a few works from Tessin's former collection which are displayed in its permanent exhibition, on the institute's second floor, among which the excellent portraits of Alexander Roslin and Gustaf Lundberg.

JB Oudry – "Per" – The Count's dog – Nationalmuseum
Carl Gustaf Tessin
The son of the well-known Swedish architect, Nicodemus Tessin the younger, inherited his father's interest for France and for the French language. Already in 1714, the young Carl Gustaf arrived to France to continue his studies. During his two-years stay, he acquired his first drawings. His collection increased during his next trips ("in order to train my eye and taste") and especially during his Ambassador's posting with his wife Ulrika (god-daughter of the French King Louis XIV), when he, among others, bought as many as 2057 important drawings and paintings from one single but important estate.
When he was forced to part with his collection, the Crown-Prince Adolf Fredrik purchased most of it as a gift to his wife Lovisa Ulrika. Thanks to that, most of the artworks eventually ended up at the National Museum. After some years working at the Court and being Prince Gustav's (III) tutor, he retired with his wife to his estate, Åkerö, that gave its name to a well-known apple in Sweden.
The Count was one in a row of French-loving Swedes – headed by King Gustav III who hade been his student – that links our two countries in a long and happy marriage. Thanks to art-lovers and collectors like Carl Gustaf Tessin, who, despite indebtedness, continued to buy prized works – Sweden can now display a fantastic collection the French envy us as revealed by the crowd gathered for the opening of this incredible exhibition at the Louvre.
Anne Edelstam, Paris