Shakespeare & Co is an English bookshop that's been in Paris since the beginning of the 20th century. It not only sells and lends out books but also organizes author meetings.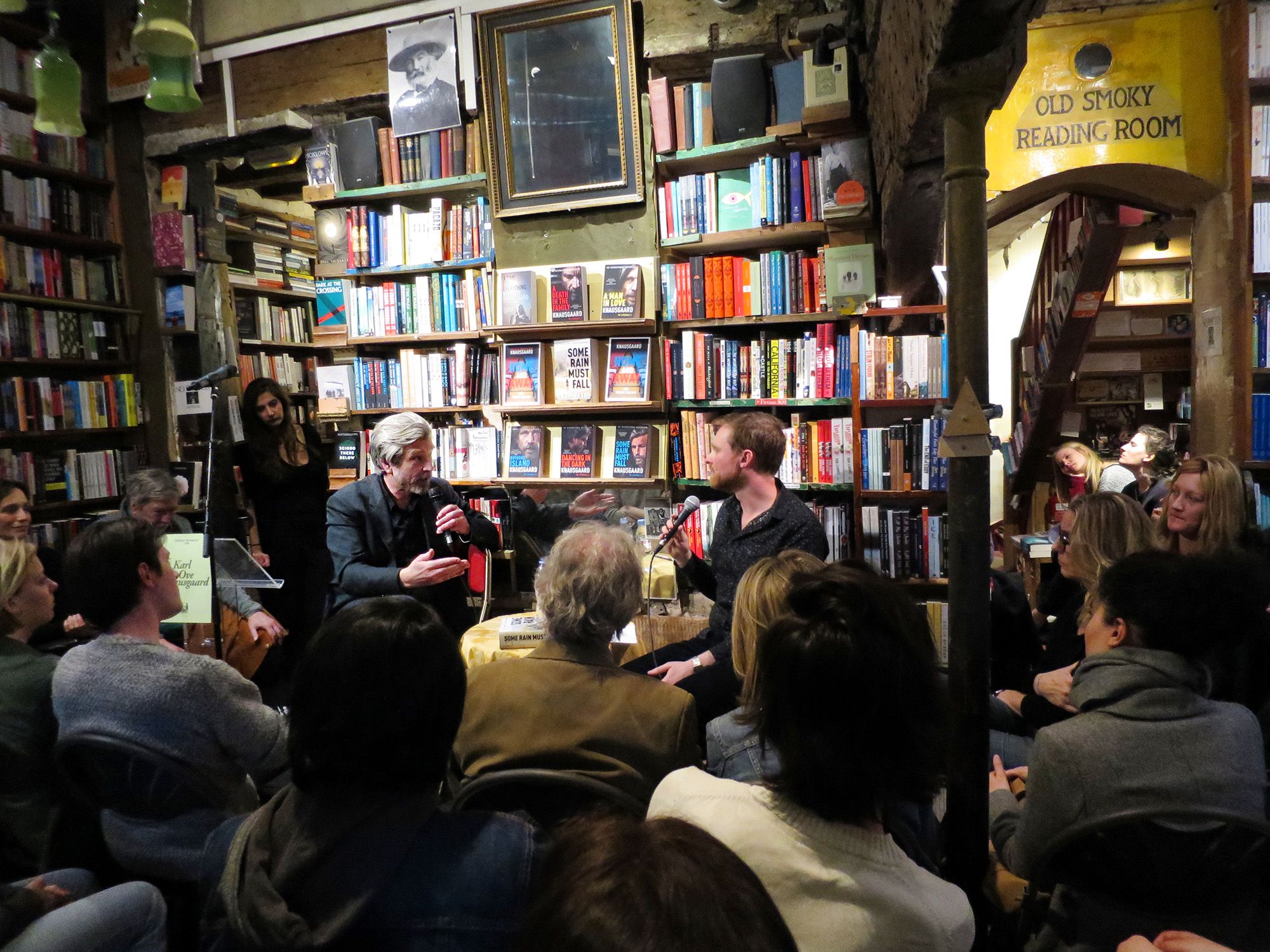 Interview with Karl Ove Knausgaard at Shakespeare & Co
Sylvia Beach, an American woman, opened this English bookshop in 1919 on Paris left side, close to Boulevard St Germain. During the happy 1920s when American artists flooded the city – arriving by boatloads from a then conservative and unfriendly USA – it became a centre for aspiring authors such as Ezra Pond, Ernest Hemingway and James Joyce. The shop closed in 1941 with the German occupation of Paris during WWII.
The bookstore reopened with a new owner in 1951 and has been active ever since. Some of its faithful visitors have been James Baldwin, Anaïs Nin, Max Ernst, Lawrence Durrell to mention but a few. Magazines have been launched there and its address used by editors as well as authors. There are even beds hidden amongst the shelves where aspiring writers can spend the night in exchange for helping out in the shop that also serve as a meeting place and a library. Since 2010, Shakespeare & Co also awards the Paris Literature Prize. The shop has expanded with a next-door café where literature lovers can bring their books and continue to savour both the written words and the good food.
Karl Ove Knausgaard:
On this particularly warm spring day, the queue extended far beyond the shop and its café. The interest for the Norwegian wonder-child, Karl Ove Knausgaard, had reached far beyond Scandinavia. I arrived one hour early and still was left only with a standing place. Chairs were added out on the pavement. His latest series of six books called My Struggle have been translated into several languages and are sold by the millions.
When the tall longhaired Scandinavian slowly walked into the crammed shop the audience silenced. He started his talk by reading from one of his latest yet to be published books Autumn. It's composed in the form of letters to his unborn child – tenderly written family descriptions. His lean but yet dark voice undeniably added spice to his realistic descriptions of daily events and objects that would suit a feminine voice more than this giant Viking of a man. Or is it his feminine side that makes his writings so touching and immensely popular? Autumn is the starting point of yet another series of books, I guess in the same vein, the next one being called Winter.
The author has been accused of writing in a super-realistic way but it's exactly that I find so interesting: that he can write so engagingly and comically about such trivial things. To conclude the evening, he read from the book Winter: "it is a long description of toothbrushes which can really seem boring" he excused himself, but it was anything but that. Through those, he touched such diverse subjects as pollution, hygiene, family disputes, childhood memories…
I was reminded of my youths readings of Balzac which choice of words I didn't always grasp but I was so fascinated by his phrasings and the musicality of the words used that it didn't matter if I didn't understand it all. Knausgaard said that "with age we tend to forget the child's perspective of life. We're not any longer immersed in it as we're too busy by our preoccupations and take so much for granted. By writing about seemingly trivial objects, I bring meaning to my life." He added that he writes to seek his identity and that he seeks to confront his dark sides in order to transcend them rather then hide them. Art and writing makes him aware of the world around him and its magic.
Maybe that's what we're all striving for: to reunite with the child within. Knausgaard brings us there in his novels. I've definitely become one of his fans!
Anne Edelstam, Paris
Pictures from Shakespeare & Co