France's minister has been a well-known figure long before he became minister. He is known as the former president François Mitterand's nephew but also as a cultural leading personality who has starred cultural television shows, written several books and played an important role in film diffusions.
The day we met, was a sunny, warm spring day, the magnolia was starting to bloom in this ancient palace's beautiful yard, as I walked into its gilded halls, behind the Louvre. Before meeting the Minister, I recognized his soft voice from his many television shows that I've seen. He had not changed much since then, his good humour and agreeable personality is the same despite his function as a minister.
President Sarkozy did a smart move when he named this popular man as his Minister of Culture in 2009. The media wrote that "it was Carla's influence". "Not at all," the Minster assured me. "The President is quite independent and Carla much too smart to try to influence her husband in such decisions." I tend to believe him because Sarkozy has had the intelligence of naming some of the best known and liked personalities – despite differing political views – to important functions.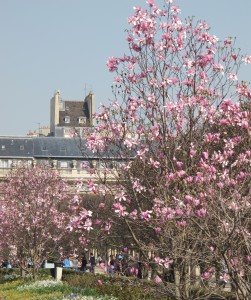 The Minister's interest in film:
Mitterand's interest for film started early on in his career. Already by the beginning of the -70s he led his first movie theater in Paris. "I'm a big fan of Ingmar Bergman," he said and told me about his meetings with Sweden's famous film director and with the actress Bibbi Andersson. He was one of the first to screen Bergman in French movie theaters. Kurosawa, Ozu, Pasolini, Fellini and American as well as Arab classics were also among his favourites. We talked among others about movies during our lunch but also discussed Swedish litterature. He mentionend the late Swedish well-known author Selma Lagerlöf and her house in Jämtland as being one of his goals for a visit in the near future.   

When I wondered about how he managed to get as much money for the cultural department as last year, despite the financial crisis, he said, "it hasn't been easy, you know…" One of the major problems in France – but also its advantage – is the amount of ancient buildings and castles that are constantly in need of renovation he explained. Just as the Swedish churches, many of which are empty because of the lack of interest for our faith these days. What to do with them? There isn't enough money for their reparations. Maybe selling them to private owners might be the only solution?
"The French economy isn't as bad as the media pretends," Anders Borg, Sweden's Minister of Finance said when visiting France not so long ago. Mitterand agreed: "our economy is stable and holding its course." That the cultural progammes have taken up a relatively large role must be a positive sign I gather.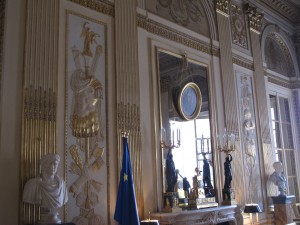 The royalties:
The Minister is known for his fondness of the European Royal Houses and has starred a television programme about the monarchies fall under the 1900s. He showed his fondness for the Swedish royalties, especially for Queen Silvia but also for our late King Gustav VI Adolf with whom Frédéric Mitterand had a common interest in archeology and classical antiquity. Both travelled to Egypt and to Rome where the latter was director at Villa Médicis before becoming Minister. Mitterand's intrest for culture whether antique or contemporary is the force that drives him forward and that helps him persuade the government of the funds needed to emphasize France on the international scene.

That culture brings in money is also something our Swedish Minister ought to continuously remind our government about. In some parts of Sweden, the cultural funds have been drastically reduced. It's a tradgedy for our country and a short-sighted strategy that can not but eventually short-circuit the country. The liberalisation of the economy as we've seen it lately, should enable the companies that have profited from that to open up their purses and spend on culture, they will not be disappointed!
We do have, despite our small country, a tradition of interesting culture. The ever increasing number of tourists visiting Sweden is another proof of that. Even Frédéric Mitterand showed his interst in coming to visit Sweden where he's never been. Maybe that could lead to a future collaboration between our two countries or at least to an exchange of experiences? One can always hope so…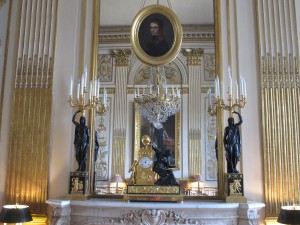 Anne Edelstam, Paris