The entire city is preparing for Queen Elizabeth's jubilee – 60 years at the throne of Great Britain – and the Olympics following suit. In the meantime there are several good shows going on.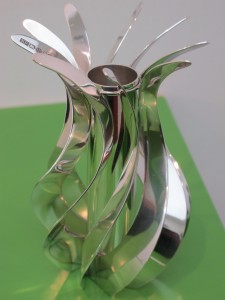 Saatchi gallery
Eurostar's inauguration:
Boarding the early morning train from Paris to London, I thought about another celebration: that of Eurostar's inauguration. The train linking France to England in a couple of hours, has revolutionized travelling between the two countries. London has become France's fifth city! That trend might well continue and expand with the socialists victory in the French elections – at least for the richest Frenchmen. Ironically, it was the last French socialist President – François Mitterand – who inaugurated the Eurostar together with Queen Elizabeth the 6 May, 1994. He was one of the Queen's favourite Presidents (she has had the time to meet many during her long reign…). He probably couldn't imagine then that there would be such an exodus among his fellow country-men.