In Görrel's Espelunds excellent book, "8 women who made a difference" (in Swedish: "8 kvinnor som skapat världsrubriker", Sekwa publishing house, 2010), we follow some of the world's leading women. They are examples for us to follow, not as a means to get to a power position but to create a more just and engaging world.
Görrel Espelund
We might not be in need as much of new leaders as of the ones that we do have, to listen to their people. Görrel has, in her well-documented book, chosen the leaders that show an interest and strive to help the needy to reach a better life. "These women leaders have all chosen their own path and have become role models," I read in the foreword.
– Mary Robinson, the former President of Ireland, got appointed after a tuff job at the UN as the High Commissioner for the Human Rights. There, she engaged an enormous translation campaign of the UN's 30 paragraphs declaration that was then spread internationally. She spoke of the importance of the rights but also of the responsibilities that those imply, as well as the importance of education especially for girls who carry forward the knowledge to their children. Robinson was a given candidate for the "Elders" – the group of respected elders and independent world leaders.
– Ellen Johnson-Sirleaf has made her name internationlly known after having gotten the Nobel Prize, in December 2011. Despite some controversies about her, Liberia's President has much to be proud of, among others as a front-figure for African girls that now dream of positions of leadership.
– The EU-commissionary, Margot Wallström, was, for us Swedes, a woman that dared speak up, in an otherwise male-dominated Parliament. She was one of the initiators of the equality-campaign that was baptized 50/50 to get in as many women as men in the European Parliament. She emphasized the importance of women supporting each other in order for more women to get their voices heard and their influence increased. Since 2010, Margot has been the UN's representative against sexualized violence in conflicts.
– Reem Asaad is special in this series of interviews because she's a normal activist in an unusally women-segregated country: Saudi Arabia. Through her testimony, we learn about a country where women are not allowed to drive or leave the country without their husband's written agreement.
– Helen Clark was New Zealand's PM during nine years and became known as an activist for social justice and integrity against the superpowers. Since a few years she's the UNDP's first female leader. Helen's goal is for the UNDP to accept the role of the "knowledge base", coordinator and strategic advisor for developing countries.
– Pia Sundhage is a Swedish coach for not only female but also for male sportsmen. She has a long football career behind her and the highest training-education in Sweden. She strives to be an inspiring and positive leader.
– Louise Arbour, lawyer, has worked in the Hague's International Court where she has been the prosecuting attorney for the Yugoslavian and Rwanda-Tribunal. Afterwards she worked as the UN High Commisionnar for the Human Rights before being appointed, in 2009, chief of the Think-Tank, International Crisis Group (ICG). The organization works for international peace and security. Louise Arbour emphasizes the importance of women participating more actively in the peace negotiations than previously done.
– The Peace Laureate, Wangari Maathai is from Kenya and has started the eco-organization, Green Belt Movement. After years of deforestation, draught and erotion, famine was a natural result. But after her efforts of replanting and rehabilitation, it rains again and the crops grow strong. Economical activities involving both men and women have also developed.
As a conclusion, I might add that we need many more leading women for a just society and that the women who have a leading position, should stress the importance of other women. Cooperation, global thinking, humility for a more peaceful, cleaner and better world for us all is not the priviledge of a few: that's what these 8 leading women have in common. It's time for the women all around the world to unify in their common ideals and show up on the international scene.  The world cannot afford to wait much longer with the looming financial crises, the pollution, the climate changes and an ever increasing number of people to feed.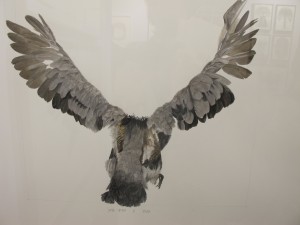 Anne Edelstam, Paris