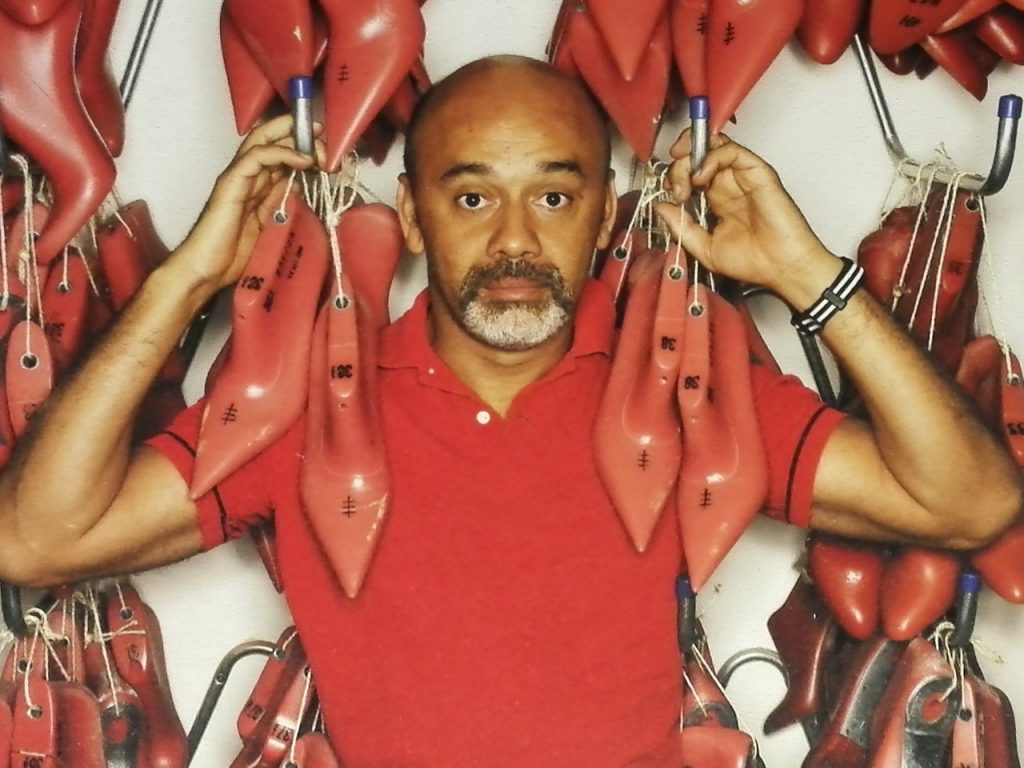 L'Exibition(niste) – is a play of words with the English word 'exhibition' and the word 'exhibitionist'. This famous French shoe creator is showing his art in the Palais de la Porte Dorée, Paris, for the first time.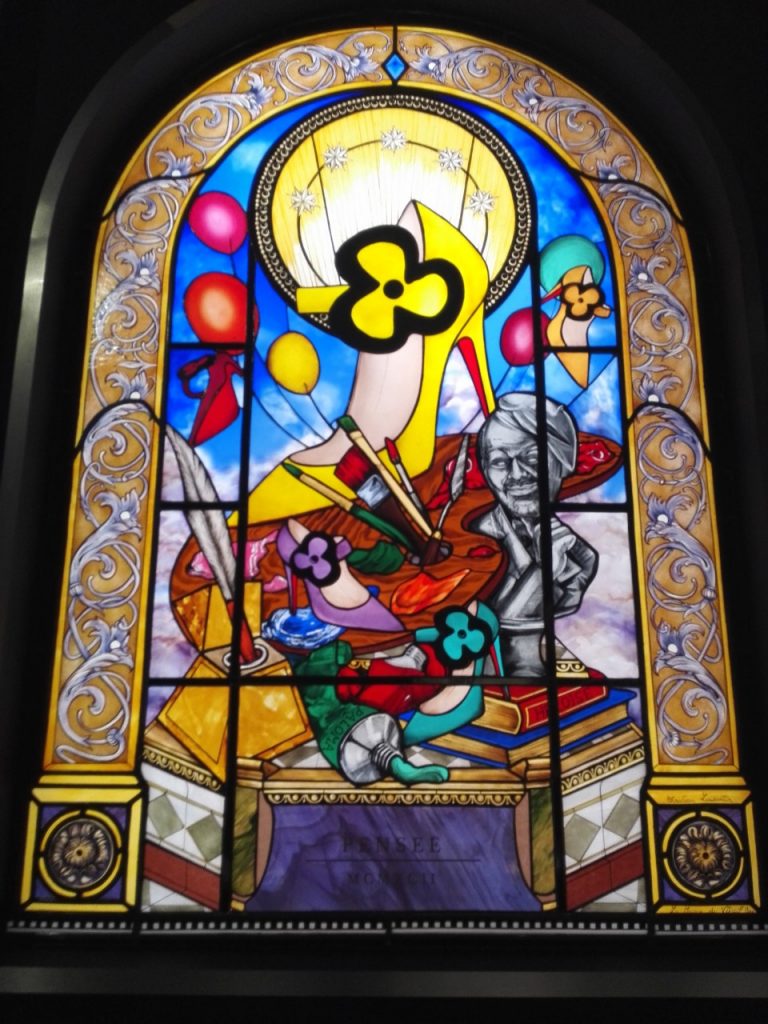 There's a reason for France's leading role as the handicraft's Eldorado. Fashion and especially its haute couture have helped preserve these artisans that are so skilled at their professions. But what would they be without the creators and designers?
This February 26, 2020, I took the long subway drive to the other side of Paris to this Arts Deco palace, built in 1931. It's an imposing building that used to host African and Oceanic works of art (now in Quai Branly) as well as an enormous aquarium – that's still there in the basement – but has lately been renamed the Museum of Immigration. So what does shoes have to do with immigration? I pondered the question.
I was soon to find out that Christian Louboutin loves to travel and different cultures have inspired his creations, as displayed in this fascinating exhibition. Shoes are of course made to walk in, but his creations looked more like pieces to be exhibited rather than to be worn. They're so intrinsically well embroidered, designed, assembled, coloured…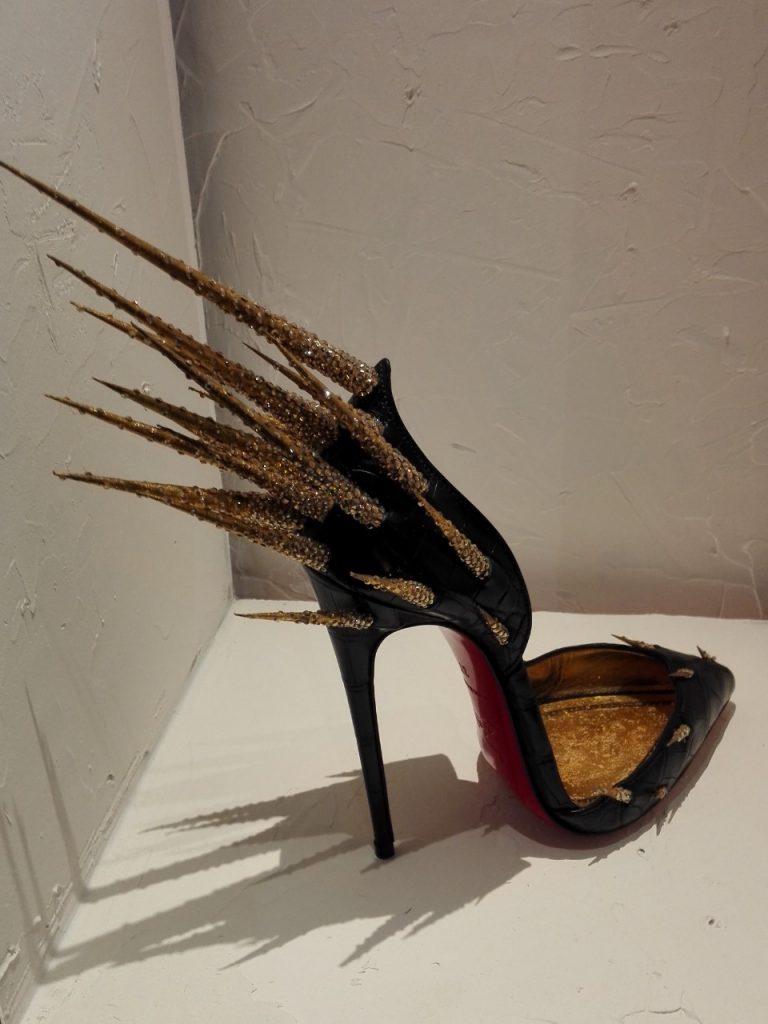 An imitation of a craftsman's room is part of the exhibition and the layperson can follow the creation from it's beginning, as a drawing on a piece of paper, to its final stage. Using unusual materials, such as fish skin or tree barks for example, and working closely together with other artists from the pop culture, dance, theatre or literature and even from the cinema. Just to mention a few of his collaborators: the photographer and filmmaker, David Lynch; Lisa Reihana video artist from New Zealand; the English designers Whitaker and Malem; the Spanish choreographer, Bianca Li.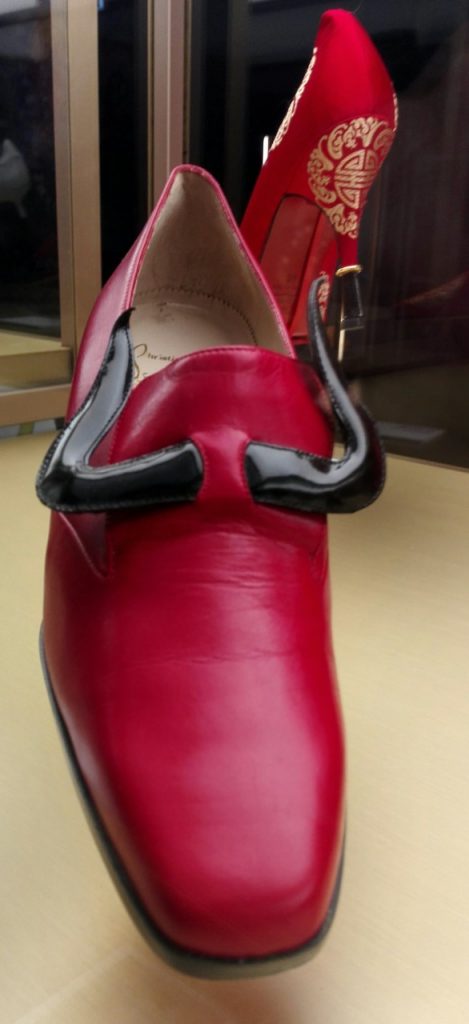 In the first room, the visitor is introduced to the architecture of the place through colourful and fun glass windows, not depicting the usual Biblical scenes as found in churches, but shoes and boots. These are mixed with an array of shoes as well as drawings and designs.
In the middle of the "treasury" room an enormous crystal sculpture made in India is surrounded by shoes inspired from his travels. Then comes the "nudes" where Louboutin shows his inspiration of human skin to make shoes or boots looking like "a prolongation of one's body".
In the atelier, I learned, through video clips and utensils, about the shoe making skills. A Bhutanese theatre showing a spectacle pointed to his Asian inspiration.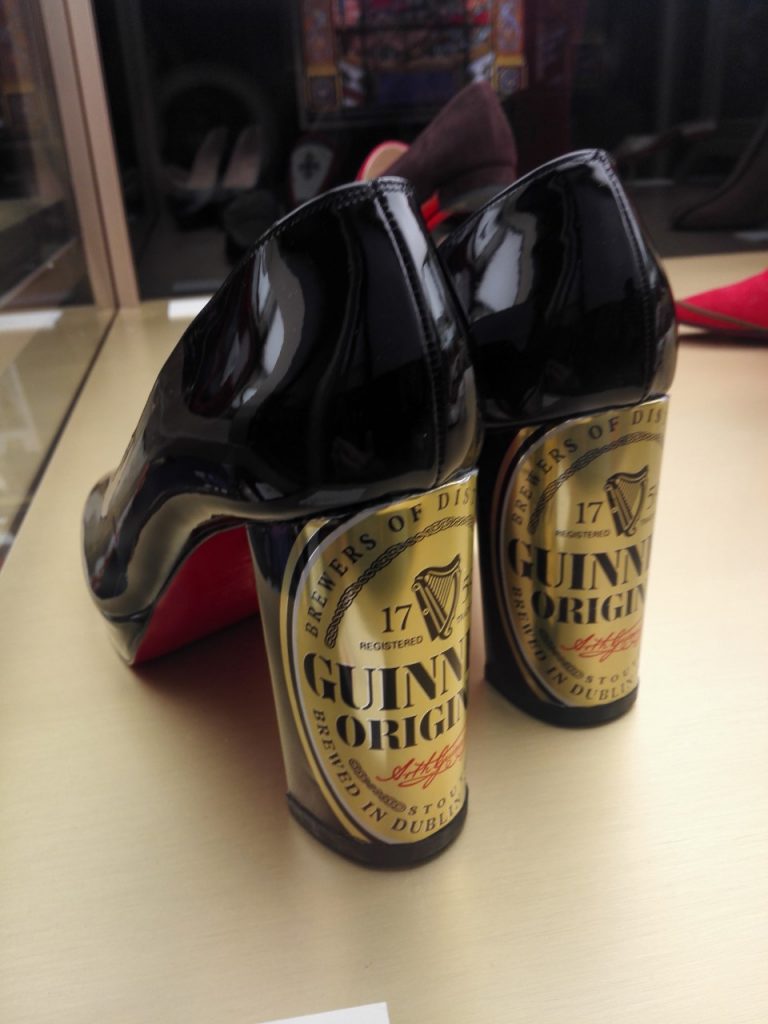 After viewing a large video from New Zealand, I arrived in the "pop corridor" – covered in bright red and entirely mirrored – where, apart from pictures of movie stars wearing his shoes, his first men's collection is displayed.
Of course, there can't be a shoe exhibition without a blink towards the fondness of certain people towards fetishism. Finally the "imaginary museum" illustrates works of his most cherished artists.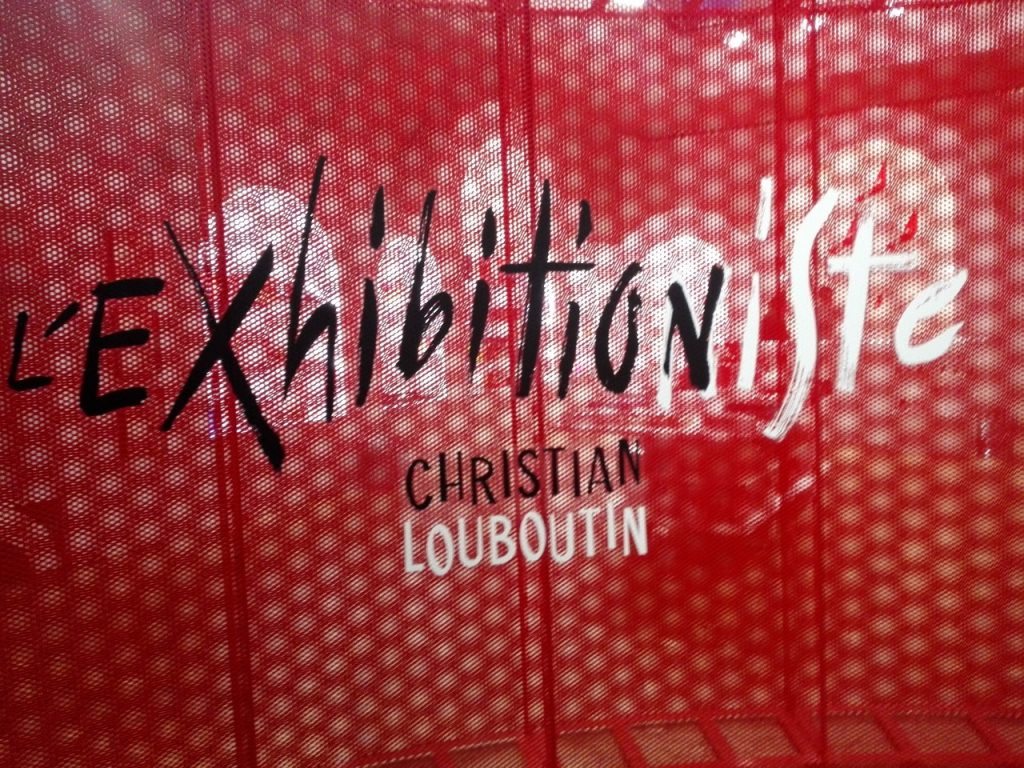 An unforgettable image is one of the singer Aretha Franklin's all dressed in red, wearing the famous fire-red Louboutins, which have become his fans favourite brand. "I was sitting in my atelier and saw my assistant's red nail- polish and decided to try it under a black high heel shoe, added some varnish to it and that was it. I never thought that it would make a world-wide hit!" he admitted. But there you are, creativity and boldness can lead to unexpected results.
Art can be seen in everything, it's a question of having the eye and the imagination. Then it takes the skill of course. Christian Louboutin has revealed that he masters them all. Craftsmanship has been disappearing in the Western world since the beginning of the industrial area, but it's not too late to retrieve it, as haute couture shows.
Many women would die for just one pair of his shoes, and so would I, for sure! However as long as my valet doesn't permit me such extravaganza, I enjoyed admiring them in the Palais de la Porte Dorée.
Anne Edelstam, Paris.
Christian Louboutin: L'exhibitioniste
26 February – 26 July 2020
Palais de la Porte Dorée
293 Avenue Daumesnil
75012 Paris