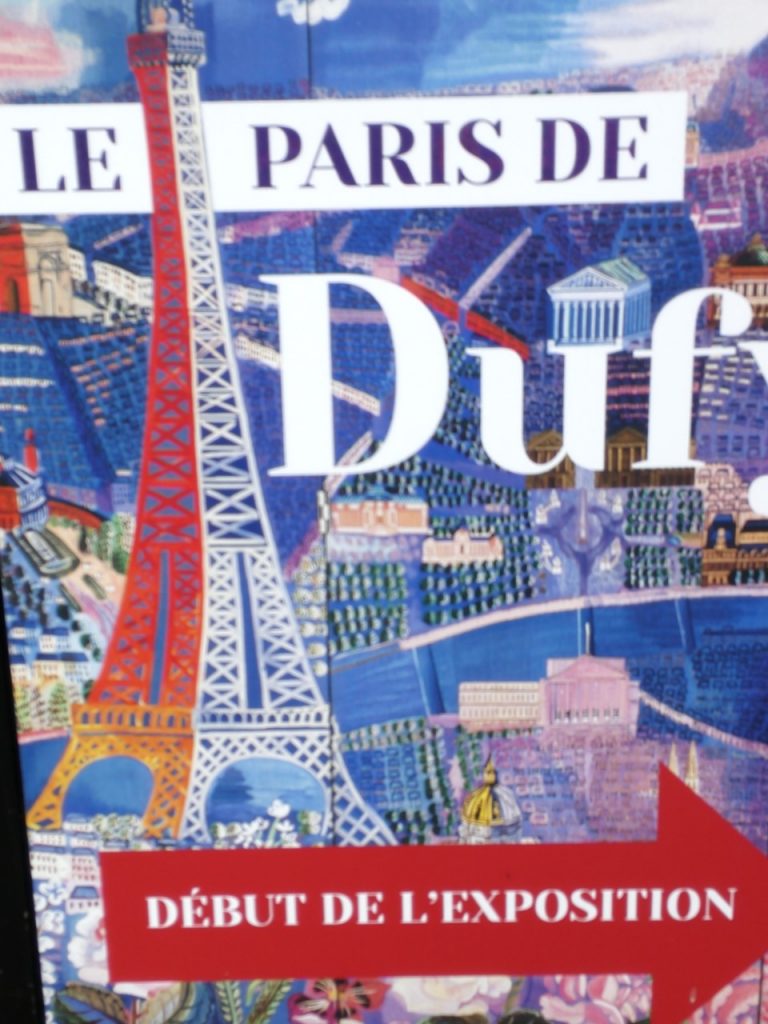 Raoul Dufy's colorful paintings of Paris open the season's exhibition at the Musée de Montmartre in Paris.
Montmartre used to be the artists quarters during the middle of the 19th – and beginning of the twentieth century. It's still like a village, with its hills, grapevines, parks, paved side-walks, numerous ateliers and small houses. Paris, although one of Europe's largest capitals, resembles a conglomerate of villages, assembled during different epochs to eventually form todays large city. However, Parisians still prefer to hang around their own 'arrondissement' though, where they have their favorite bakery, butcher, cheese shop and tobacco store.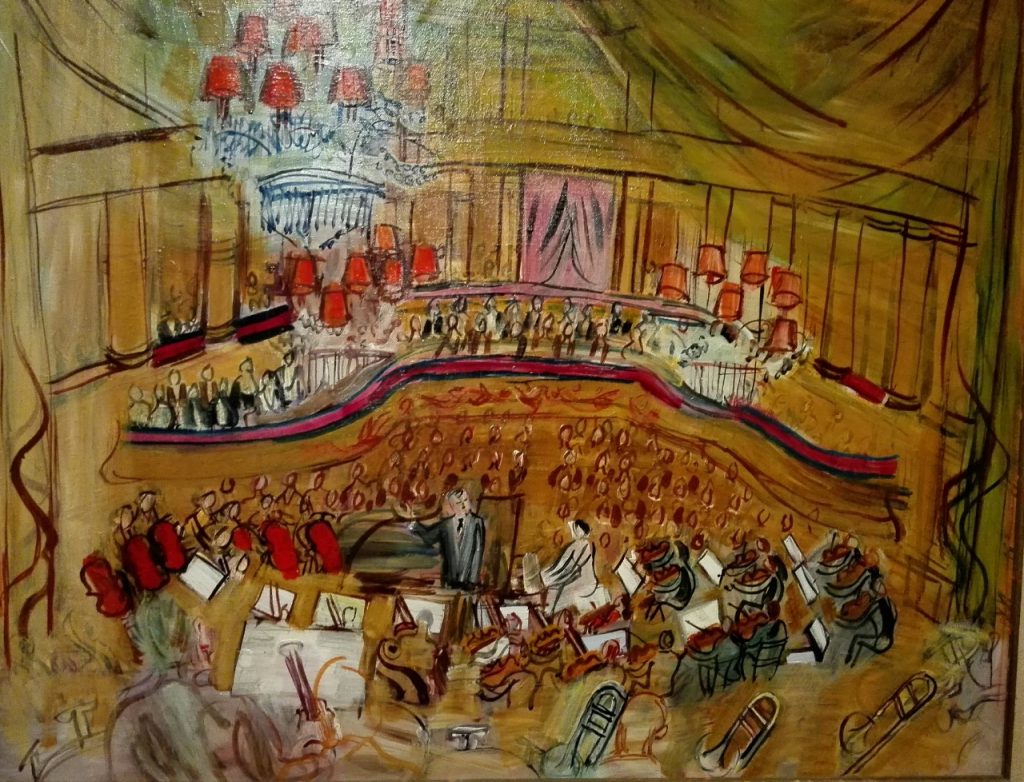 I took the subway up to Montmartre. This usually so overcrowded area with loads of tourists, was quite empty this rainy morning. Paris was still in lockdown but preparing for its slow reopening on May 19. Outdoor cafés will be allowed and museums will open their doors. I was lucky to be able to see this extraordinary exhibition beforehand. The museum is in itself worth the detour with its cute little garden and lovely location, overlooking Paris.
'Le Paris de Dufy' exhibition is his view of Paris. It's like being in a time-machine to see Dufy's works of art. Raoul Dufy (1877-1953) showed, at a young age, a special dexterity for drawing. He became quickly well-known within the Parisian art circles for his compositions, elegance and coloring skills. The Swedish Ballet in Paris (1920-25) hired him to do the decorations for one of their ballets at the Théâtre des Champs-Elysées.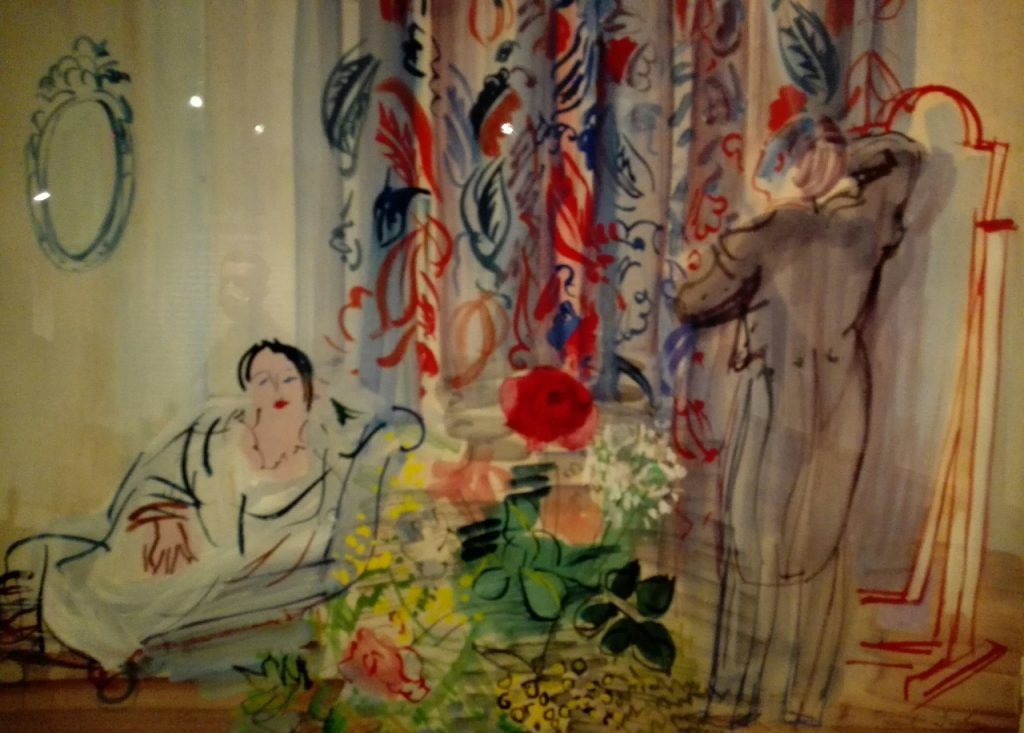 The exhibition starts on the first floor with an oil painting of the capital seen from Montmartre. Otherwise, it's organized in thematic- rather than in chronological order and covers most of Dufy's skills from oils to watercolors, drawings, woodcuts, tapestries and ceramics. Raoul Dufy possessed a wide range of skills but kept, throughout them all, a taste for color and elegance using a light pencil line. Splashing wasn't his style nor did he attempt to integrate any of his contemporaries' ways – although he dipped both into impressionism and in cubism. His compositions are special and not classical, although figurative.
In the end of the nineteenth and beginning of the twentieth centuries, Paris Bohemians met, each Sunday afternoon, at the Moulin de la Galette. Dufy, along with Von Gogh and Renoir among others, couldn't resist the temptation to paint the typical scenes they observed. I could really feel being part of the gang just by looking at his paintings. I also thoroughly enjoyed going to the theatre and concerts along with Dufy and all the elegant women and men. He was born into a family of musicians, so music was part of his life which shows in his art.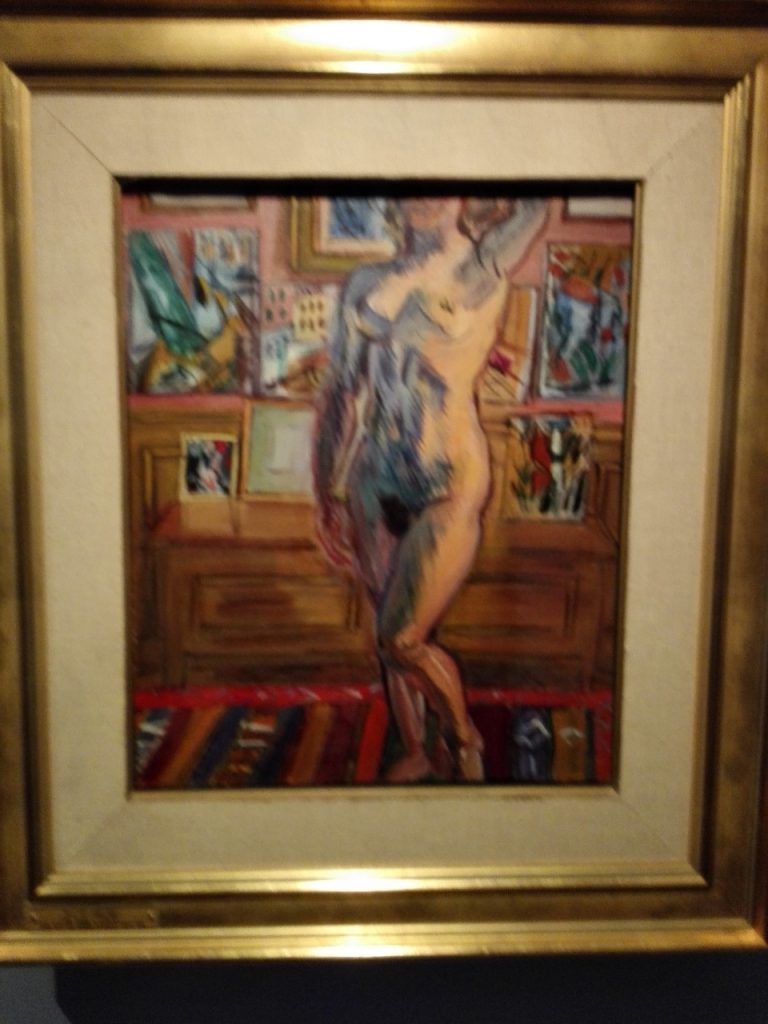 From the buzz of concert- and theatre halls, shifting to a quieter mood, I entered his colorful atelier, painted as an empty room, but with the windows wide opened on Paris. Still paying homage to music, by painting a violin on one of the tables. Dufy also illustrated numerous books, catalogues and brochures.
One room showed his nudes that weren't my preferences. They reminded me somewhat of Picasso and his distorted figures. What I did love were the textiles, depicting Parisian scenes, that he had designed for an entire set of furniture, as well as a large, intricate, textile screen. During the 1920s he worked relentlessly with tapestry and some of the best known French manufacturers.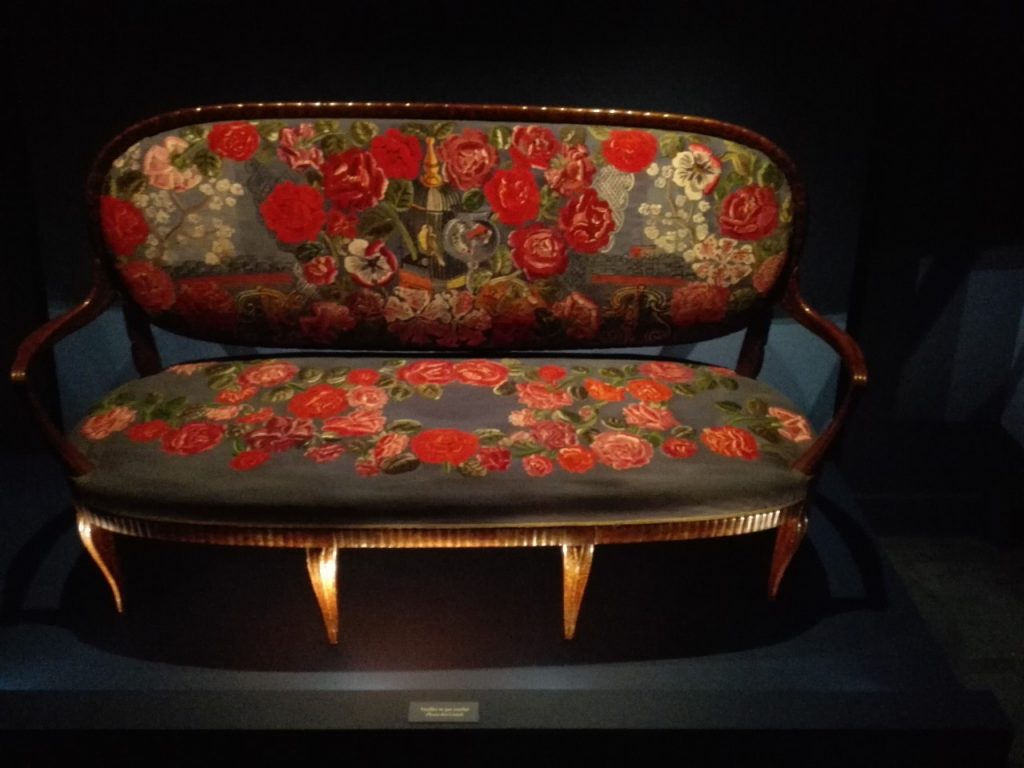 His curiosity knew no boundaries! He also dipped into the art of frescos by doing an enormous one for the French electric company – called La Fee Electricité – or the electric fairy!
His outdoor Parisian scenes go mostly in greens and are as impressive as his fashion drawings.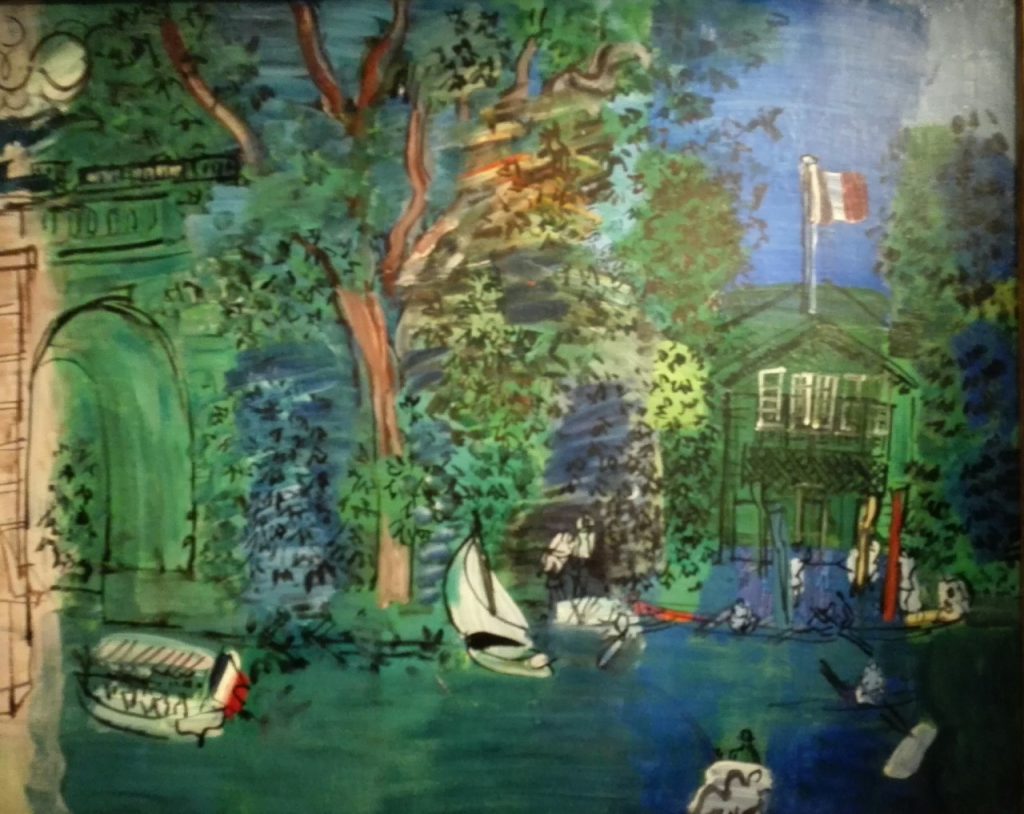 Whatever preferences one might have, there can't be any differences in view of Raoul Dufy's dexterity in his drawing skills or when depicting Parisian scenes. We can thank painters like him, and museums that show us their works, to get a glimpse of what life used to be during long forgotten times. This article is but a taste of what you'll discover for yourselves once you've made your way up to this artistic and special part of Paris.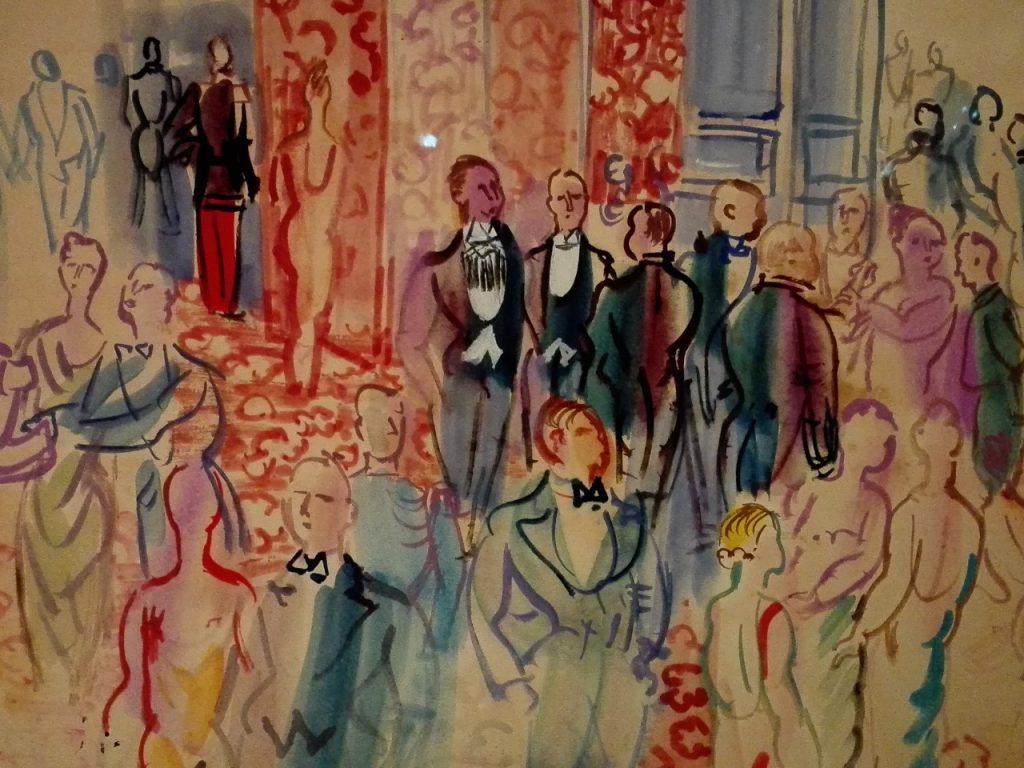 Anne Edelstam
Musée de Montmartre
Le Paris de Dufy
12 rue Cortot, Paris 18ème
19 May – Autumn 2021