The Grand Palais, the Palais de la Bourse and the Louvre yearly show art in their beautiful palaces: drawings, modern and contemporary art, design as well as photography.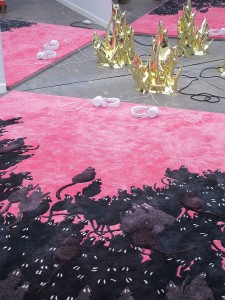 Gallery Slott
Grand Palais:
Art Paris, Art Fair 2012, took place in one of Paris most beautiful buildings with its light shining through the glass roof, lightening the works exhibited. All types of art are presented but this year they had added design that only showed exclusive and numbered articles, created by some of the most renowned designers. One of those galleries was the Swedish-owned Slott. Paula Bjäringer – the proud owner – showed a pink carpet with rats "holy in India" running across it and Arik Lévy's fabulous chandelier.
I concentrated on Middle Eastern artists this year. I was drawn like a magnet to the Syrian painter's, Ziad Dalloul, oil-paintings with its warm colours and its Oriental feeling of opulence.
"Several of my paintings are already sold," he said, giving me a broad smile, when I wondered how the sales had been. Syria is not the most inspiring place where to be at the moment but Ziad lives in Paris since a long time and it's more his memories from his home-country and his grandparents home with their Oriental cloth that we are reminded of in his paintings.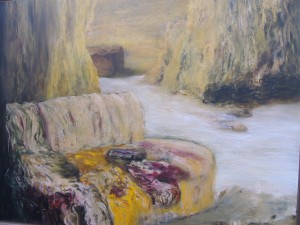 Ziad Dalloul
I continued to the gallery Albert Benamou who had chosen to show five different Oriental artists. "The Arab countries' artists are foremost artists," the owner said. Their work go beyond their borders and become part of a universal, free art-form. Nermine Hammam's photography is reminiscent of Mespotamia, Egypt of the Pharaohs, Coptic symbols and antique Greece mixed with contemporary pop-idols and revolutions.
Nermine Hammam
Helmut Newton (1920-2004) and chic sex:
In the same palace but around the corner, another line formed: that to the retrospective exhibition – with over 200 originals – of the German photographer Helmut Newton. Newton introduced an elegant pornography and shocked with his provocative pictures. Naked, dominant, free women became his signum. His photography became so widely popular however that several amongst the most well-known people (such as Margaret Thatcher, Catherine Deneuve, Princess Caroline of Monaco, Nicole Kidman) let him take their picture, some more clothed than others.
Helmut's women were strong and more or less androgynous, often depicted holding whips, wearing boots or stirrups. His most striking pictures are to my mind the black and white ones but he also did colours, mostly then for fashion or for publicity. The social environment he showed was one of luxury, wealth and power. Newton's vision of the dominante female that can do without men.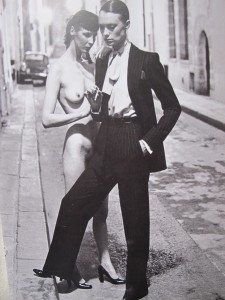 Helmut Newton
Despite all those elegant and provocative women, the photographer shared his life and work during nearly 60 years with his beloved Australian wife, June. Although he had told her "my photography always comes first, you second."
It's in Berlin – the town from which he was thrown out in 1938 due to his Jewish background – where he left his entire archive, in 2004. June is the one who is the director of the Helmut Newton fond in Berlin, who organizes and programs exhibitions and new prints.
Palais de la Bourse: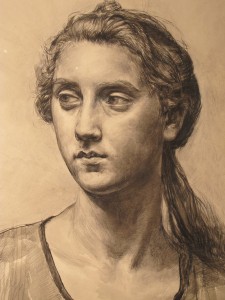 An entirely different atmosphere reigned at the ancient Bourse where this year's international drawing fair was shown. Renowned former masters competed with modern drawers. All galleries were first-class. The fair is getting more and more popular which I understand because the works were of a very high standard. The environment helps also as a Picabia or a Rubens do look so much better in this palace rather than in a modern building devoid of soul or character. The drawings are increasingly appreciated by an otherwise critical Parisian public maybe because modern man like their simplicity and relative nakedness. Drawing lies at the base of all paintings, it's the immediate transposition from the idea to the paper, the extension of thought. Before it eventually evolves into an oil-painting, an architect's house or a garden… A price is distributed to the best drawftsman.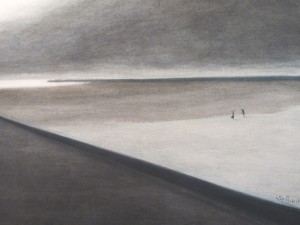 Carrousel du Louvre and Drawing Now:
The contemporary drawings were shown at the Louvre, under the glass pyramid. 80 galleries shared the space that was divided into two: on one side the established galleries and on the other the newcomers. Most were French but I also noticed some from the USA and I even found a Chinese gallery. The prices varied between 300 to 500 000 euros. Drawing Now is a relatively new phenomenon in the parisian art scene. It started in 2007. They have been nomads until this year 2012 when they managed to get into the Louvre with the advantage of thus attracting a wider public, national as well as international. Even comic strips and video-art were part of the show.
I missed a Swedish gallery but contented myself with the talented Dane, Peter Martensen, whose work I was immediatly drawn to.
It's spring in Paris, at least for anybody interested in art.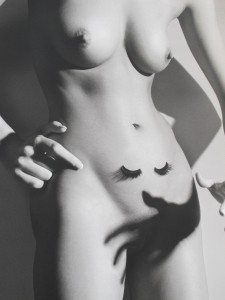 Anne Edelstam, Paris