This spring, Centre Pompidou, in Paris, is showing a large retrospective of this fantastic photographer. Bresson has left us a legacy of historical pictures – both in regards to purely reportage photography but also artistically.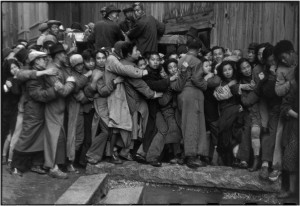 In China: a desperate try to get out some money from the bank
Poetic pictures:
It's his unique composition, intuition and capacity to catch the most extraordinary as well as the most ordinary moment, that has made Henri Cartier-Bresson (1908-2004) not only France's but the world's greatest photographer. During his entire career, he travelled around the world and took historically important pictures. It is however the combination of poetry and reportage that makes his photography exceptional.
His work can be divided into three distinct periods:
The first one between 1926 and -35 when Bresson mostly befriended surrealists, started his photography and made his first travels.
The second one between 1936 and -46 is the political one, when he gets involved in the communist movement and takes pictures for their paper and starts experimenting with film.
The third one from 1947 to -70 is when he created Magnum Photo and stopped doing photography reportage.
Thus the photographer has experienced different phases in his long life. This retrospective shows his work in chronological order. Through more than 500 photographs, drawings, paintings, films and documents, the visitor understands that there isn't a single Cartier-Bresson but several.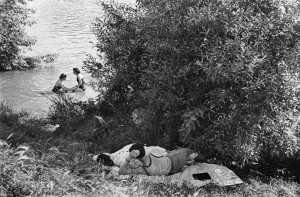 Paid holidays
New vision:
Bresson's interest for photography started already in the -20s. As a pupil of the artist André Lhote, he learnt composition's and geometry's classical rules in painting. Those he later used in his photography. During a trip to Africa, he applied the "new vision of photography" based upon the Russian constructivism: new angles, framing and dynamic. Far from the ethnographer's view, he shows the Africans' daily lives.
In 1926, Bresson starts to befriend surrealists he's met through other artists. He uses some of their motives in his pictures, such as packed objects, deformed bodies, dreamers with closed eyes… However it's foremost the surrealist attitudes that he adheres to: the fun of playing games; the importance of the unconscious; the pleasure of leisurely strolling around in an urban setting.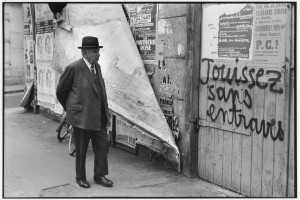 Rue Vaugirard
Political commitment:
As several of his surrealist friends, Bresson is drawn towards the communist ideal – with an active anti-colonialism; engagement in favour of the Republican opposition in Spain and a deep faith in the ability to change life. His first reportage is made for the communist media with social settings such as the first paid holidays (1936), with several amusing pictures of Frenchmen on vacation; as well as others such as a series depicting "Childhood" with child portraits. During a reportage of George VI's crowning in England (May 1937), he turns his back to the King and takes pictures of the public instead!
During WWII he mostly films – a skill he learnt in the USA in 1935. After some years of collaboration with Jean Renoir, he's accepted as the French army's filmmaker.  He is taken prisoner for three years though before he manages to escape and documents Paris liberation as well as the German prisoners' march back to their homeland.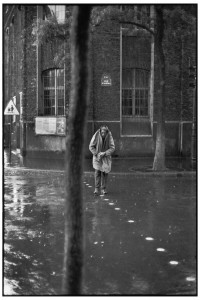 Giacometti
The cooperative Magnum Photos:
The USA showed their appreciation of his work, with a retrospective of Bresson's pictures at MoMa in New York, in 1947. That same year, he starts Magnum Photos (together with some other photographers) and orients his photography towards photo-reportage. Until the beginning of the 70s, he's published in different media with pictures from all corners of the world.  Some of which have become classics: like the mourning Indian masses at Gandhi's funeral or the Chinese gold rush.
He also depicts daily lives: in Russia after the death of Stalin or in Cuba in 1963, or in France after the 1968 youth revolts.
In each country, Bresson makes a reportage, he also photographs according to specific themes: such as the urban person; the relation between man and machine; power within the state-machine; consumerism; the masses… The viewer can thus compare and observe the differences or similarities from country to country.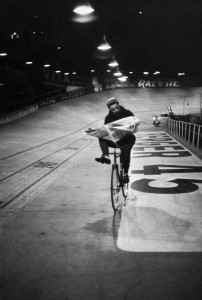 Meditative:
After the 70s, Bresson stops his collaboration with Magnum and does less and less reportages. Although his Leica still follows his every move, his pictures become more contemplative and less instantaneous. His landscapes, family-portraits and objects retrieve their earlier poetic shimmer. Bresson even starts drawing again.
He organizes, makes archives and photography books. The last part of his life, he's more contemplative and observant than frenetically active.
His entire work has been dedicated to his sense of observation, his sensitivity, his mystery, his humanism and his curiosity for all aspects of life.
This retrospective shouldn't be missed either for the sake of remembering a century long epoch that Bresson serves us on a silver plate or just for the soul's pleasure at viewing a true artist at work!
Anne Edelstam, Paris.