One of Sweden's most famous artists, Carl Larsson, has never previously been shown in a French museum. Finally his time has come. This spring, his works are displayed at the Petit Palais, in central Paris.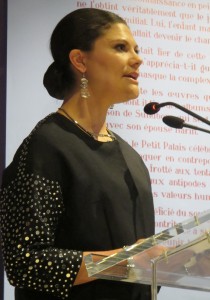 Inauguration by the Swedish Crown Princess Viktoria:
The Princess and her husband were flown in especially for the day and the photographers were flocking on the large, ancient, magnificent staircase this early, sunny spring day. The Princess held an appreciated inauguration speech and the guests could then stream into the rooms, at the bottom of the museum, dedicated to Carl Larsson (1853-1919).
Christophe Leribault:
The museum's new director has gotten a liking for Sweden and this – in France – such ignored artist. Mr Leribault himself guided us around and made the paintings come alive. Already the entrance to the exhibition is enticing with large pictures of Carl Larsson's art. The rooms are intimate and painted in the artist's typical colours: deep red, clear green, blue and some painted typical wooden chairs and a small "children's room" – an unusual ingredient in this not so child-friendly country. And that's maybe just what was the problem with Carl Larsson's art in France: all these children depicted in his works of art!  He lived and worked in France for over ten years  (from 1878 to 1889 with a few interruptions) but his art was never appreciated there.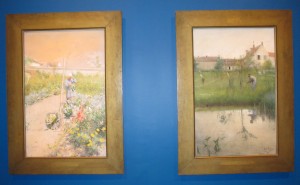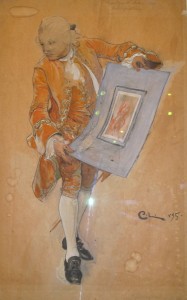 Retrospective:
This exhibition is his first retrospective in the French capital and the first room that the visitor enters is about the time he worked in France. He came from a very modest background but early on he showed a special talent for drawing and painting. Thanks to that he managed to get a job as illustrator for different magazines. After having gotten an art price and having finished his art studies, he decided to take the long journey south to the "artists' capital": Paris.
There he soon moved out to Grez-sur-Loing, an art village outside of Paris, where many Scandinavian (amongst whom Karin Bergöö whom he later married) as well as Anglo-Saxon artists were living.
The exhibiton's "blue room" is about that time. The satirist and illustrator behind the painted landscapes is easily recognized. Through his keen sense of observation, Carl Larsson reproduced funny ordinary details. One of Karin's paintings is exhibited too. After her marriage, she stopped painting to take care of the children and creating the now well-known interiors, decorated with furniture and fabrics that we can't dissociate Carl Larsson from any more (and extensively copied by Ikea).
Known in Sweden:
Carl Larsson made his breakthrough during the International Salon in Paris in 1889, which led to his recognition in Sweden. However in France, cubism and fauvism were flourishing and Carl Larsson's art was frowned upon.
In the exhibition's "red room" his monumental frescoes that are at the Stockholm National Museum are illustrated with a few sketches. 
He started to get orders of portraits too. August Strindberg – one of Sweden's most famous authors – was one of the portrayed. Both men however fell out with each other after Strindberg had accused him in one of his books of only showing an "idyllic illusion" of a Swedish society with happily playing children in wonderfully sunny natural environments. I can't say that I blame him…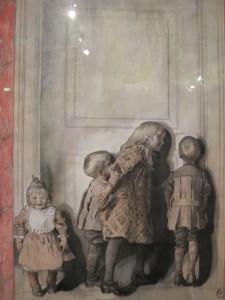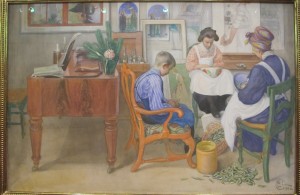 The last part:
The two last rooms are dedicated to the paintings most Swedes can recognize: his house in Sunborn, the children, the home-environment, Christmas… painted in watercolours as well as in oil. The illustrator shows up again with funny little details like his wife sitting knitting in a corner while Carl is sketching a nude. His composition is unique and modern with specific cuts and angles.
While scrutinizing his paintings, a deeper interest for the artist develops and I can sense an irony behind the polished façade.
Portraits of his father are interesting as well as his relation to his father was anything but idyllic. He had left the family at an early age and Carl never forgave him despite taking him into his home where he arrived, without a penny, asking his son for help.
Some of his illustrated books such as "My home" that became so popular internationally especially in Germany, are displayed as well as a painting on glass.
So why was he never appreciated in France I asked Christophe Leribault who had already admitted that this exhibit was a chance-taking? It wasn't only the difference in style between the French artists of the time and Carl Larsson but specially his paintings' motives. "You understand, the Parisians who could afford to buy art lived in large apartments with cooks and nannys. The children were only present  for a quick good night kiss but hardly mingled with the grown-ups. It wasn't comme il faut to hang up paintings of playing children in the living-room.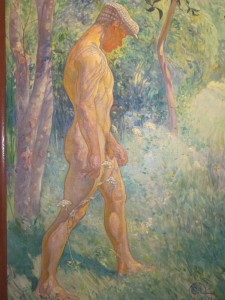 The question is whether the French now are ready for this kind of art or not? Time will tell if the exhibition will be a success.
It might just be the opening door for other Swedish exhibitions to come to Paris. Why not Anders Zorn or Hilma af Klint next? Lets hope that that's not asking for too much from one of the most ancient art-capitals?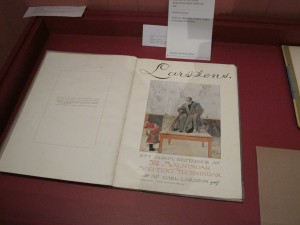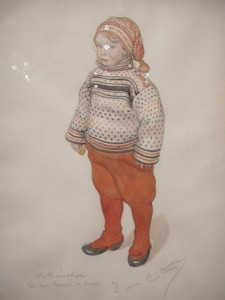 Anne Edelstam, Paris.