This grand outdoor museum in Southern France reminds me of another one in Denmark – Louisiana. It's a similar concept with both outdoor sculptures and indoor works of art. The architecture is in both cases crucial – in St Paul de Vence, it's the work of the Spanish architect Sert that contributes to making the place so magical.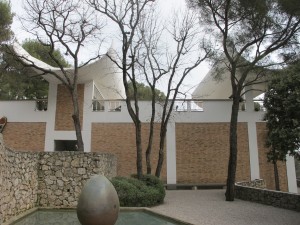 Fondation Maeght:
It's not far from Nice, up in the mountains, close to the picturesque and charming village, St Paul de Vence, that this private museum is situated.
Marguerite and Aimé Maeght opened the doors of their now so famous museum in 1964 with a unique, modern and contemporary art collection that's regularly extended, with new works of art. Some of Europe's most outstanding 20th century artists – Bonnard, Braque, Calder, Chagall, Chillida, Giacometti, Léger, Miró, Ubac – are represented as well as contemporary ones such as, Adami, Tàpies, Caro….
In the park – with its high pine-trees, blooming flowers, waterfalls and breath-taking view – the visitor can admire a Giagometti courtyard, mural mosaics by Chagall and Tal-Coat, a pool and a glass-window by Braque as well as a fountain by Bury.
The museum has its specific character however thanks to the Catalonian architect and artist Josep Lluis Sert (1902-83).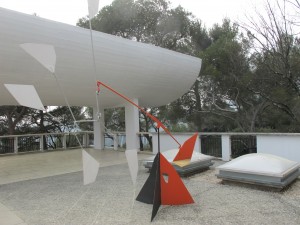 Calder at Maeght
Josep Lluis Sert:
This spring (5 April – 9 June 2014) is dedicated to this creator without whom the museum definitely wouldn't have the same allure.
Sert's window placements with its natural lighting show his feeling for art because wherever one looks, the eye rests on a work of art. Inside the building, he has made openings leading out to the outdoor rooms where other works have been placed. It's truly heaven for both artists and art lovers!
The exhibition show Sert's architecture in relation to the art and the artists he worked closely with in the form of films, models, archives, plans and drawings.
He finished his architect studies in his hometown Barcelona, in 1929, and then worked both with Le Corbusier and Jean Jeanneret in Paris, before starting his own architect office in Barcelona the year after. After the Spanish Republic's fall, he moved to the USA where he both taught architecture as well as continued to work.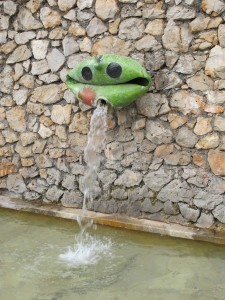 Mirò at Maeght
Sert has made other museum buildings than Fondation Maeght; such as the Fondation Miró in Barcelona; the 1937 Spanish Pavilion in Paris where Picasso's Guernica was shown; Marc Chagall's house in Vence; George Braque's atelier/house; the art-school in Besançon; houses at Ibiza; university buildings and private houses, schools and libraries in the USA…
I discovered this genius by accident one summer when our family had rented a house in Ibiza built by Sert. It was a dream-house, simple but very tasteful, where he had taken into account the surrounding nature and light.
Sert knew many of the artists since long, some of whom came as he did from Barcelona. His relation to them was genuine and friendly:
"The best start for a real integration between painting, sculpture and architecture, is the genuine relation between the architect, the painter and the sculptor or the painter/sculptor. This relation encompasses similar ideas, constant exchanges, understanding for each other and friendship…
The paintings must be in accordance with modern buildings, as primordial pieces they must have the same soul as those and be able to live with the same light. Only an agreement from the start between the architect, the painter and the sculptor can lead to wholeness." (Josep Lluis Sert).
Fabrice Hyber
Giacometti
Architecture can be as horrible and depressing for the soul as it can be uplifting and inspiring. Sert definitely belongs to the latter category and for those amongst you who'd like to warm up after the long and cold winter months, I heartily recommend this exhibition in a magnificent location.
Anne Edelstam