Who is the woman hiding behind the joyful, round, colourful sculptures that she became famous for? That's what we can discover this fall during a large retrospective in Grand Palais.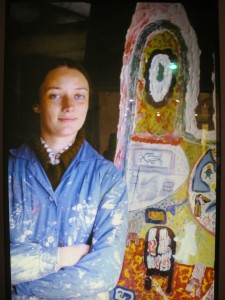 A French/American artist:
Niki de Saint Phalle (1930-2002) – born in France but mostly brought up in the USA – was one of the 20th century's most well-known artists. Her works' richness and complexity were for a long time somewhat buried under the wonders of her large female figures. This exhibition ends that tendency to reveal a strong and engaged woman.
She was one of the few female artists who became internationally known at an early age. Like Andy Warhol she quickly learned how to use the media to spread her art.
Autodidact, she was inspired by Gaudi, Dubuffet and Pollock to create her own unique and timeless works of art in the end of the 50s. She never adapted an art movement but created her own style with specific themes and myths. Under the cover of her works' colourful and comic aspects, I discovered another aspect of Niki: her violence (she was locked into a psychiatric hospital some time during her 20s because she was considered dangerous to herself and to others), her radicalism and her humanism.
This beautiful, intelligent woman who worked as a model, came from an upper class family. She was courageous, political engaged (she criticized George Bush and the weapon industry), was a feminist (fought the anti-abortionists and promoted gender equality) and was in many aspects far ahead of her time.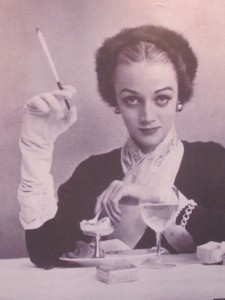 The artist as model
The retrospective at Grand Palais (until 2 February 2015) shows more than 200 works of art – paintings, sculptures, graphics, films, collage – several of which have never been shown before. Camille Morineau – the intendant – wanted to show Niki's vulnerability and anger. Apart from the fun, round female figures know as nanas (girls in French but also referring to the legendary French author's, Emile Zola, book with the same title) with small heads and enormous bodies, the exhibition points to the artist's soar spots: her childhood was spent with a cold mother and she was raped by her father at the age of 11 and ended up as a consequence in a psychiatric hospital (where she started to paint).
Her scars are definitely part of her art. Her vulnerability and pain are touchingly apparent in her paintings.
She then married and became a mother, divorced (some very moving illustrations of farewell to her ex-husband are shown) and finally remarried the artist Tinguely together with whom she had many exhibitions.
"Gun-art" and parks:
Was it anger against her father she expressed when she filled up her paintings with paint that was encapsulated until she shot them opened and let the paint splash all over the canvas? An entire series of paintings in that style are part of the exhibition.
They are shown side by side with a surreal film she made of her father called Daddy. Niki even shoots against cathedrals and altars, letting the red colour trickle down like a river of blood… "I shoot at the churches and what they stand for but never at God", she pretended. She combatted patriarchal structures in all forms.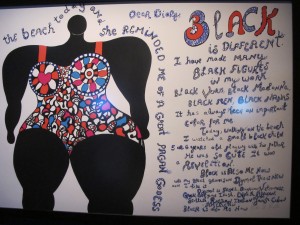 Niki de Saint Phalle always defended the weak and the different; she was against racism (still rampant in the USA then) and showed it by painting several of her nanas black.
Her engagement didn't prevent her from enjoying life and liking to entertain though, which her several parks with amusing figures show. It was Antonio Gaudi's park Guëll in Barcelona that inspired her to create by the end of her life sculptural parks: the Tarot-park in Garavicchio in Italy; another in Jerusalem and one in California. To pay for those huge projects, she created and sold paintings, graphics, objects such as perfume-bottles and smaller sculptures.
So if you can't come to Paris and see the exhibition, you can still enjoy one of those parks with her monumental figures and other sculptures.
"The world is round, the world is a breast", said the true matriarch Niki was. Maybe we're all heading towards different times where the feminine side in us all – men as well as women – will finally restore its rightful place and recreate a more sustainable balance in a world in dire need of care and sustainability? Niki de Saint Phalle would have liked that…
Anne Edelstam, Paris