Alexandria with its famous library used to be one of the world's foremost literary centres. In modern times we have become acquainted with writers such as Naguib Mahfouz or Nawaal el Saadawi. Then Alaa el Aswani popularised the Arabic language with his widely spread books. How is the Egyptian literature scene doing today?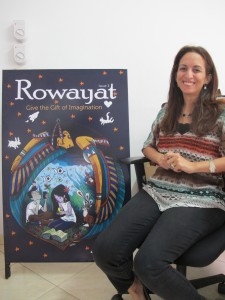 That was one of the questions I had in mind when I went to a newly opened literary café – Antique Khana – situated in the middle of the buzzing Zamalek Island.
Rowayat:
Sherine Elbahawy – a passionate Egyptian woman, editor of the literary magazine Rowayat – greeted me along with some other writers she had gathered for the occasion. Rowayat – meaning stories in Arabic – is the first magazine of its kind published in Egypt. It's in English for the moment but will hopefully soon also come out in Arabic and has glossy, inviting colour pictures mixed elegantly with the texts. The first number came out the 25th January (as a reminder of the revolution of 2011) 2014, featuring different themes each month.
"How did you come up with this idea?" I asked her. "I've always been interested in literature, reading and writing a lot. These past years I've been involved in a creative writing circle so one thing led to the next…" she told me a few days later in her office in one of Cairo's posh suburbs. It seemed very daring to me in a country with a still relatively high amount of illiteracy (around 32 %). However, she continued: "our country is one of story-telling. Books can be turned into audio-books and become a stepping-stone in children's literacy". Sherine's commitment doesn't stop at that, she's also eager to help young girls get a free education: through amongst others a close cooperation with the NGO www.nefham.com
Rowayat's December number was about children literature. As a Swede I couldn't help but notice the Swedish ones displayed in Arabic on her desk. "They've been given to us from the Swedish Embassy to be handed out as a prize for a contest we're organizing", she told me. I thanked her for her remarkable work and headed for the Swedish Embassy and an interview with our Ambassador Mrs Charlotta Sparre.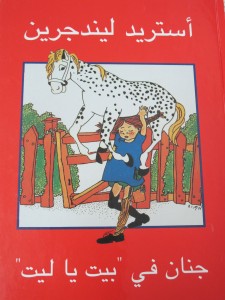 A Swedish children book in Arabic
The Swedish Ambassador to Egypt:
The ever-so enthusiastic Ambassador welcomed me with the residency's entrance full of Swedish children books in Arabic. She had just returned from a promising trip to Upper Egypt where Sweden is involved in a joint Swedish/Egyptian project combatting FGM (female genital mutilation). "Education plays an important role in all societal sectors", she assured me.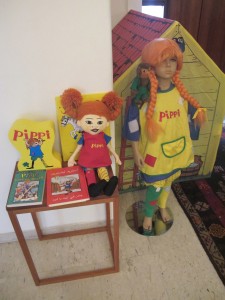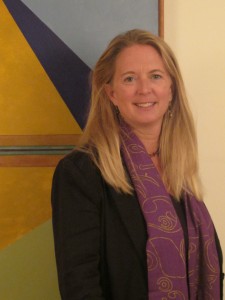 Swedish Ambassador Charlotta Sparre
I couldn't agree more. "Children books from different backgrounds help children understand societal changes, such as divorced parents, unloved or lonely children, the strength of young girls…" Western/Eastern literature exchanges are stepping-stones in combatting fundamentalism and intolerance. Why not start with the children? Focus on the girls is important as they're the ones often taking care of the next generations' education.
Sweden, she explained to me, is a great promoter of gender equality and women's projects in Egypt. She Entrepreneurs is a project aimed at creating women leaders' networks (www.se.se/sheentrepreneurs). Another project Sweden is involved in is WOW – Women on Walls – promoting women artists doing what has been done in Egypt since Pharaohs times – namely drawing on walls.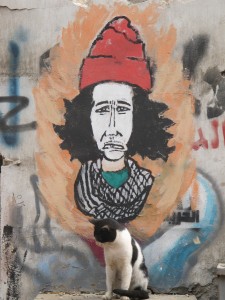 Alexandria:
In Alexandria Swedes are foremost active through the Swedish Institute – SwedAlex – and its engaging director (until January 2015) Mrs Cecilia Sternemo. The Institute is logged in what used to be called the – newly restored – von Gerber House, its grandiose living room all painted in the Swedish colours of yellow and blue, even the grand piano!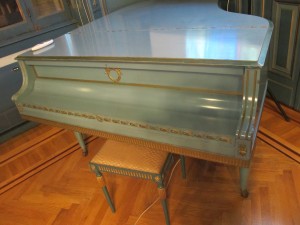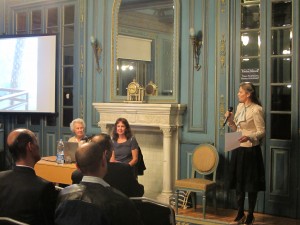 However, it's Norwegians and not Swedes who've built the magnificent Bibliotheca Alexandrina further down the corniche.
Bibliotheca Alexandrina:
During the Ptolemaic rulers, Alexandria was both Egypt's capital and its cultural centre. Its library was known all over the antique world as one of the largest and most complete. It was built around 300 B.C. during Ptolemaic government and encompassed – during its highlight – more than 700 000 manuscripts mostly in Greek. The Bibliotheca's librarians were specialized in different fields and among the most knowledgeable men of the times.
When the library burnt down – possibly during Caesar's siege in 48-47 B.C – it was a huge loss for humanity. Novels, geographical- as well as scientific studies, travel accounts etc. were lost forever. However some copies had been made and can now be found in Yerevan's – the capital of Armenia – incredible Manuscript Museum that I visited a couple of years ago.
Even the famous Musaeum – the scientific and research centre built in 280 B.C. – burnt down.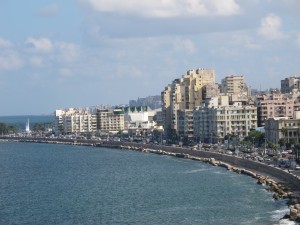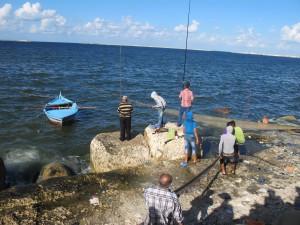 The building already from far away impressed me and the closer I got the more fascinated I became. Its huge stone façade inscribed with different writings, reminded me of the Rosetta stone that led to the deciphering of the hieroglyphs. It was a Swede – the orientalist and diplomat Johan David Åkerblad – who started to decode in the beginning of the 19th century the language of the Pharaohs. His name figures on top of the Egyptian Museum in Cairo.
It was blissful to come into this quite, clean, beautiful building from the dusty and buzzing outside streets with its mixture of steal, wood, glass and stone. Elegant yet simple. Everybody seemed to respect the still, almost sacral atmosphere inside the library.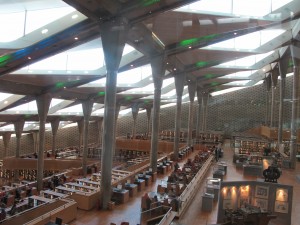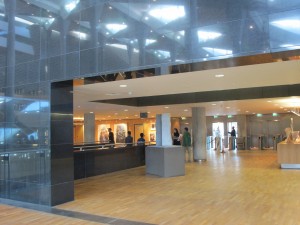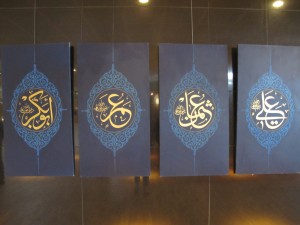 Even if we can today only dream of men like Archimedes or Euclid who used to live in Alexandria, the new Bibliotheca Alexandrian definitely gives a lift to this otherwise quite provincial Egyptian town.
A small Norwegian architecture office – Snöhettan – won the context to build the new library and the result is stunning from both outside as well as inside the building.
The library – with a strong connection to research – was inaugurated in 2002 and has since been filled with hundreds of thousands of books, computers, shops and exhibition halls.
Hala Kassem – leading a EU-research project – showed me proudly around her magnificent working-place. The books and manuscripts are trilingual, in Arabic, French and English. There are certain specialized sections as well, such as the one for children and youth; for the blind in memory of the great philosopher and scholar Taha Hussein; for art and multi media. I was in awe.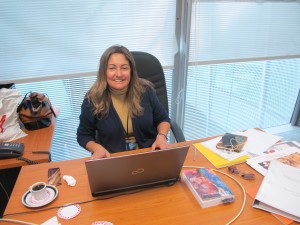 Hala Kassem
Coming out again in the blasting sunshine, I felt uplifted and confident in this historically so rich country despite all its problems with over-population, fundamentalism and poverty luring around the corner. Because as long as there is an interest in literature and education there is always hope.
Anne Edelstam, Alexandria.