Charlie Hebdo – the French satiric newspaper has been threatened before. Their satiric drawings against the Islamists have angered fundamentalists. Therefore the newspaper and its journalists have been under police-protection since the previous attack against its office in 2011. That didn't prevent the assailants this time though…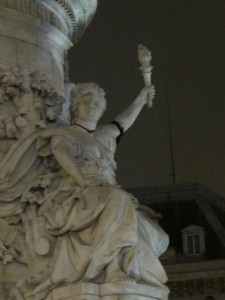 Fundamentalists:
Three people, heavily armed, managed to get into Charlie Hebdo's head-office despite security at around 11 am, Wednesday 7 January, and shoot with Kalashnikovs at the journalists and policemen. 12 people died, 10 journalists and 2 policemen, 20 were injured amongst whom 4 seriously. The terrorists arrived during the weekly editorial meeting when everybody was present. Before shooting they shouted out the names of the journalists. They must have known that a meeting was to take place so there is no doubt that it was a well-planned deed.
Witnesses heard the terrorists say: "Now the Prophet has been revenged!" Several journalists managed to flee up to the roof and filmed two people – identified as the Kaouchi brothers – fleeing in a small black car that they then left for another one. They were apparently known by the police who are still tracking them.
President Hollande immediately proclaimed that France is under "Alerte Attentat" – the highest security that exists – meaning that the country is more or less under curfew. Newspapers, airports, train stations, all larger stores, departments… are secured. "We have to defend our republic and what we stand for – freedom of press."
"We are not afraid"
"We were having breakfast when we saw several policemen running past our window and yelling go inside, go inside!" Another witness standing on his balcony, said "I saw an injured policeman who ran into a garage."
The last twitter that Charlie Hebdo's editor in chief, Charb, Stéphane Charbonnier, sent out was a satiric drawing of el-Baghdadi, the leader of Daesh. One of a series that probably led to his and his colleagues – Jean Cabu, Tignous and Wolinski – death.
Alain Gresh from Le Monde stated that "Everybody despises this attack. I don't think that it's only an attack against journalists. The terrorists aimed a relatively easy target. It's an attack against the West in general." Gresh did not publish any of the controversial drawings of the Prophet Mohammed in Le Monde however. "I didn't want to make the situation for this minority group any more difficult than it already is." That doesn't mean that I'm not in favour of total freedom of press though."
I am Charlie
"It was only a question of timing before a terror attack would strike in Europe. This one seemed to be well-planned", thought Asiem el Difraoui from the Berlin media institute and added: "Different Jihadists groups are competing to show their strength. We don't know if these terrorists are Frenchmen. But we shouldn't forget that it's a minimal part of the French Muslim community that is recruited to Jihad."
President Hollande said in his speech to his people that: "This is a message of freedom: we'll defend the journalists and the freedom of the press. I declare tomorrow (Thursday 8 January) as a national day of sorrow and an additional three days of flying the flag at half-mast in honour of the deceased. Our best weapon is our unity, nothing should divide us, nothing should oppose us. National unity is of utter importance when our nation is tried and we'll win. Live the Republic, live France!"
Laurent Richard, journalist at a paper whose office is in the same building as Charlie Hebdo, was one of the first persons at the place of crime. "I saw a man on the floor – then I opened the door to the meeting room, felt a strong odour of powder, found a wounded man and tried to keep him warm. I immediately understood the seriousness of the situation. There were bodies everywhere. No electricity. A total mess – like a war-zone!"
"This is an attack against us too" added the Imam from the mosque at Lille, Amar Lasfar. "Nothing can defend violence!" explained Dounia Bouzar who works against sectarian Islamists: "These barbarians use my religion. There aren't many countries like France where everybody can have his belief and live freely."
Fleur Pellerin, the Minister of Culture said it's important to "stand up for the journalists and tell them not to be afraid but to continue to work as before. I promise enough money for Charlie Hebdo to be able to continue to work."
A spontaneous solidarity demonstration at the Place de la République developed into a mass demonstration with hundreds of thousands of people. I went too and interviewed Nathalie who told me that she was there to "show my solidarity for the freedom of the press." Gilles added that "it's so important that we can express ourselves. These people died for a paper and a pen".
Everywhere there were people standing with banners and tags where it was written: "I am Charlie". Candles were lit, hundreds of pens lifted up at arms length, one person managed to climb up on the statue and wrap a black ribbon around its arm. People chanting and screaming "I'm Charlie."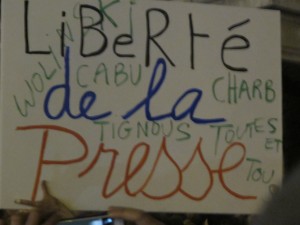 The Frenchmen are still in a state of shock but the government will have to answer many questions about the situation of security in the country. How could these men – known to the police – get such heavy weapons; who gave them instructions? Why weren't they arrested beforehand?
The large Muslim minority – the largest one in Europe – will most probably suffer in the aftermath of this attack.  The extreme-right party with Marine le Pen as its leader might use this act in her favour. However it's not so certain. Isn't the incredible national and international support and solidarity in the name of freedom of the press that we're witnessing proof enough?
Anne Edelstam, Paris.