Paris being one of the most popular jazz cities, Duc des Lombards is a must!  Jan Lundgren Trio managed to take this difficult public by storm. A roar followed them especially after having played a song of their album Flowers of Sendai. This time he'll play at the Swedish Club in Paris.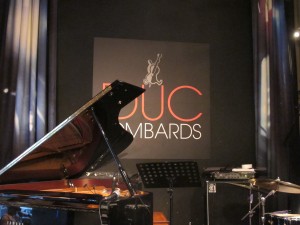 Jan Lundgren is used to being an appreciated pianist since a young age, as I understood during my interview with him the day after his show.
When did you start to play the piano?
– Already at the age of five my parents bought a piano. I started to play immediately although it was more of a game then.
Did you attend a music school at Ronneby where you grew up? Was it there that you learned classical music?
– Yes, I had an excellent teacher until I was 15 years old. Then I had a German teacher who told me that he didn't have anything more to teach me about classical music. Instead he told me to go out an buy a jazz record of  Oscar Peterson. That was the beginning of my life as a jazz-musician. I fell in love! Then I continued to study at the music school at Malmö. Rather soon afterwards, in my 20s, I was discovered by Arne Domnerus and could play with him and other well-known artists such as Putte Wickman. They took me under their wing and together we played in very favorable surroundings before I started to compose myself.
When was your breakthrough?
– In 1994 I published my first CD Conclusion. The year after I created my own trio with the bassist Mattias Svensson that you met and a drummer who isn't part of our group anymore. The actual drummer is Zoltan Csörsz. Jr. We recorded several CD-s together. Swedish Standards – with among others jazzy Swedish songs – became the year 1997's jazz-cd. After that our trio has played all over the world. We are appreciated in Australia, Japan, USA, Switzerland, England, France…  where I'we returned and have played several times since these past 12 years.
Isn't Jazz a lot of improvisation? Can you learn that and how can you do that live? 
Jan Lundgren uppträder at Duc des Lombards 
Jazz means mastering improvisation. It's like learning another language. First one has to learn to converse to make oneself understood. We can play what we want even if we musicians must know what we're "talking about".  We have a conversation on the scene that evolve during the evening while meeting the public. I've composed most songs but I'm still on the scene listening to the other players even sometimes more than to myself … It does take some time to find one's own voice but afterwards there is no return.
You have also played with well-known international jazz-musicians such as Johnny Griffin, James Moody, Stacey Kent… and have received several prizes. In mid-life and you already have a good career behind you and since a few years you've also started a yearly festival of jazz in Ystad. Could you please tell me a bit more about that?
– It's an ancient dream coming to fulfillment. The adventure started in the train going to Ystad when I sat next to a councillor who promised to help me start the festival. I wanted to have the best artistic quality both with Swedish and International jazz musicians but I was also adamant that young Swedish groups should have their chance to play in this beautiful city. We started in 2010 and it continues yearly since between July 30 and August 3 (www.ystadjazz.se ).
The jazz-festival, as most projects that Jan starts, became an immediate success story. Jan Lundgren has it within him: the rythm, the improvisation or as he himself put it: "the conversation", as well as the feeling I thought when I saw his fingers dance across the keys. He defines his music as "melodious modern jazz".
Why don't you buy the trio's last cd: Flowers of Sendai – a tribute to the tsunami-victims in Japan – and then decide how you'd like to qualify his jazz. I'd say that it's both playful and serious.
Anne Edelstam, text och bilder.