A gigantic fresco with several pictures taken by children living in a refugee camp in Northern Iraq are shown this autumn along the river Seine, in the heart of Paris.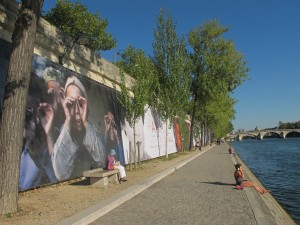 Homage to humanity:
This sunny autumn day while walking through the Tuileries gardens on my way to meet Reza, I'm overwhelmed by the grandeur of this beautiful capital. Its palaces and parks stand in total contrast to the destruction and horror of war-stricken countries. Man is capable of the best as well as of the worst. Reza's 370 meter long fresco is an example of that.
Why this art work and why showing it here in Paris?
 Paris is my hometown since I fled Iran after the Ayatollah revolution there in 1979. France has always been known as a country opened to welcoming asylum seekers even if that's not the case anymore…
 What did you do after you left Iran?
 I continued my profession as a photojournalist for Newsweek, National Geographic and other magazines. I mostly worked as a war correspondent.
 What did it lead you to?
 I've formed around one thousand young women and men in Afghanistan and have started a magazine there. The work has continued in other countries, even in some of Europe's suburbs. It's journalism from the inside – also called citizen-journalism.
And what do the pictures exhibited here along the Seine represent?
These are pictures shot by the inhabitants themselves, children from the ages of twelve to fifteen, living in a refugee camp in Northern Iraq. We're being transported inside their daily lives through these photographs. Like this picture of a pair of frozen sneakers taken by a young girl who came late to my course because she had to wait for the sunrays to warm up her shoes enough so that she could loosen them from the frozen soil on which they were stuck. Bearing with the cold is but a fraction of their harsh reality.
Is this on-going project part of UNHCR?
Yes, its part of a UN-refugee project called Exile Voices. Twenty children have been picked to photograph their lives inside the camp during five years at the same time as they are taught photojournalism. I'm returning in a few days to continue my work there.
After having said goodbye, I observed the slim man walk away, holding his camera in his hand and the hat pulled down over his forehead. I couldn't help but think about the fact that he himself was a refugee not so long ago. And see what this several times prized photographer and author now creates for others! France had made it possible for him to bloom again. However the country which opened his arms to him, isn't as generous anymore. In fact Europe wasn't at all prepared for this influx of refugees. Maybe this exhibition will open the Parisian eyes for their cause and the politicians shall find durable solutions? Helping the inhabitants of these camps seems like a good start.
Anne Edelstam, Paris.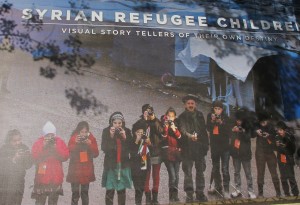 www.rezaphoto.org