The joyful Egyptians love their dance and music that has prevailed since historical times. Every feast is an occasion to cheer. This year, 2015, the well-known dancer, musician and composer, Hassaan Saber, has opened the first Egyptian folkloric dance school of its kind. He's also employed by UNESCO and has written a book about these traditions.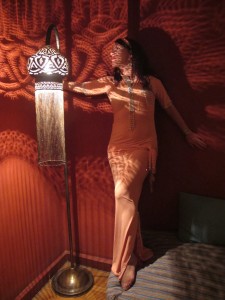 Oriental dance has existed since Pharaoh's times which can be observed on carvings and paintings from tombs, temples and papyrus scrolls. Bes – the dance god- resembling a dwarf, was often tattooed on the inside thighs of dancers and musicians for good luck. However the modern oriental dance (as well as flamenco) comes from Rajahstan, in India, and made its way to the Middle East and Northern Africa probably around the 19th century, but maybe earlier, via Gypsies. In Egypt these dancers are called ghawazee. They perform anything from folklore, to what we commonly refer to as belly dancing and classical style (raqs sharqi ), the most spread in Egypt. Belly dancers use mostly two-piece costumes, in colourful cloth and cleverly decorated, with see-through long skirts that they swivel around in, as they move their hips and arms gracefully.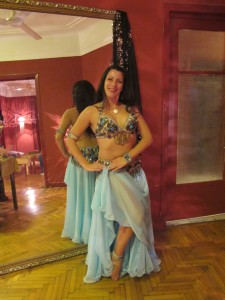 Hassaan Saber:
I met Hassaan during my last stay in Egypt and had the chance to interview him before his trip to Japan where he'd been invited to dance and teach. He was one of the many artists visiting Martine, as it proved an Eldorado for dancers visiting from Europe, (http://bed-and-breakfast-cairo.jimdo.com/) where I also happened to stay.
When did you start to dance?
– Already at seven. Min mother was a belly dancer so it was much thanks to her that I started but I had it in me I think from the start. Since 1973, I dance and play music professionally.
What kind of dance do you do?
– Mostly Egyptian folk-dance, especially the Southern Egyptian Stick dance, but also flamenco, step dance and jazz both in Egypt and abroad. I tour around a lot as a solo-dancer and with my troop and I compose my own music.
From dancer and musician to a writer – wasn't the step difficult?
– Yes and it wasn't something I had envisioned to do but a good friend who works for UNESCO insisted that I'd write this book about Egyptian Folkloric Dance which took me nine years to research. The book has partly been translated from Arabic to English but its original version is much longer and denser. There are so many folkloric dances, using various symbols, stemming from different regions, but they all have something in common. The sticks the men often use in the dances represent wisdom, which we'd all need a bit more of during these turbulent times…
So you're employed by UNESCO as well as being a member of the International Dance Commission (CID) and on top of that you've just opened a dance school. Could you please tell us a bit about it?
– It's an exciting new project! I started Hassaan Saber Dance School in Egypt this year. It's a unique school as I both teach Egyptian Folkloric dance, belly dance and dance history. There is thus both the possibility of practicing dance as well as studying it academically. Its based on all my years of teaching, researching and is made for dancers from all over the world to learn choreography and the background of our rich history. I currently have more than a hundred international pupils. I truly believe in folklore as the glue that binds the world together in peace.
Hassaan said that with a broad smile, showed me a few dance steps and hurried away to pack for his next tournament.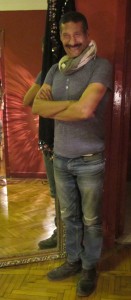 His school implies also that teachers in Oriental dance who wish will finally get a diploma – which had been lacking so far. Even Sweden has a dance school for those who wish to learn the steps without the theory or who might not be able to travel to Egypt: (http://www.bellydancefestival.se/ekc-dansskola-12733359). However for the most hooked dancers, nothing compares to coming to the land of the Pyramids and discover the dancers there.
Hassaans' poetic music and words are all about unity and peace. In that sense he's also a messenger. The Egyptians love for music and dance surfaced when the Muslim Brotherhood tried to stop this kind of amusement. They got a lesson they won't forget: don't touch the Egyptian folklore or else you're ousted as showed by the 33 million Egyptians who took to the streets in June 2013!
Anne Edelstam, Cairo.