The Gothenburg Opera presented an original dance performance called Skid at the Chaillot theatre. Despite a cold winter evening and a gigantic hall, it was fully booked.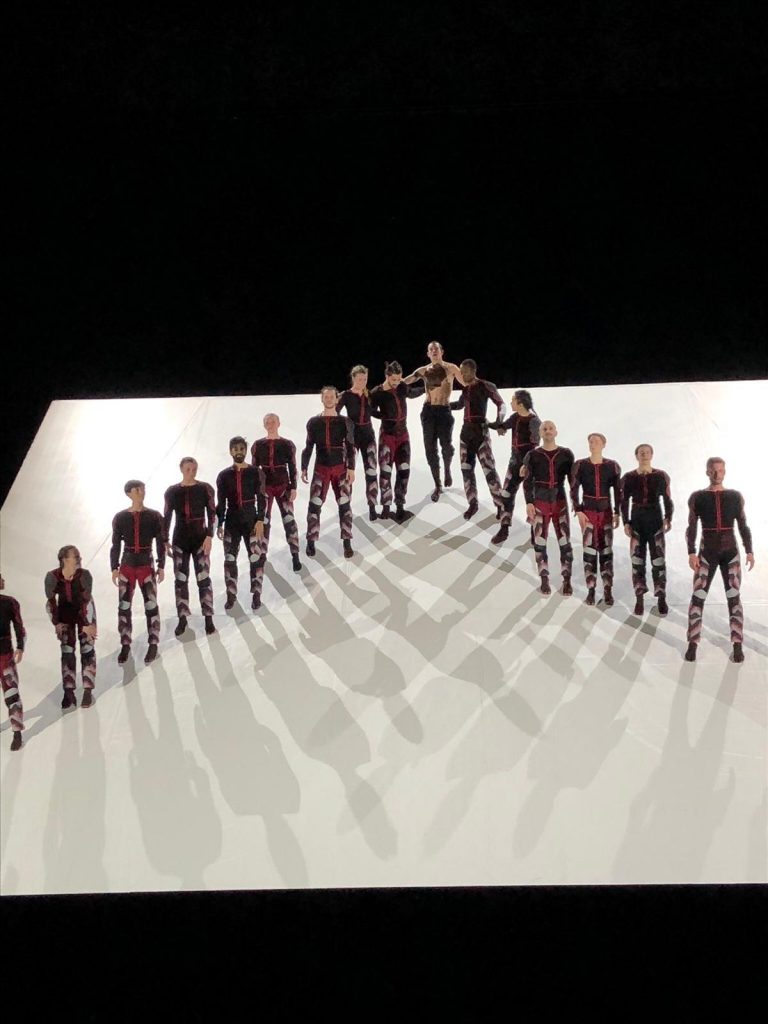 Skid
Last year already, Parisians discovered Scandinavian dancers and apparently liked them, as they had come to see this three quarter long different show. However the company doesn't have much relation to Sweden except for its name. The evening's choreographer, Damien Jalet, is French/Belgian and the rest of the troop comes from all over the world. The Islander Katrin Hall directs the company since 2016.
The dancers crawled up and down on the scene from a ten square meter large platform leaning 34 degrees. The music was rather anguishing and I wondered at first if I hadn't been taken to Dante's Inferno. Maybe that's what the dancers felt too, as it demands a lot of dexterity to be able to move on such an inclining surface without falling off it. They passed the test with bravura. The uniformity of their costumes erased their individuality in favour of the masses as did the dancers need of each other to stay in place – or, on the contrary, to glide down together.
The choreographer is fascinated by gravity as he has created this dance on what resembles a mountain slope from which the dancers could fall off at any given time. Damien Jalet's inspiration to create this choreography was a dangerous Japanese ritual – Onbashira – where hundreds of men sit on tree trunks and slide down mountains.
It through me back to my childhood nightmares of loosing footing and falling down, down. To dare to let go, to take the step fully out; aren't we all faced with that decision sometimes?
The first part of the show was a bit long especially as the music didn't help to create pleasant feelings. The dancers were mostly gliding up and down and I missed the dancing. They picked it up during the second part of the performance though. Skid ended with a single, naked dancer trapped in a cocoon, after a series of robot-looking individuals had created beautiful shadows while moving around on the scene.
We're born and die naked and alone but we live together. As robots? As individuals? Our lives and our experiences differ from one another but we're still part of the same vulnerable humanity. Can we hold on to the mountain range, to our values, to our lives, or do we let ourselves glide down into oblivion and apathy? Life demands perseverance, steadfastness and strong faith. For even if we often fail, what counts is to dare to stand up again.
This dance performance can be interpreted in many different ways – or not at all. One might also just enjoy the scenery, dancers, costumes and shadow-works if you're not afraid of heights of course!
Anne Edelstam, Paris.