At Paris foremost Asian museum – musée Guimet – an interesting and esthetic international exhibition is shown until the end of June. The exhibition's theme is about the place that rocs and stones held amongst the ancient Chinese lettered men who were clercs as well as calligraphers, poets and artists.
The lettered men's work:

Around one hundred objects tell about these men's work in the spirit of Confucius (555 f.Kr – 479 f.Kr), a Chinese philosopher and religious instigator. Some of these clerks had their own secret rooms often outside, situated in a court-yard, hidden from view. The dekor was simple yet sublte with stone- or roc-formations in miniatures – representing mountains that symolized courage and strenght –  as demanded these half-hermits sense of esthetics.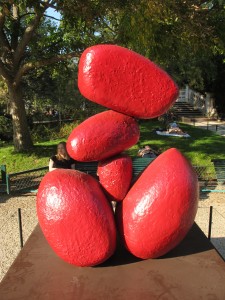 modern Chinese sculpture in the Parc Monceau in Paris
The few pieces of furniture as well as the bruches, bruch-holders and other objects needed to write or draw with, were all copies from nature. "Everything has its beauty but not everyone sees it" according to Confucius. I was mostly drawn to the beautifully polished roots from old trees and plants, used for different purposes. To recreate the universe in miniature is part of the Chinese heritage and that leads to opening wide the doors to the land of dreams.
Liu Dan and Zeng Xioajuan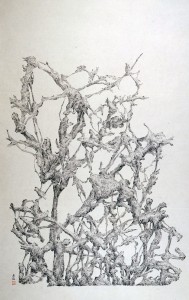 Zeng Xioajuan
Tradition has continued its development within contemporary art with artists such as Lui Dan and Zeng Xioajuan. Liu Dan's grandiose watercolour of a Chinese dictionary struck me in its simplicity and strength. He has been showing his artworks in galleries all around the world and can also be found in some museums. "This dictionary was published before the cultural revolution so it's free of ideological references. It represents 'pure' words," says Lui. His grandfather taught him calligraphy in his youth and that technique has helped him to develop his painting to become an interesting mixture of Western technique with Chinese brush-strokes.
"I try to integrate ancient Chinese philosophy with modern scientific techniques to get a new perspective on nature. Especially the relation between nature and man," says Lui Dan.
Zeng Xioajuan has developed the traditional intrest for roc-formations in his contemporary paintings in Chinese style with ink on paper. It's from his private collection that many of the exposed objects come.
But it is perhaps Liu Dan's gigantic sunflower – after Van Gogh's famous painting – that illustrates best the link between the West and the East and between artists world-wide. Art doesn't know any frontiers. It unifies mankind despite cultural, religious and linguistic diversity and despite the passing of time.
The love of beauty and esthetic is the red thread throughout this exhibition that I highly recommend.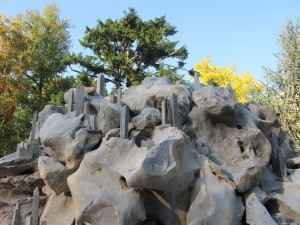 Anne Edelstam, Paris