There were several reasons to celebrate in Berlin this autumn: Women's International Network (WIN) held it's yearly conference there and the city celebrated its 25th jubilee of the wall's fall and East and West Germany's unification. This was therefore in a double meaning a "Magnificent leap of change" – the title of this year's conference.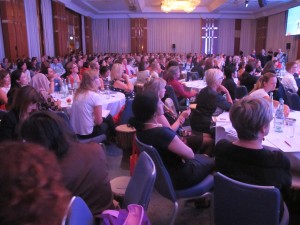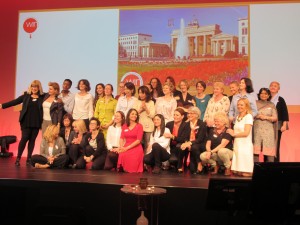 Win team 
Kristin Engvig:
Looks like a typical blond Norwegian woman, embracing a mixture of Scandinavian efficiency and spirits. She founded WIN seventeen years ago and since then, the yearly conferences have steadily grown in number of attendants. "Lately we have more men joining us as well", Kristin said with a happy smile.
After studies in Oslo, Kristin moved to Milano where she continued her studies (MBA) and then stayed, working as a consultant for different global business enterprises. However she felt there lacked a sense of creativity within the workplace and times to mingle and exchange ideas. "I guess I'm a humanist at heart", admitted Kristin.
In 1998, in Milan, she held her first conference: "I had travelled a lot for my business and had met many interesting women and thought that we needed a place where to meet and network. That's why I started W.I.N".
In 2003, she moved both her home and office to Lausanne, in Switzerland, from where she continues to organize international conferences. Her goal is to inspire women globally and to give leading women and men a chance to meet, inspire each other and evolve together. "My vision is to include not exclude people; to care and to develop at an international level."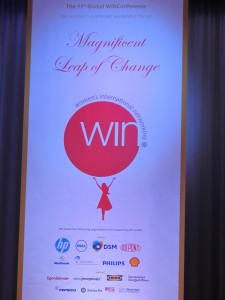 Anita Pratab
True to her word, Kristin gave the tone in her opening speech at the Berlin conference: "Be curious, opened towards others, daring and outgoing, take risks to accomplish your dreams, don't exclude anybody, talk to as many as possible during these three intensive days… and you'll experience magic!"
Magic:
And magic was exactly what I experienced during this exceptional conference. When as one of the 750 people present from 90 different nationalities, I sat down for the first panel debate; I found an African drum on my seat. The conference started with a bang, with musicians from South Africa who made us all drum along – taking us far away from our every day preoccupations to land in an uplifted atmosphere of friendship and cooperation, drumming along together.
Then the debate started with as a theme: "creating our future". During the three-day long conference I listened to several interesting speakers who spoke of subjects such as: mobilising for an elderly population; how motherhood should be perceived as an asset for a company (as the employees develop their sense of caring); how the assets are getting increasingly democratized thanks to Internet; how culture can be spread on a wider scale; how hierarchical systems can become more equal; that all larger companies should have child-care etc.
According to Kristin, her vision of a "better world" is already starting to bear fruit with increasingly tolerant leaders who are interested in implementing WIN's ideals. However stereotyped ideas about the roles of women and men still exist among both sexes. We live in a global world and we can no longer keep silent regarding injustices committed worldwide.
The Nobel Peace prize recently accorded to the 17-year old Pakistani girl Malala Yousafzai (shot by Talibans because she wanted an education!) proves that there is a sense of solidarity and that girls needs are finally being acknowledged. It's a huge step forward!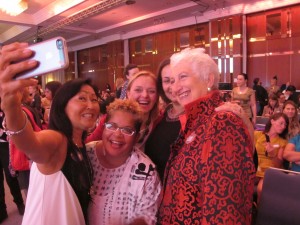 Selfie with Louise Mita, Faith Adiele, Kristin, Geraldine Bown 
Human Rights:
Several speakers shared their humanitarian experiences. Anita Pratab (a prized Indian journalist) for example, told a speechless audience about her struggles. WIN is also about sharing women's stories. Anita managed to convince both her parents and editor in chief to send her to report from war-torn Sri Lanka. Her personal and emotional – yet well researched – reportages seen from a woman's perspective gave her instant recognition as one of the best war reporters. It was a break-though – a giant leap of change – within the world of reporting where women were, and still are, very few.
Elisabeth Rasmussen from Denmark works for FAO as assistant executive director and has yearly to find some 85 million dollars to feed the world's starving population in conflict areas. Everybody applauded when she told us that she had just that morning gotten 100 million dollars from the USA to continue feeding the increasing number of Syrian refugees. Her goal in life is a "world without hunger". She advised us never to take anything for granted in life and always to do what you're really passionate about and not be afraid to take risks.
Lorella Zanardo explained how she had been shocked – coming back to Italy after years of working abroad – about the very sexist approach of girls on Italian television. She decided to quit her well-paid job and started to organize a campaign among young people to change their view on women. Her videos have proved to be a very successful tool especially among youngsters. "Slowly another more respectful image of girls is emerging", she smiled.
The former public defender Karen Tse started in 2000 a campaign called International Bridges to Justice to help the victims of torture especially in Cambodia but also in China, India, Rwanda…
Geraldine Bown and Louise Mita stressed the importance of spirituality among world leaders, incorporating care for employees and for the planet in their corporations.
Nigerian/Finnish Faith Adiele contributed to the conference through her knowledge about literature and creative writing, also giving an interesting workshop.
So one can definitely say that there were several differing subjects but all had the same vision: a "magnificent leap of change" towards a world with more equality, cooperation, happiness and ecological sustainability.
Nowadays companies send their employees to WIN conferences at their expense to inspire them to return with ideas of creating a more positive atmosphere at work.
After days of debates, workshops, mingle, lunches and dinners, the conference ended in style! Before the gala dinner, we were all invited to dance to Indian music – the same day as India celebrated Dasara – a feast where according to tradition the goddess Durga won the battle over the dark forces. Wasn't that a fitting climax for a women's conference?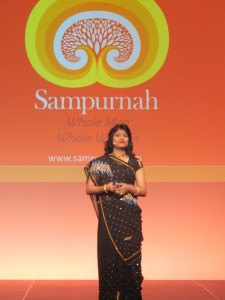 Nilima Bhat led the Indian dance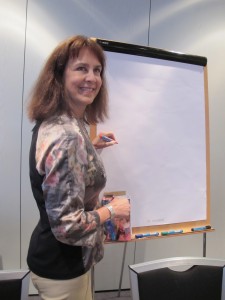 I talked about the women in Egypt
Anne Edelstam, Berlin
Three ladies in Cairo