The spectacular duo at the Théâtre des Champs-Elysées in Paris between Blanca Li and Maria Alexandrova was called Déesses&Démones (goddesses and demons). After having enjoyed that dance, I enjoyed the Swedish choreographer, Mats Ek's, last performance From Black to Blue, as he's retiring and with him his works.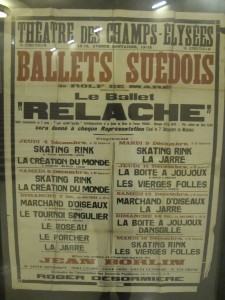 The first scene of the Duo opened up to what looked like two enormous windows with shades behind which gracious movements were performed. The entire show in Déesses & Démones was esthetical and the dancers' costumes simple but so delicate. No wonder as the costume designers were no other than Azzedine Alaïa, Jean-Paul Gautier, Stella McCartney and Sophie Théallet. The music was of course an important component too but mostly the two dancers fitted each other perfectly despite age-, technical- and cultural- differences. Whether in harmony or in conflict the two danced like identical twins. With poetic and smooth gestures, sweeping their long hair and floating dresses, they portrayed mythical and wild women archetypes. It made me think of Clarissa Pinkola Estés' book: Women who run with the wolves. There was also a reminiscence of Carolyn Carlsson's dance shows often described as a series of paintings. The only criticism I could eventually have is that the beauty of the dance didn't go deep enough to stir something inside except for awe. The picturesque goddesses and demons the public confronted didn't unravel deep inner feelings.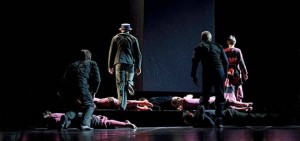 Mats Ek, From Black to Blue. Photo: Théâtre des Champs Elysées
Maria Alexandrova
Was born in Moscow in 1978 and started at the Bolchoï theatre only twenty years later, after having won the International Moscow Ballet competition. It only took this technically skilful and passionate dancer another few years to go from solo- to prime-dancer. She performed several different roles for the Bolchoï theatre, toured globally and was awarded several prestigious prices. So it's not so surprising that Blanca Li choose her for her duo.
Blanca Li
Isn't only a dancer but equally a known choreographer, film-director and actress. She has always different projects going on: "I like to give life to everything that's going on in my mind", she admitted. That she's past 50 years old didn't show in the least. Blanca Li is inspired by flamenco, urban dance and classical ballet – she forms her own style accordingly. She started out as a gymnast before as a 17-year old traveling to New York where she studied modern dance with Martha Graham and Alvin Ailey at the same time as she was learning hip-hop and flamenco-rap. Blanca Li lives in France since 1992 where she, one year after her arrival, founded her own company in Paris for which she's choreographed fifteen different pieces.
Déesses et Démones
"is a homage to women where I tell how in the beginning of times, goddesses and demons ruled the world. I wanted to return to the primitive Greek mythology when the female archetype was overwhelming because there were no gods. The goddess Gaïa birthed, without any man, the sky Oranos. The woman of the time was powerful. Since then our status has gone backwards. Even the famous American actress Julianne Moore complained that men and women still don't enjoy equal pay in Hollywood! Modern dance is one of the few areas where there is gender equality. That's why I choose to follow this path", Blance Li explained.
According to Maria Alexandrova dancing offers the possibility to "express my femininity in all its splendour, in harmony, joy, life and light. On stage I feel complete. Dancing offers a release and a means of being authentic. I can't change the world through my dance but it can hopefully make people happier".
It certainly made me happy. I was even more so when I discovered that Mats Ek was arriving to Paris in the beginning of the year to perform his last dance before retiring at the age of 70.
Mats Ek: From Black to Blue
Mats Ek is one of Sweden's most well known and appreciated choreographer – son to the famous choreographer Birgit Cullberg and the actor Anders Ek and the public shall miss him. He is unique and specific in his choice of dancers, scenography and style. He started with theatre before dancing and sometimes he's been accused of being more of a performer than a dancer – or a theatrical dancer. That's however what contributes to making his choreographies so interesting and alive. It's easy to identify with his scenes just as one would in a theatre play. His choice of dancers is also important – they were very expressive and some more like acrobats than dancers.
Despite the typical Swedish heaviness – like in his last choreography "The Ax" danced by his wife Ana Laguna and Yvan Auzely – there is always a dose of humour to lighten up the scene. The show started with the fantastic troop Semperoper Ballet Dresden in She was black (1994) and continued after the pause with Solo for 2 (1998) with Lyon's opera dancer Dorothée Delabie and the Swede Oscar Salomonsson from the Stockholm Royal Opera. Both are classics from Mats Ek's repertory. I recognized his gestures, nearly like a fingerprint, in the rounded wavy arms, small side hops, deep and wide pliés and the "usual" movements. The standing ovations and enthusiastic public reminded me that I won't be the only one to miss him.
 The Théâtre des Champs Elysées is never a disappointment. Dance, music, paint, writings… indeed all art forms represent but different means of expression and of partaking in mankind. In that sense, they oppose a barrier to fanatics and barbarians. To watch dance like these performances with a sublime mixture of modern techniques and classical skills is a bit like being in heaven on earth!
Anne Edelstam, Paris