I discovered this talented Mexican fashion designer in Paris. His atelier it situated on the posh street rue du Bac, in the centre of town, just off the river Seine.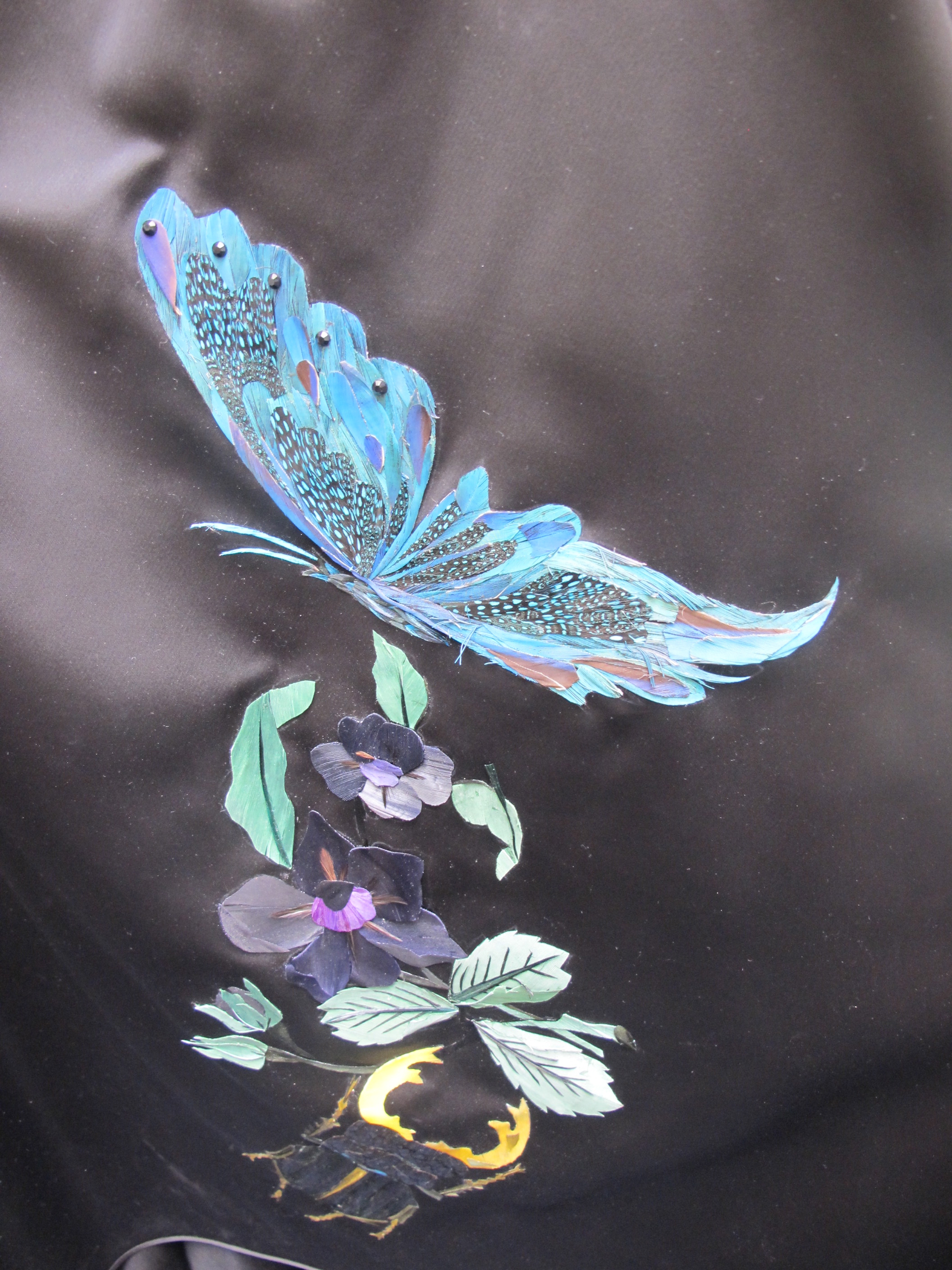 butterfly and scarab
Why did you decide to become a stylist?
– I've grown up with fashion, thanks to my grandfather on my mother's side. He was an Italian tailor, who taught me his craft as a young boy already. My mother was a stylist and I owe her a lot too. Among others she taught me the delicate craft of working with feathers that I love using in my creations.
So your talent and skills entirely come from your mother's side, the Italian part of your family?
– Yes, my father is a businessman and so are my brothers. He wanted me to become one too but I had other plans…
Apart from learning from your family, did you go to a fashion school as well?
– Absolutely. I studied fashion in Mexico first, then in Italy and eventually here in Paris at Beaux-Arts du Fil and Lesage where I learned embroidery that I like incorporating in my work. I've also worked for M. Christian Lacroix where I perfected my skills.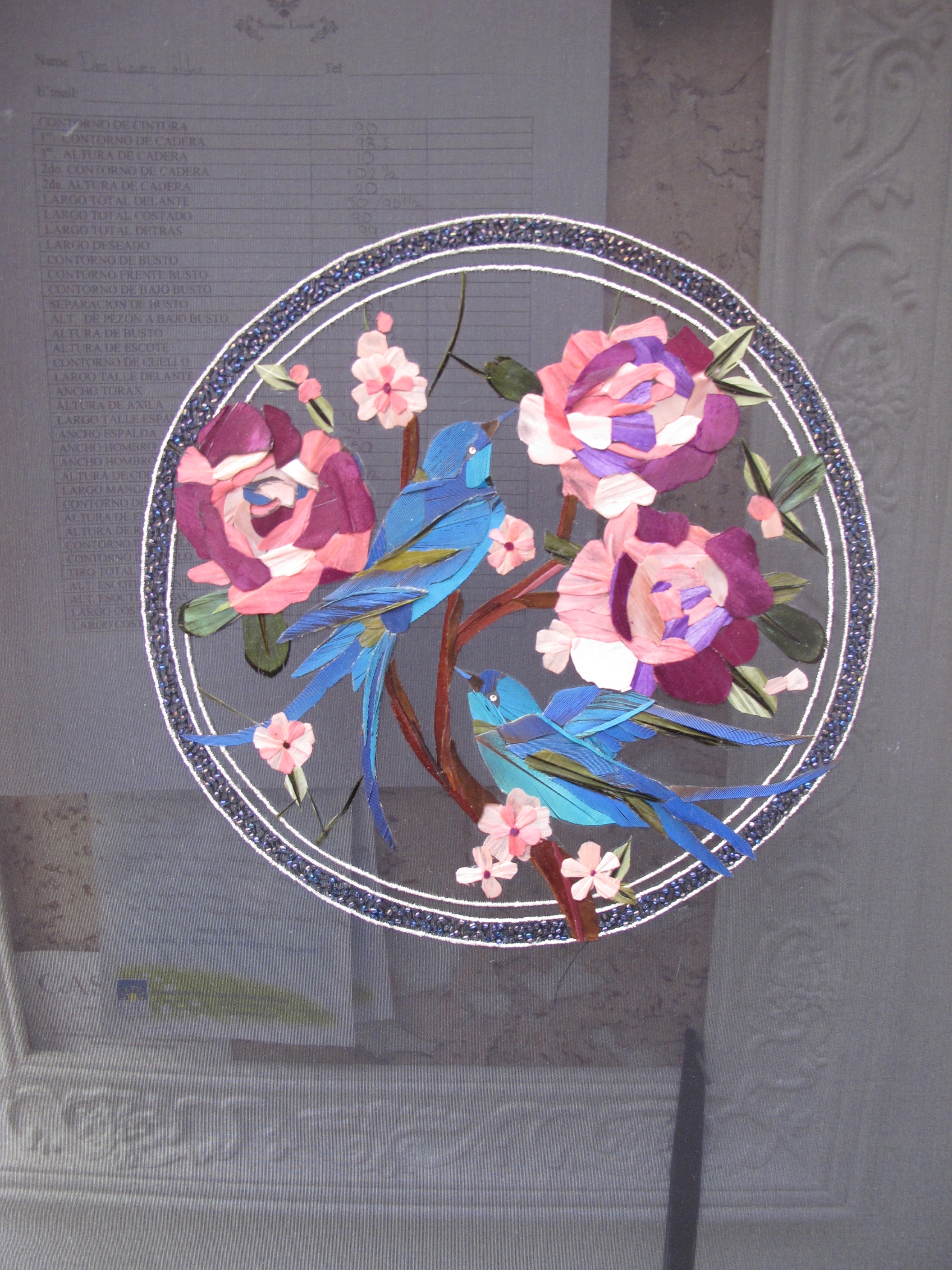 Santiago's embroidery
You're extremely skilled in every aspect of your work it seems. Do you do everything yourself?
– Yes, starting with developing the concept, to drawing, cutting the fabrics, embroidery… I love working with different materials too and often use leather combined with the finest silk and embroidery. Nothing is impossible in fashion as long as the final result looks harmonious.
When did you open your first shop?
– At the age of 17 in my hometown, Guadalajara, in Mexico. It quickly picked up and in ten years time, I had opened four boutiques and employed twenty dressmakers.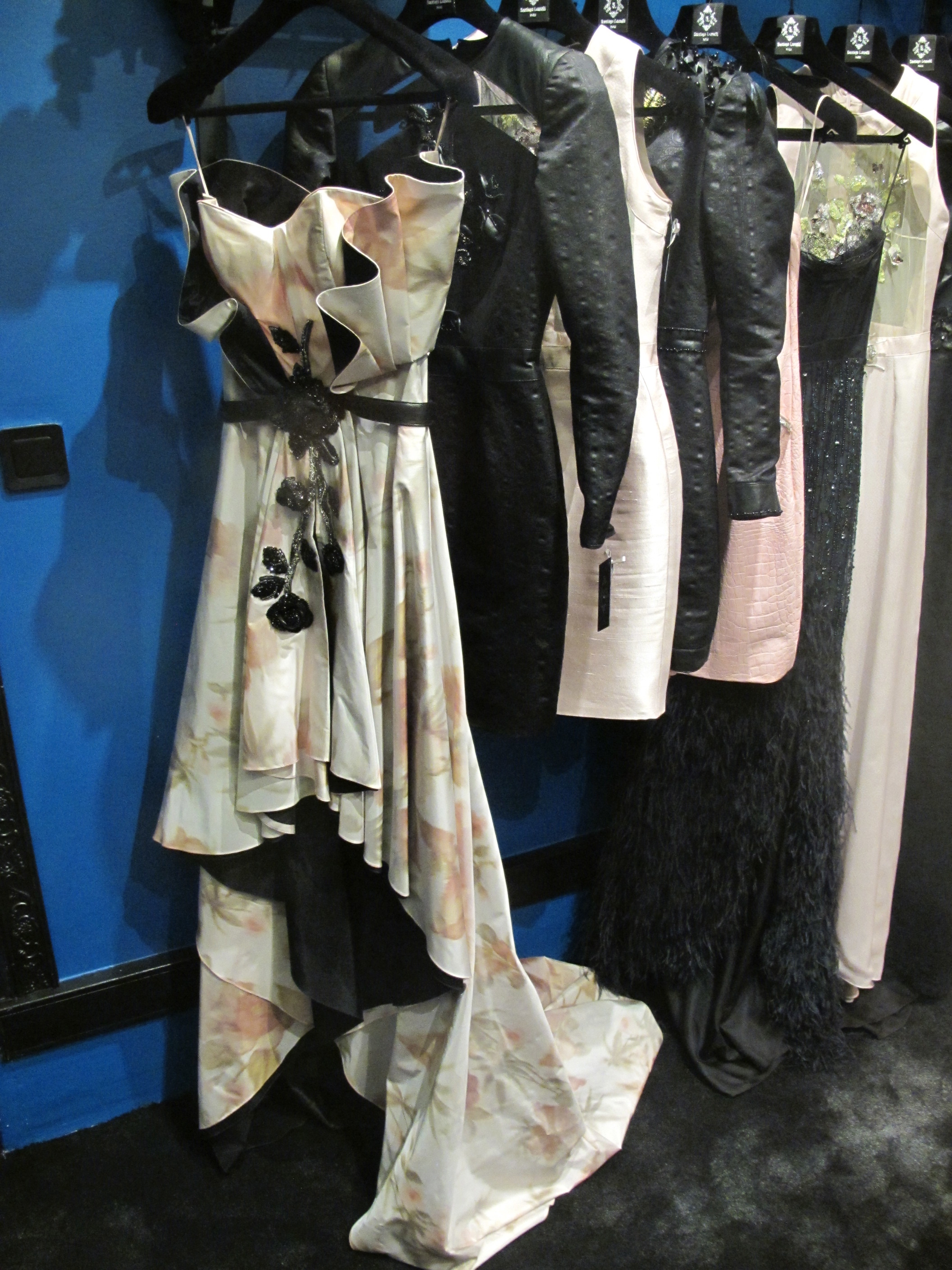 From Santiago's collection
Then you decided it was time to try your luck in France.
– My dream was always to come to Paris. I first arrived here in 2007 and after a short brake in Mexico, I moved permanently to the capital of Haute Couture in 2011, closing my boutiques in Mexico. I return this year for the presentation of my 2016 collection as an honored guest for the yearly event Red Talentos Mexicanos.
Hasn't it been difficult to make a breakthrough here?
– Flourishing in this environment means a continuous work of improvement of ones' technique and style. The positive feedback of my clients and the professionals of fashion, means that my work is on the right path and gives me the strength to continue.
Looking around, I see that on top of your showroom, you also have a special space for your magnificent wedding-gowns.
– Indeed, I have given special attention to this space. I want my clientele to feel comfortable and cocooned while selecting their wedding dress or getting a personalized one. I enjoy accompanying them through this special moment of their lives. I take extra care with the embroideries and use delicate lace. Each customer is special and demands specific needs that I try to meet.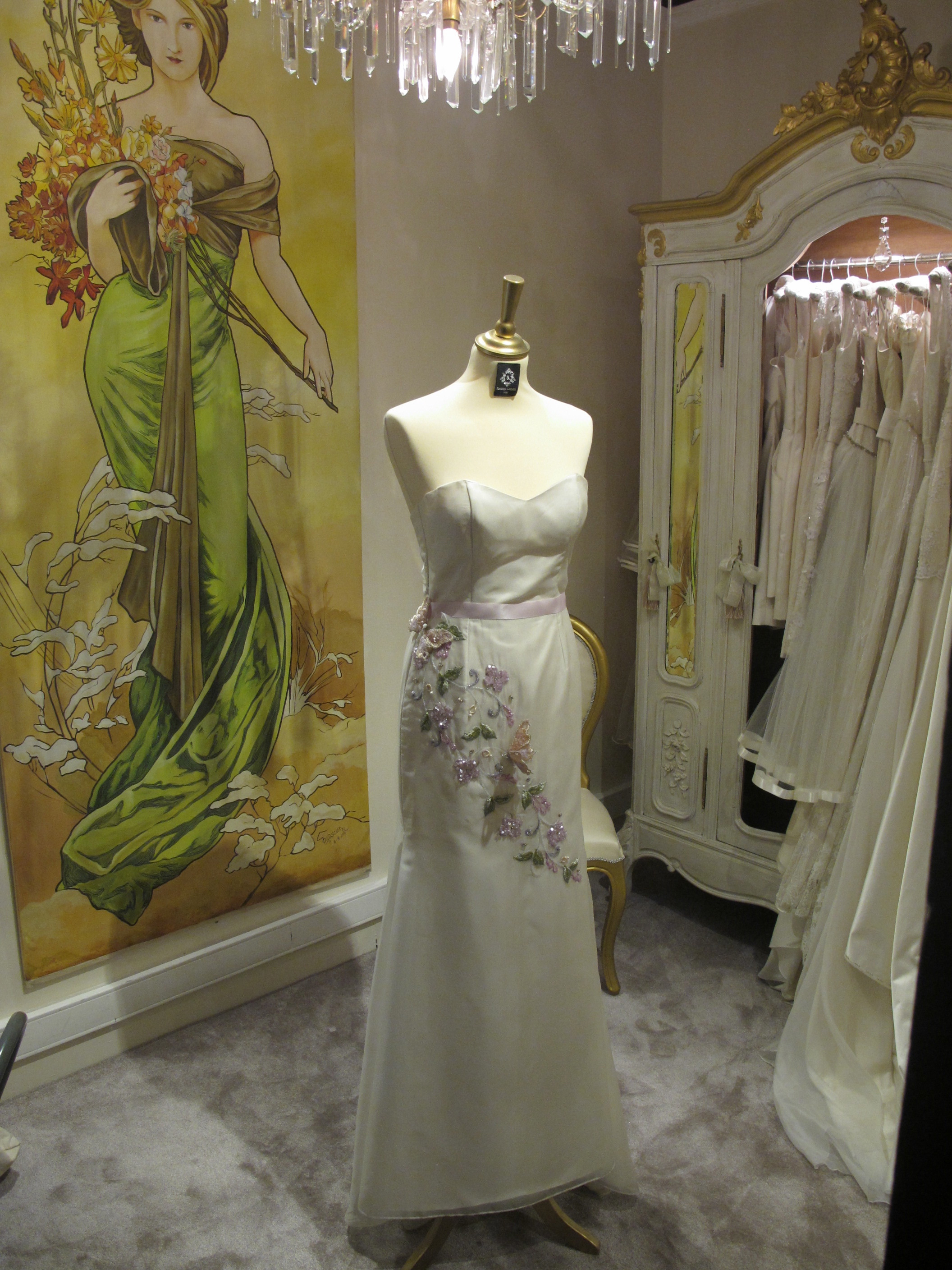 Wedding gown
I've noticed that several of your dresses have either a scarab or a butterfly or both embroidered on them. Does that mean something for you?
– These dresses are part of my 2016 collection called "Metamorphosis". The scarabs and butterflies symbolize transformation. The former have a special meaning in the Egyptian mythology, where they were worshiped in connection with Sun God Ra. For me, both work hand in hand with the scarab representing the creator and the butterfly, transformation.
What is your next dream?
– I have already been invited into the prestigious Fédération des Créateurs Parisiens, Signé Couture and I'm now aiming to be recognized by my peers in Haute Couture.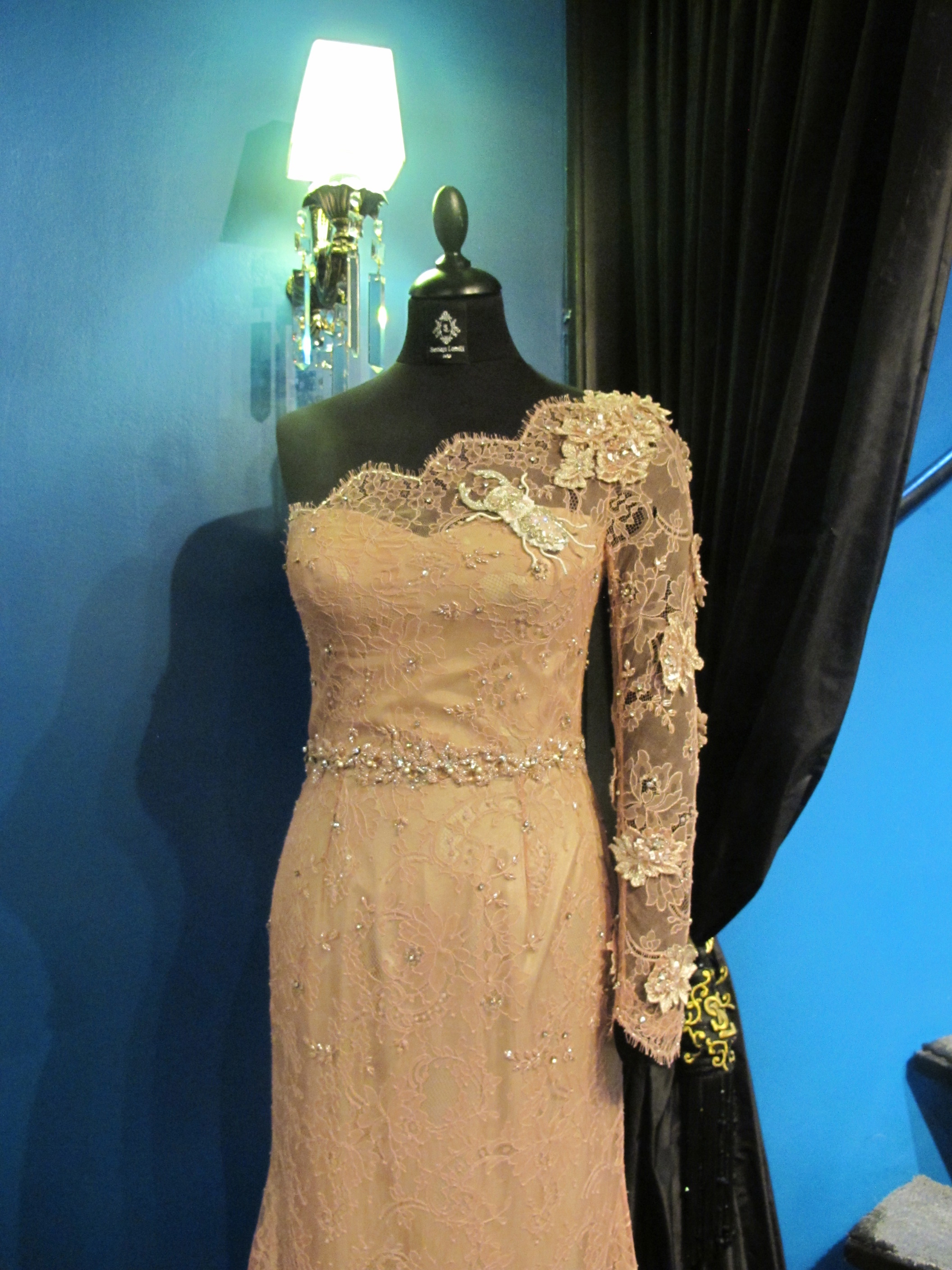 Embroidered evening dress with lace
Leaving Santiago, I feel positive that he'll succeed to become the first Mexican fashion designer in Paris because he's such a talented man. However, as he delicately put it himself: "I want my dresses to talk for me", so do come and discover his creations for yourself when in the capital of fashion next time. You won't regret it, I promise you.
Anne Edelstam, Paris.