Three prized contemporary photographers are displayed at the prestigious Parisian Contemporary Museum, Centre Pompidou. David Goldblatt, from South Africa, presented the works of his Fatherland; while Broomberg & Chanarin, from London and Berlin respectively exhibit a different but complimentary photographic style.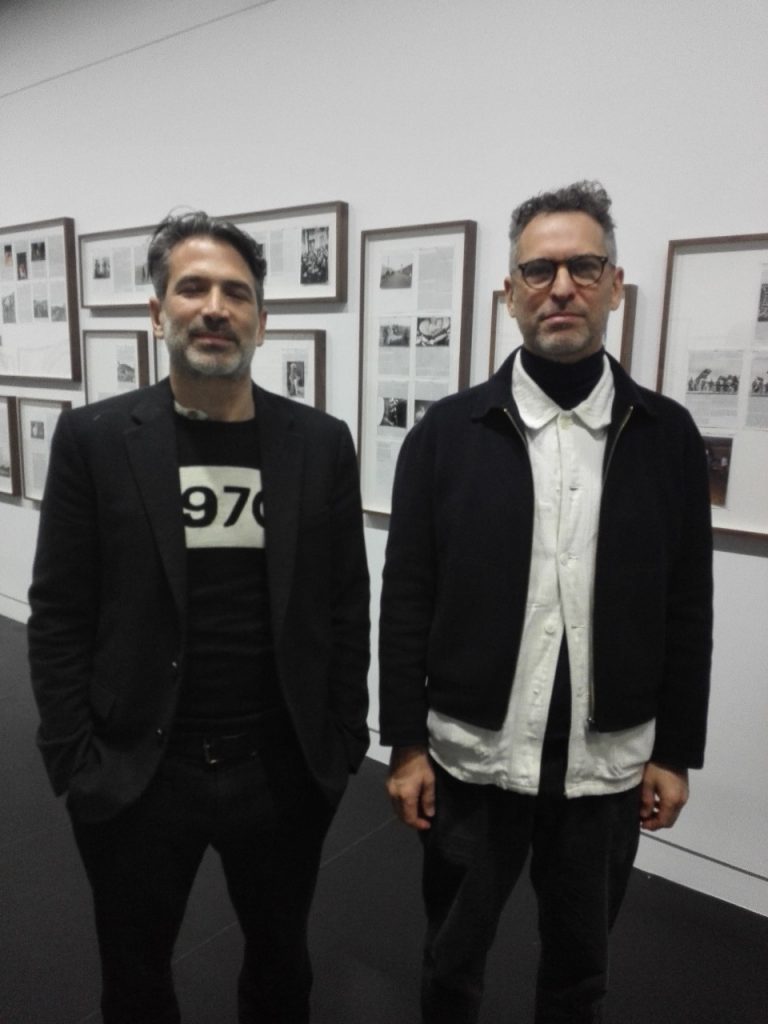 Broomberg & Chanarin
David Goldblatt (born in 1930):
This is France's largest retrospective of one of the world's most well known living photographer. He is of Jewish origin from Latvian and Lithuanian parents but born in South Africa, to where the family had fled from the pogroms. Goldblatt became thus early on aware of the injustices that existed in his parents' homelands, even if he himself hadn't experienced them. His works are a reminder and a reflection on the wave of immigrants leaving war-torn countries to hopefully find relief in a peaceful and accepting environment.
This famous yet humble photographer calls himself a "documentary realist" and don't view himself as an artist or even interested in art. "Art is what we consider it to be"; photography is to "make art out of work rather than turning work into art", he said. However his keen eye for the seemingly "unseen" makes him a specialist in his field. So much that he was awarded the Hasselblad- (in 2006) and the Cartier-Bresson (in 2011) prizes.
Throughout this exceptional exhibition, the catalogue and books, the viewer can follow both his own photographic development and the entire South African apartheid system until this day. The retrospective opens with a map of the country where the different regions – divided between whites and coloured – are displayed. His early pictures concentrate on certain enlarged body parts; however he then goes over to photographing portraits of people who touched him. Goldblatt brings along his camera to poor, coloured areas and to the tough mining districts where he photographs both white and coloured miners but also their bosses; as well as showing the contrasts in their living conditions, from the bosses' splendid villas to the simple barracks of their workers. He avoids any moralizing or lecturing though. Instead he lets the viewer make up his own mind.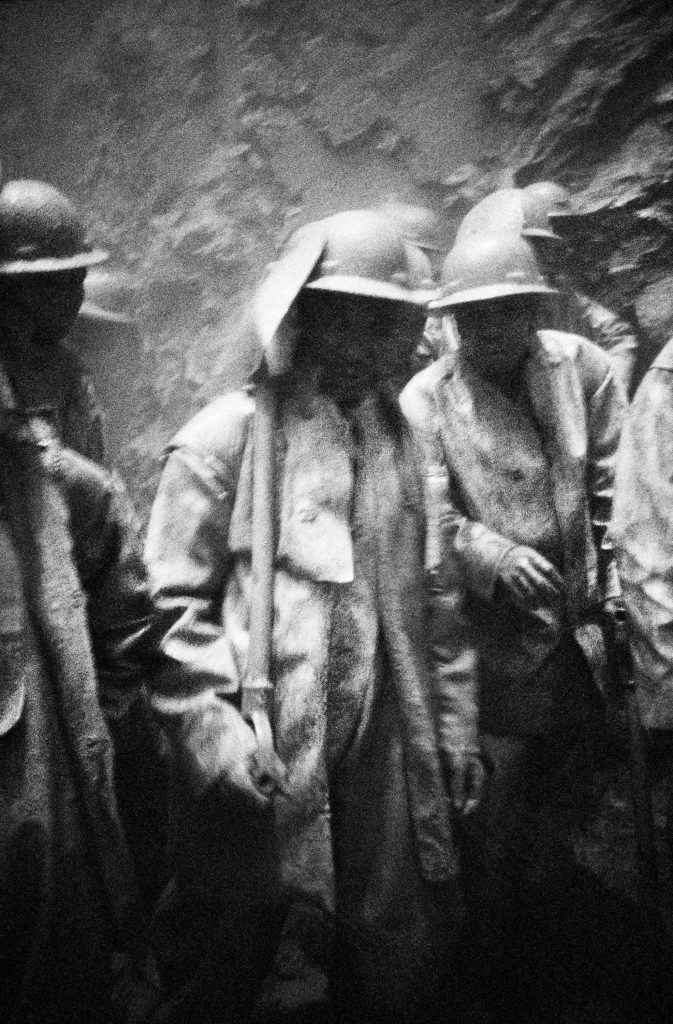 Sheltering behind his shovel from a stinging gale of grit as the shaft bottom is «blown over' by a man with a compressed air hose. Before drilling of holes for explosives can commence, the bottom must be cleared of grit and pebbles that might conceal sockets containing unexploded charges from the previous round of blasting. Copper is used for the nozzle of the hose so as to avoid sparks that might detonate the explosion of a «misfire».
June 1969
Gelatin silver print, 49,5 x 39,7 cm
David Goldblatt Archive
© David Goldblatt
Actual coloured photographs are mixed with his older black and white ones to expose what has changed and perhaps especially what still hasn't changed. We're made to observe for example a ramp where a black man has to back off because he's walking on the "white man's side". A contemporary picture exposes the same ramp that's still standing – as a memory of what shouldn't be forgotten.
From South Africa I made my way down to the lower floor of this enormous contemporary museum, to get acquainted with another kind of photography. A couple of younger men – also from Eastern Jewish families – use the art of photography to touch and engage the viewer.
Divine Violence:
is the name of Adam Broomberg's (born in 1970 in Johannesburg) and Oliver Chanarin's (born in 1971, in London) photographic installation. The photography here plays the role of the witness, more like a voyeur or a bully.
The artists were inspired by the German Bertolt Brecht's critical work. The writer, poet, pacifist and Marxist's book Kriegsfibel was used as a base for the photographic collage War Primer 2 where Broomberg and Chanarin have covered Brecht's horror pictures from WWII (he had cut out from various magazines) they found on Internet, taken from George W. Bush "war against terror". They show how these pictures are used to humiliate "the other" – i.e. the so-called enemy.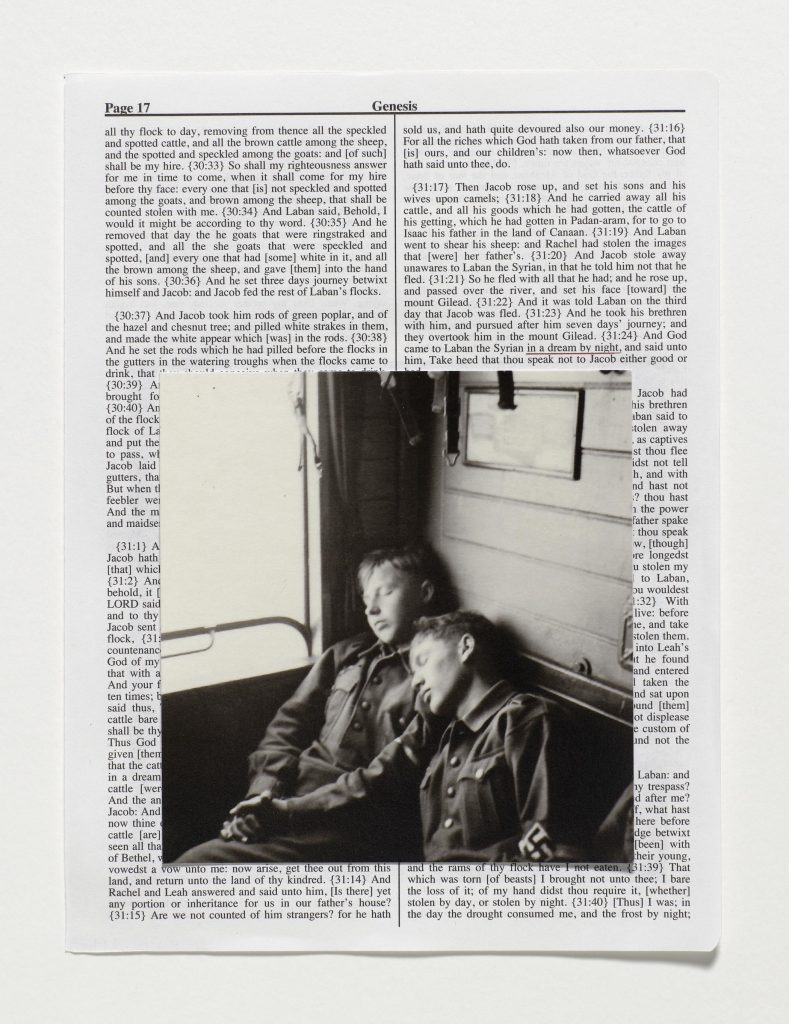 Divine Violence
Genesis
2013
Ensemble de 57 cadres contenant 724 feuillets Epreuve à jet d'encre pour les éléments texte et image © Broomberg & Chanarin, Adagp 2018
© Centre Pompidou / Dist. RMN-GP
The other series are inspired from the Bible that they found among Brecht's belongings. They have used the King James Bible to make their panels. Partially being raised with Bible studies, they have used the Israeli philosopher's, Odi Ophir, sarcastic words, describing the Holy Bible: "from the beginning nearly all His creations are catastrophic… catastrophe is His operative way, His foremost tool."
Divine Violence puts in relation two analogue systems: the violence described in the Bible and the one we see via media. The artists have carefully chosen photographs from the Archives of Modern Conflict, in London. Each panel is composed of Bible pages that make up one chapter of the Holy Book – some words have been underlined in red with actual pictures in relation to these glued on the respective pages. Several are ironic and all of them either enhance or rebuke the biblical text, as well as asking questions about the content of the actual visual view of the world compared to biblical catastrophes.
When asked about why they hadn't chosen the love message that also exists in the Bible, they showed me one of the panels that they pretended being more positive than the others. However even in that piece, I found it hard to experience anything uplifting.
Both photographers are present internationally and their collaboration helps them to feel very free in their work "through our differences, we nearly become anonymous for neither one of us is the true artist."
It's impossible not to get involved in those photographers' works; whether it's the South African reality documentary from a country far away and yet so present in our daily more and more polarized world. Or from the violence in the pictures of the world's on-going wars, used or using religion as a weapon.
Let's remember the lesson and think twice before we use our smartphones next time to take yet another picture to spread on Internet. What do we want to convey to the world? Hatred or love? Division or inclusion? Tolerance or intolerance? It's for us to choose and for the beholder to witness; the Fatherland maybe being nothing else but our own reflection of the world?
Anne Edelstam, Paris