The answer may be found at Musée Maillol, in Paris, where the collection is shown until the end of July. Follow me along a special journey where a man refuted his dark past and emerged anew.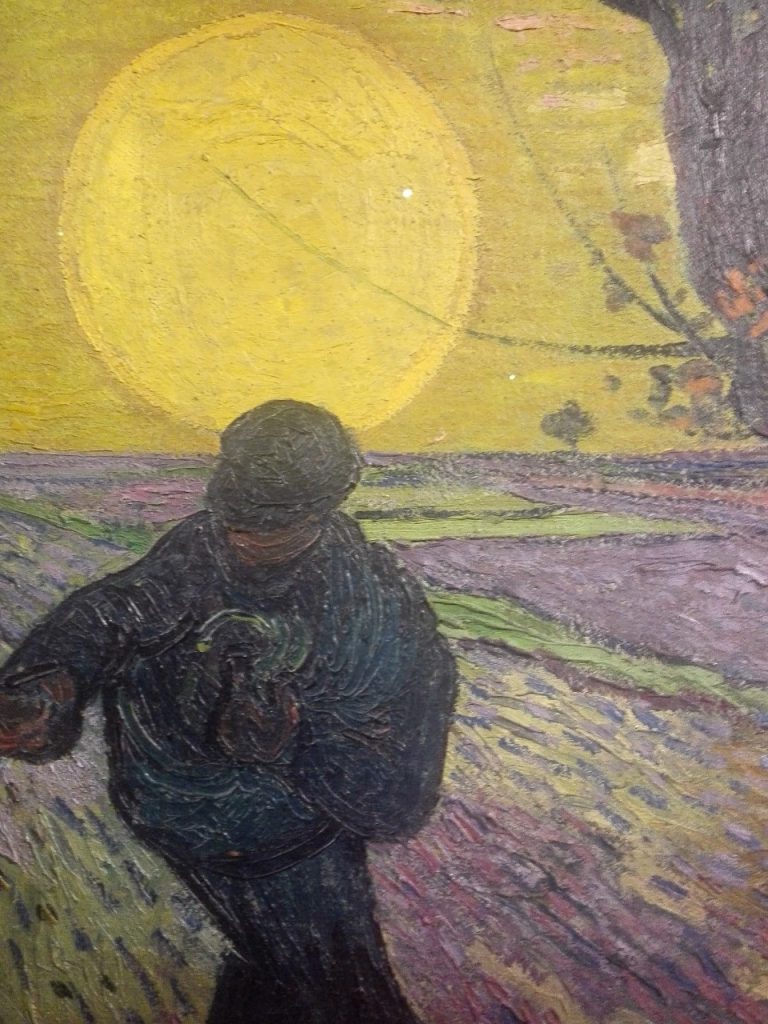 Van Gogh's lavender field
It's way too easy to blame "the other" for our own shortcomings. Emil Bühre (1890-1956) wasn't an angel and, just as Alfred Nobel, he made his fortune on war materials. This German who moved to Switzerland, was a canon merchant before becoming known as one of the foremost art dealers of the 20th century. It's the latter that I discovered in this private museum, a bit off the usual tourist hubs, behind the well-known art quarters of boulevard Saint-Germain.
Had he, as so many others, made up his collection of mainly stolen Jewish properties and bought cheap art works that the Nazis had confiscated from them? After WWII a Restitution Court was established in Berlin to try to identify the rightful owners and judge the culprits. A time-consuming job. Emil Bührle, whose interest in art stemmed since long before the war, showed however his good will and he restored the works of art that he had bought unknowingly that they belonged to destitute Jewish families. Some of which he then bought back from the rightful owners, which are shown in this unique exhibition.
For the first time some 60 works of art of the 600 pieces owned by what is now the Foundation Emil Bührle are exposed. It encompasses a historical width of diverse artists such as Manet, Monet, Pissarro, Degas, Renoir, Sisley as well as post-impressionists such as Cézanne, Gauguin, Van Gogh and Toulouse-Lautrec among others. The young art- and philosophy-student, Emil Bührle, discovered these artists already in 1913 and then decided that he'd try to buy as many as he could.
The visitors may for the first time discover such marvels as Vincent van Gogh's "chestnut trees in bloom" from 1890 and many others. However he also collected much earlier works of art, especially during the 1950s, when many people needed money to rebuild their lives after WWII and thus were willing to sell their paintings.
In the exhibition's two floors as well as in it's large ground floor, works from an art-group called the nabis – prophets in Hebrew – amongst whom Pierre Bonnard and Edouard Vuillard were the founders, were exhibited. Fauvists and cubists such as Braque and Picasso and some more ancient painters are also shown. I especially liked an 18th century Canaletto with Venice as its motive.
One may have all kinds of pre-conceived ideas about the wealthy in this capitalistic world of ours, but when their fortunes serve the public such as this unique collection does, then it's a gift to humanity. It doesn't end here either for the foundation delivers yearly prizes (the Bührle prize) to contemporary artists. If you miss the exhibition in Paris, you've got the possibility to see it from 2020 at the Modern Museum, Kunsthaus, in Zürich.
Anne Edelstam, Paris
https://www.museemaillol.com/