Easter week had just started when smoke emerged from Notre Dame – one of France's most important symbols. Thanks to the 400 firemen and 18 water canons that were quick to arrive, the Cathedral's structure and two towers were saved. However, its sceptre along with many inestimable art works, were lost forever in the flames.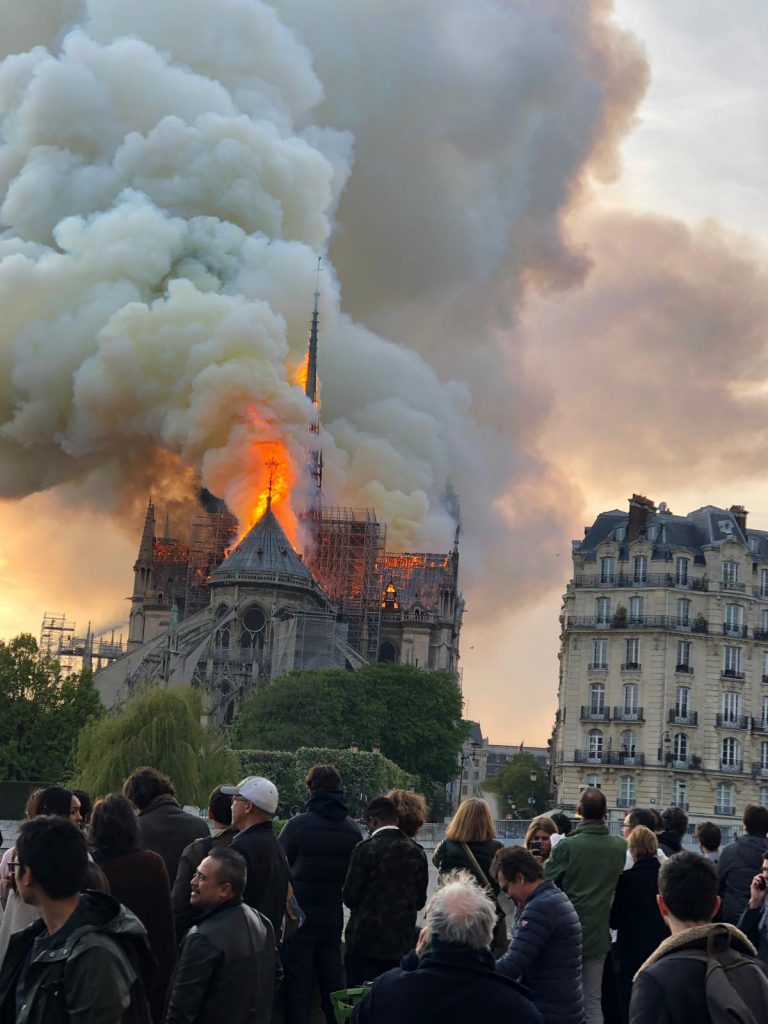 "The Lady", who had just celebrated its 856 birthday, has survived two world wars and much more, is on fire! That's what I heard as I was about to head out this auspicious day, April 15, 2019, a day that will be forever engraved in all Frenchmen's minds from now on.
Parisians as well as tourists were kneeling along the Seine, praying, as they watched one of their holiest places go up in flames, the sceptre fall taking with it a large part of the ceiling. It was like being in a war zone.
The entire area was closed off but I could get through later on thanks to my press card. The building continued burning until far into the night. According to the police present there, they prioritized the theory of a misfortune rather than a terrorist attack but nobody knew for sure. Michel Picaud, one of the overseers of the restoration works that had been going on these past six months, said "it will take a long time, if ever, to find out what really happened but it can have been a spark from the on-going works that set off the fire".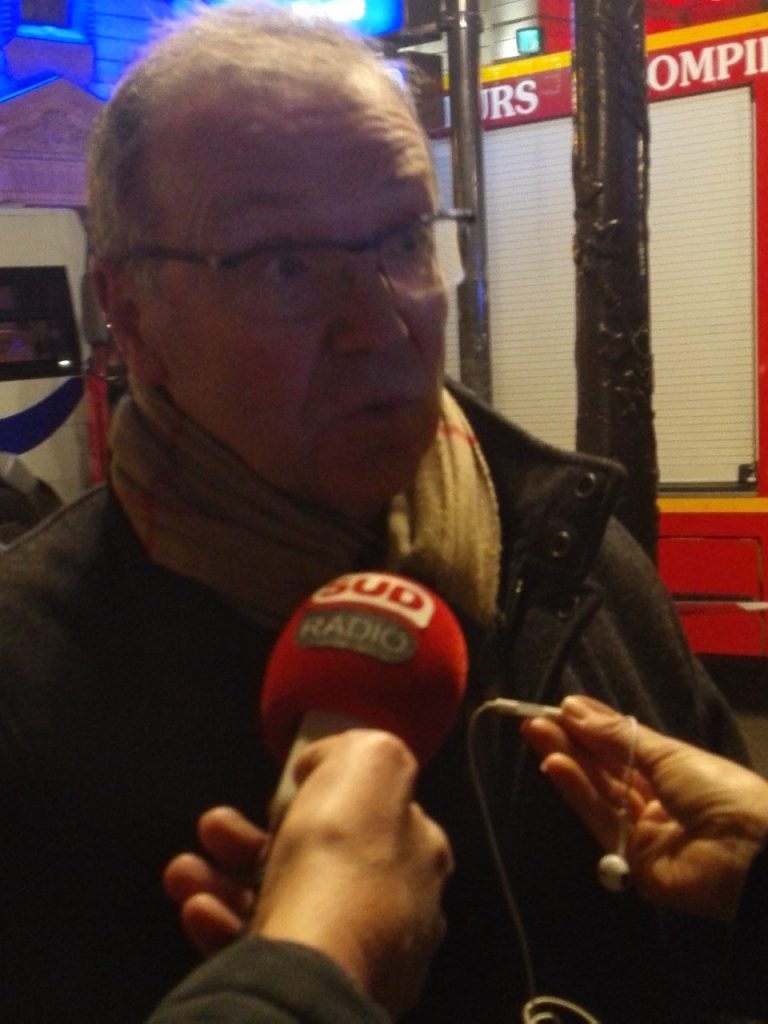 Michel Picaud
The Medieval Cathedral took 200 years to build and had among others Jesus crown among its treasures that they managed to save. The Cathedral is a symbol for all Christians but also for all of France. "The forest" was the name given to the unique tree pillars that held parts of the roof up. It burnt up entirely as well as many paintings.
French President Macron who was supposed to speak to the nation after months of "yellow vests" demonstrations, that same evening, cancelled his speech. Instead he came to Notre Dame and talked to the nation from there:
"This is a terrible tragedy. I want to thank all the firemen who've done a fantastic job. The worst is now over even if the consolidation work continues. The main structure, as well as the two towers, has made it. To all the Christians I want to say that I'm with them and understand their sorrow. This isn't only Parisians pride but also France's epicentre, its literary and artistic cradle. This is our history that's burning. I understand the grief of my people but I still want to instil some hope and I promise you that we'll rebuild it – all together. Already tomorrow, I shall see to it." The President was obviously very moved and struggled not to cry.
One of the witnesses I interviewed told me that he saw everything from his roof: "I'm a fervent Catholic and I ask you all to pray for us here in France. This Cathedral represents Virgin Mary, on top of the symbolism it represents for all Frenchmen, believers or not believers. I'll stay awake to pray all night."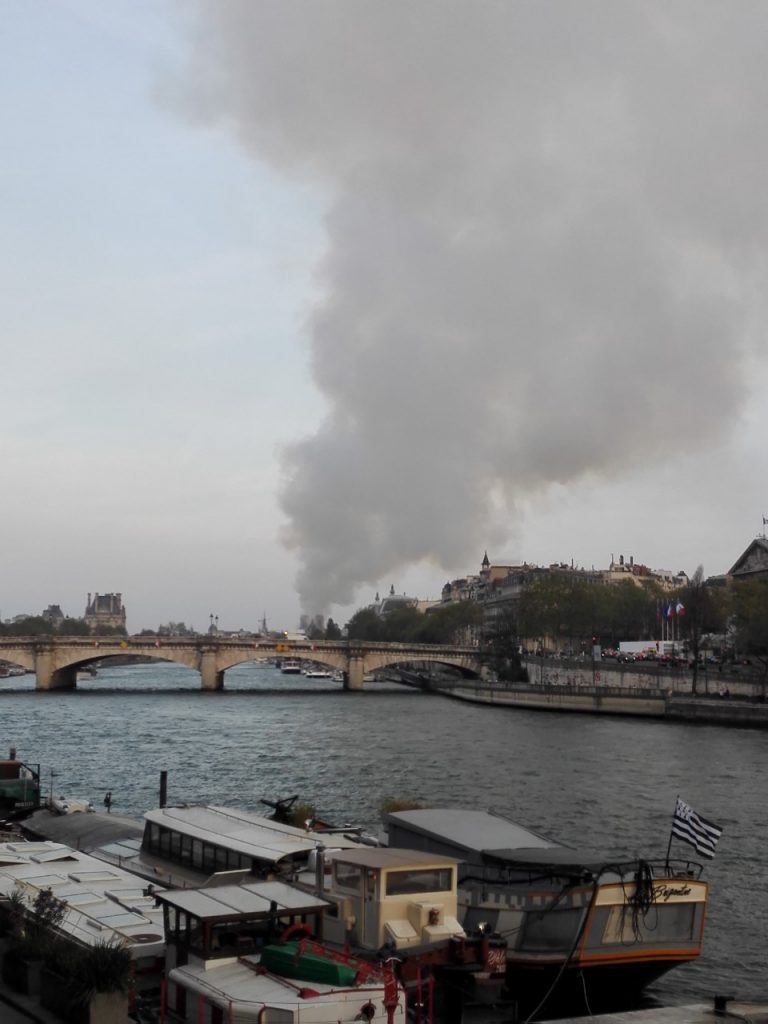 View of the burning Cathedral from the bridge Alexandre III
To restore the "Lady" – which officially belongs to the State – heavy finances are needed, money that the government doesn't have. Luckily the donors are very generous and more than one billion euros have already been amassed. Sums that irritate the "yellow vests" who think that that money could have been used to help inhabitants in need, schools, hospitals etc. instead.
However everything isn't about money, as I discovered in one of my favourite literary programs on French television where they had, in the last moment, changed their program to invite people who had written about Notre Dame in their books. There was among others Ken Follett who flew in from London, the French philosopher, Alain Finkielkraut, the historian Adrien Goetz and François Cheng; not to mention the late Victor Hugo and his book Notre Dame de Paris turned into a movie. That book was within 24 hours totally out of stock and had to be reprinted. Most of the sales of the book go to the restoration of the Cathedral. The authors talked about the importance of culture, literature, beauty, art, poetry… That's what I love about Frenchmen: their love for art!
The basis of the Cathedral is however the Christian faith and one thing is certain: Easter won't be the same this year. However with all the scandals that have shaken the Catholic Church lately, this fire is maybe a historical symbol over a time long gone, both in the form of a building and an epoch? The essentials weren't damaged, such as the Cross of Christ or the statue of Virgin Mary. Might there be a lesson of humility here?
These last months' trials with the destructions at the Champs Elysées, Arc de Triomphe and now Notre Dame, have been quite heavy for the Parisians. The French are crying their lost patrimony and we with them! Let's pray for a tranquil Easter.
Anne Edelstam, Paris