Hammershøi isn't a painter that the French are familiar with. This spring however, they can discover this "Nordic Vermeer" as he's also called and be mesmerized by this unique artist.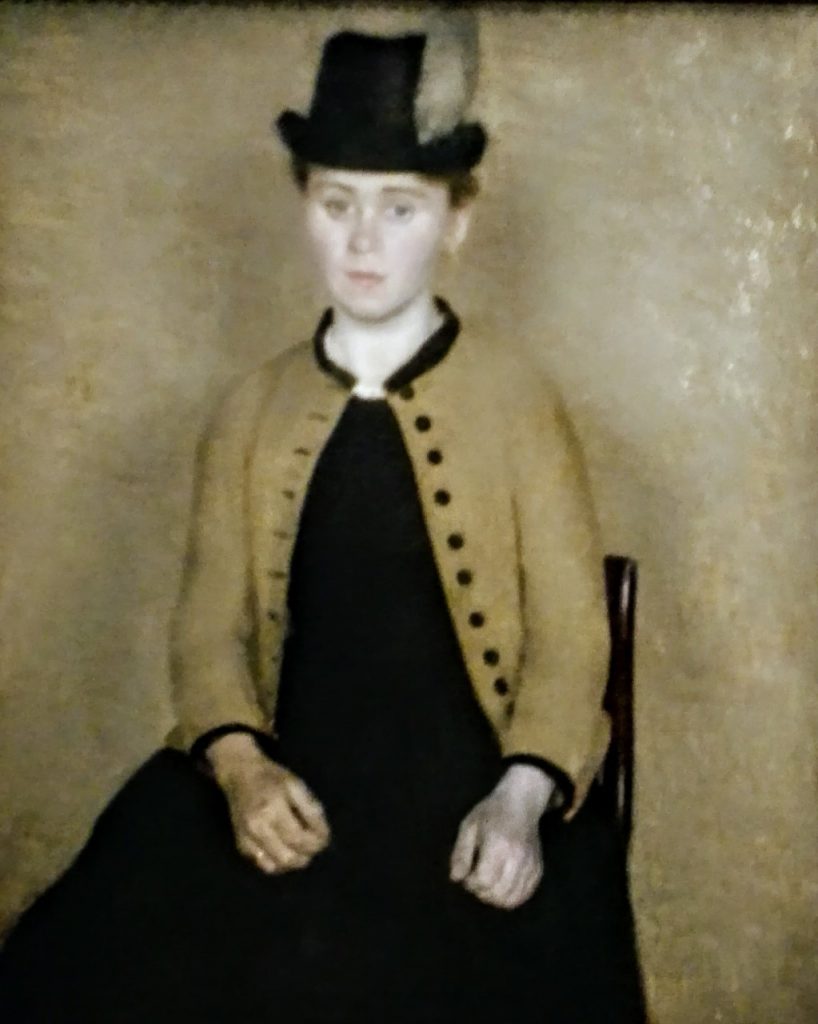 Portrait of the artist's wife, Ida, 1890
By the share length of the line to get into this ancient palace turned into a museum, Jacquemart André, one understands the interest for this exhibition. The French are learning to appreciate our Nordic ways – including our bloodthirsty thrillers and gloomy Bergman movies. Now they're invited to discover one of Scandinavia's most well known but also rather melancholic painter. They must think that we Northerners live in a rather gloomy world, but a world that apparently fascinates them.
Vilhelm Hammershøi (1864-1916) became renowned already during his lifetime but was then forgotten until the end of the 20th century. This retrospective helps to revitalise him. Several paintings have been borrowed from Sweden. The tones of grey, the loneliness, the simplicity of his art immediately struck me. It reminded me of Edward Hoppers' paintings where one meets a similar loneliness but using a different, more colourful pallet. The white/greyish tones that Hammershøi uses belong to the Danish dreary winter weather. While Hoppers warm colours belong to the American South. Both artists, however, depict a boredom and melancholia that maybe they both experienced?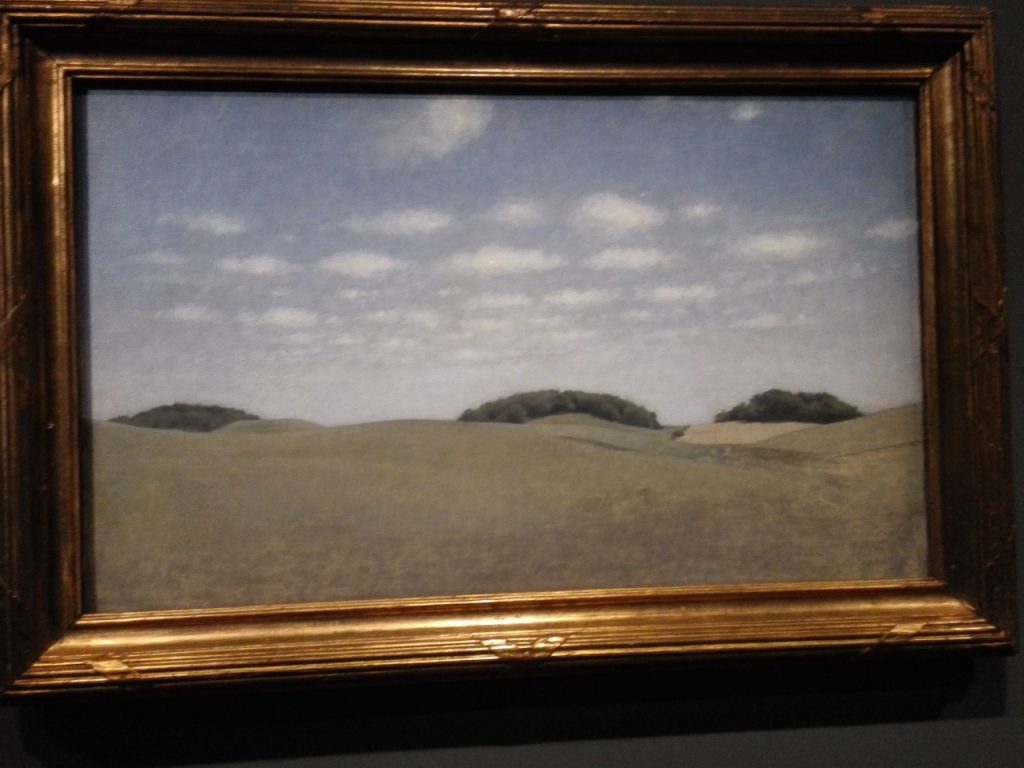 Leyre, 1905
Upon entering the exhibition at Jacquemart André, it felt like stepping into Hammershøi's intimacy, into his own home. I tried to understand his mysterious inner world through the forty works of art that are shown. In the first room, I met several of his family members, portrayed with neutral backgrounds and absent looks.
His specific style, different from his contemporaries, marks an artist that intends to go his own way! He must have been very daring and sure of himself since a young age. He was definitely modern before his time.
His first exhibition in 1902 was considered scandalous. "Five portraits" for example, show some of his closets friends, sitting around a dining table, dead serious, in a sinister dark room without talking, empty glasses standing in front of them. Others are portrayed as reading, alone or seen from the back through an opened door in a room nearly devoid of furniture. His wife, Ida, often posed as a model and we can observe her in several paintings, mostly seen from the back, her hair tied into a bun, showing a tender and soft neck. One of the few signs of gentleness.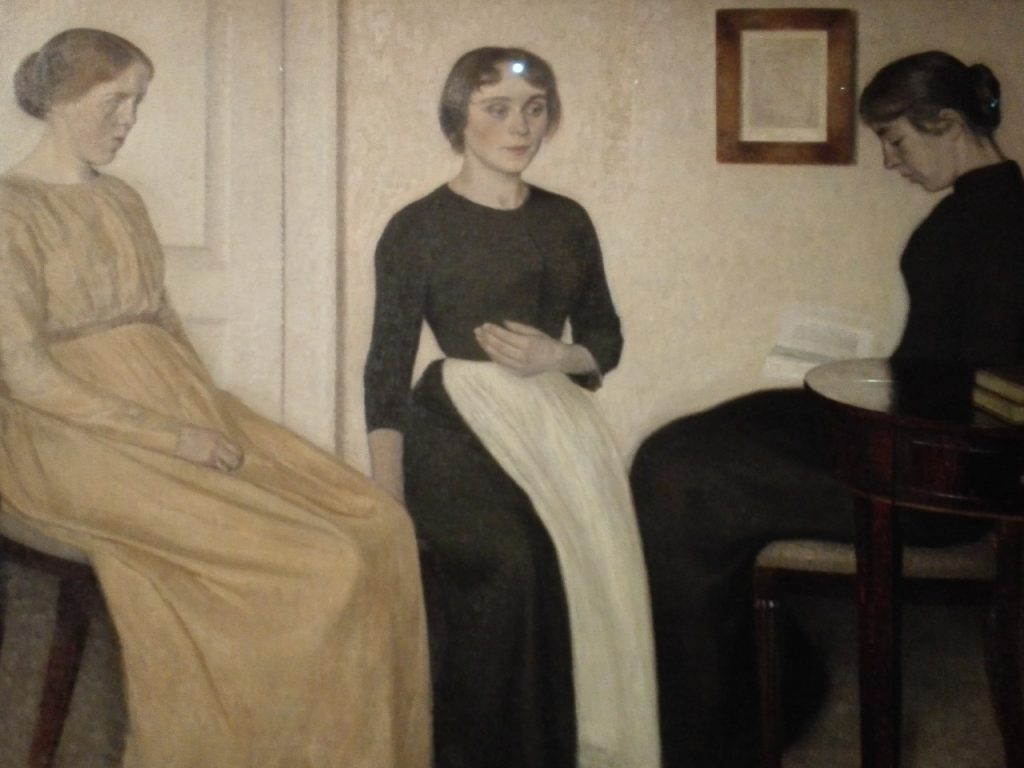 Three young women, 1895
Even his paintings of landscapes are bare – with immense skies painted in similar dull colours – without trees or people. Just as his urbane architect paintings. They're like phantom cities, deserted. His nudes are simple. The women's faces are diffuse. Their bodies aren't beautified but are shown in similar white/grey tones without any artefacts. It's liberating to see women painted as we mostly look like and not overly eroticized which was usual at the time.
I couldn't help but feel a bit like a voyeur when roaming around his apartment, poking into his and his wife's everyday life. It's obvious that the home environment inspired him, which is unusual for a man living in the end of the 19th and the beginning of the 20th century when the home was mostly the domain of the women.
Despite the gloomy colours and lonely people, landscapes and unban depictions, Hammershøi's works of art didn't make me feel melancholic. It was restful to slowly roam around the rooms and realize that one doesn't need that many impressions at the same time but that simplicity carries its own beauty. That's maybe what we need in our time of multiple inputs. Instead this is something soothing to cling to. So if that's what you're longing for, I encourage you to go and see this unique exhibition.
Anne Edelstam, Paris