An innovative way to discover art, through sound and light, is spreading in France. It started a few years ago in Provence's low mountains, Les Alpilles, situated in the South. This innovation is lately also making a buzz in Paris.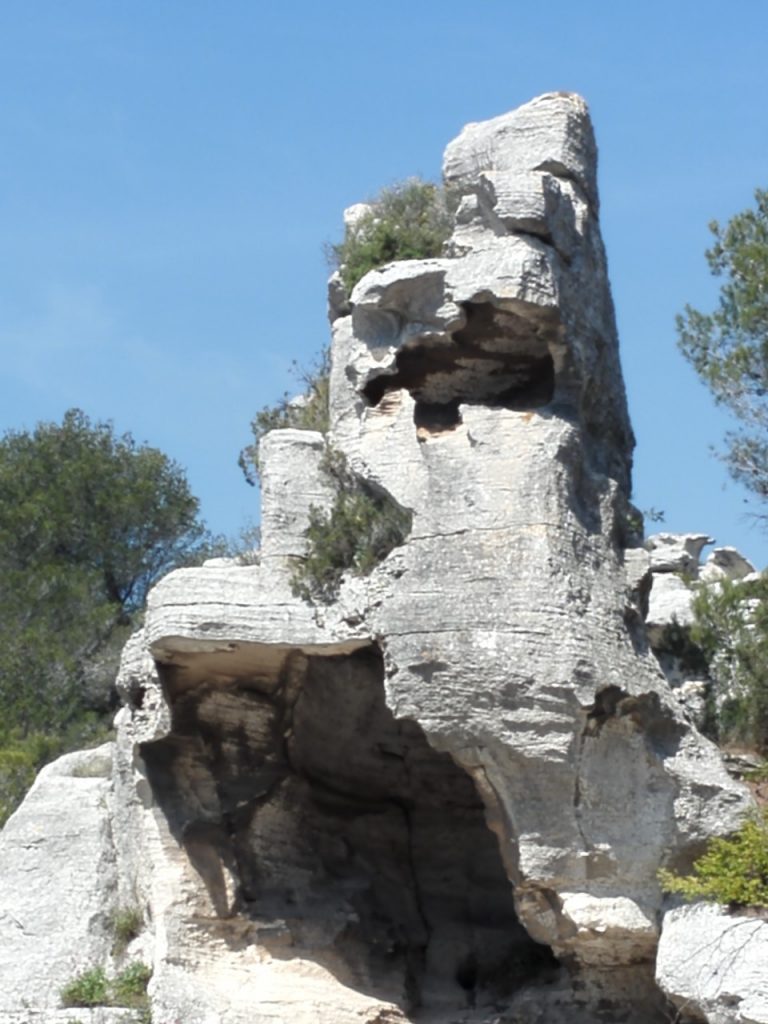 Quarry in Beaux-de-Provence
Les Baux-de-Provence:
Is a village situated not far from Aix en Provence and close to St Rémy de Provence – a typical village with its narrow streets, bistros, local products – an area tourists from all parts of the world appreciate. The nature is wonderful with its mountainous formations, olive- and almond-trees, mimosa, vineries and treks.
What distinguishes it, are the deep caves – where people settled already some 6 000 years B.C. Lately, the village, classified as being one of the most beautiful ones in France, mostly attracted artists such as Vincent von Gogh, Jean Cocteau and Pablo Picasso. This asset was taken into consideration when establishing these fantastic interactive art scenes in one of the abandoned quarries.
                        Flower power in the 6os
Carrières de Lumières/Sound & Light quarries:
Culturespace founded, in 2012, the project AMIEX@ (Art & Music Immersive Experience) with a colourful exhibition called "Gauguin, Von Gogh, the colourful painters". Since then, different artists have been presented on the white-stoned walls yearly.
From March 2018 – 6 January 2019, Picasso & The Spanish Masters are exhibited. Moreover, in order to celebrate the 50 years jubilee of 1968, a blink towards the "Flower and Power" times with its psychedelic 60s pop music was set up.
I walked in to the enormous quarry that has been closed since 1935 when cement and steel where discovered to be cheaper than cutting stone off the mountains for the building industry. The quarry is made in such a way that the visitor walks through "rooms" up via a ramp to a higher place from where I got an excellent overview of Danny Rose studio's eccentric sound & light. I discovered the hippie times with all its art forms, graphic and rich universe, flowers and slogans – accompanied to music by Beatles, Sgt.Pepper, Jimmy Hendrix, Rolling Stones, Simon & Garfunkel and the Beach Boys.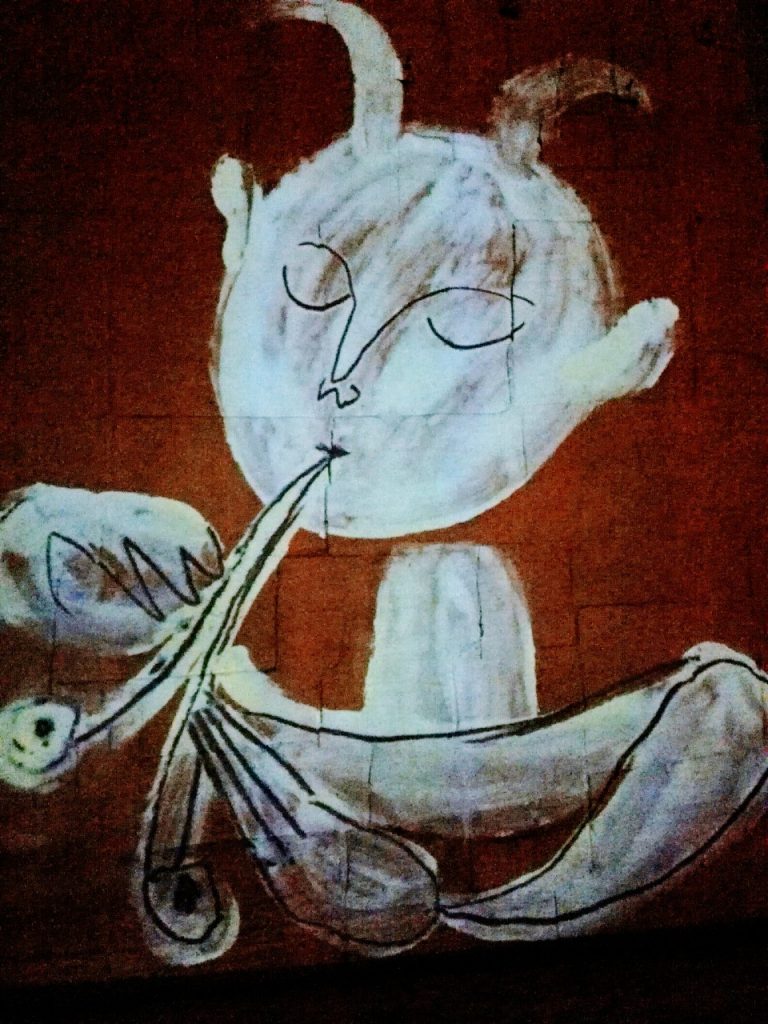 Pablo Picasso The Boy
The cross-over to the Spanish Masters, Pablo Picasso and classic music felt smooth thanks to the incredible scenography with close-ups of details of their works, aligned to fitting music. From royal portraits, to Francisco de Goya's (1746-1828) country side, to be continued with Santiago Rusiñol (1861-1931), Ignacio Zuloaga (1870-1945) and Joaquin Sorolla's (1863-1923) realistic style.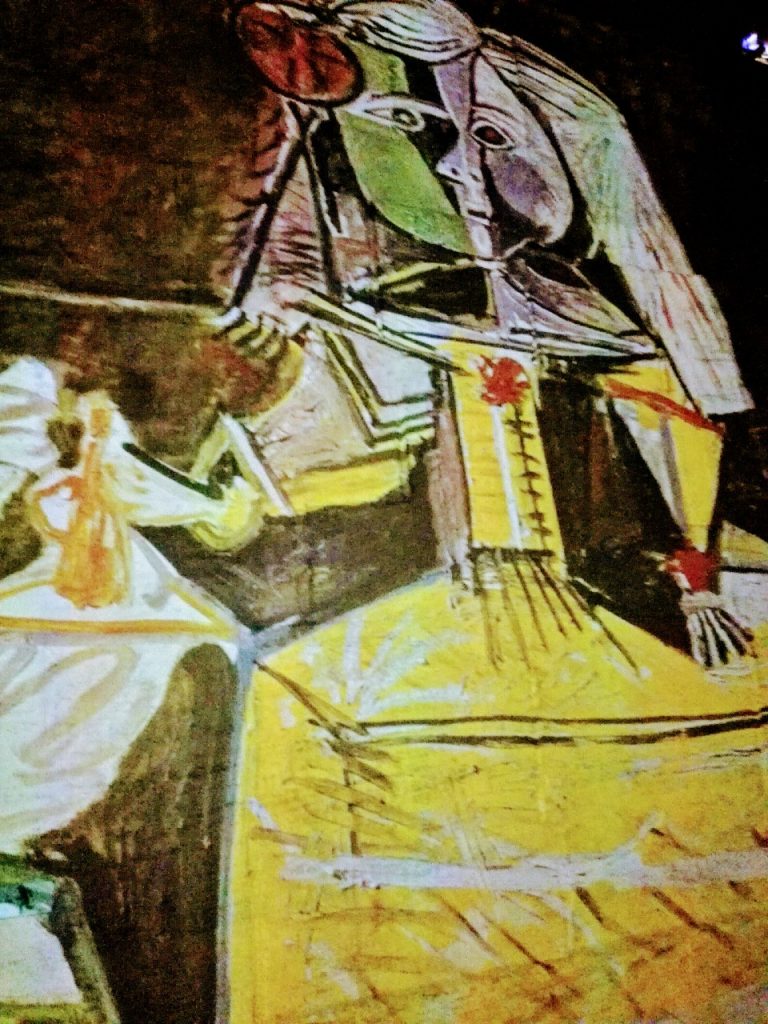 Pablo Picasso (1881-1973) distinguished himself from his predecessors by his cubistic style. Guernica, his famous work depicting the civil war in Spain, was especially targeted with several blown-ups of horrific details that reminded me of scenes from war-torn Syria or Yemen that the media feeds us with on a daily basis.
For the first time, Paris Atelier des Lumières, has taken up a similar idea as Provence sound & light shows. In a former foundry, the artists Gustav Klimt and Egon Shiele are shown (http://www.atelier-lumieres.com/fr.gustav-klimt ). Visitors are queuing up to experience this innovative way of viewing art.
All ages and classes can appreciate this manner of seeing art as it doesn't require literacy or any previous art knowledge. So if you can't make it to Baux-de-Provence, you can now experience a similar show in Paris and maybe soon elsewhere in Europe as well? Don't miss the opportunity!
Anne Edelstam, Paris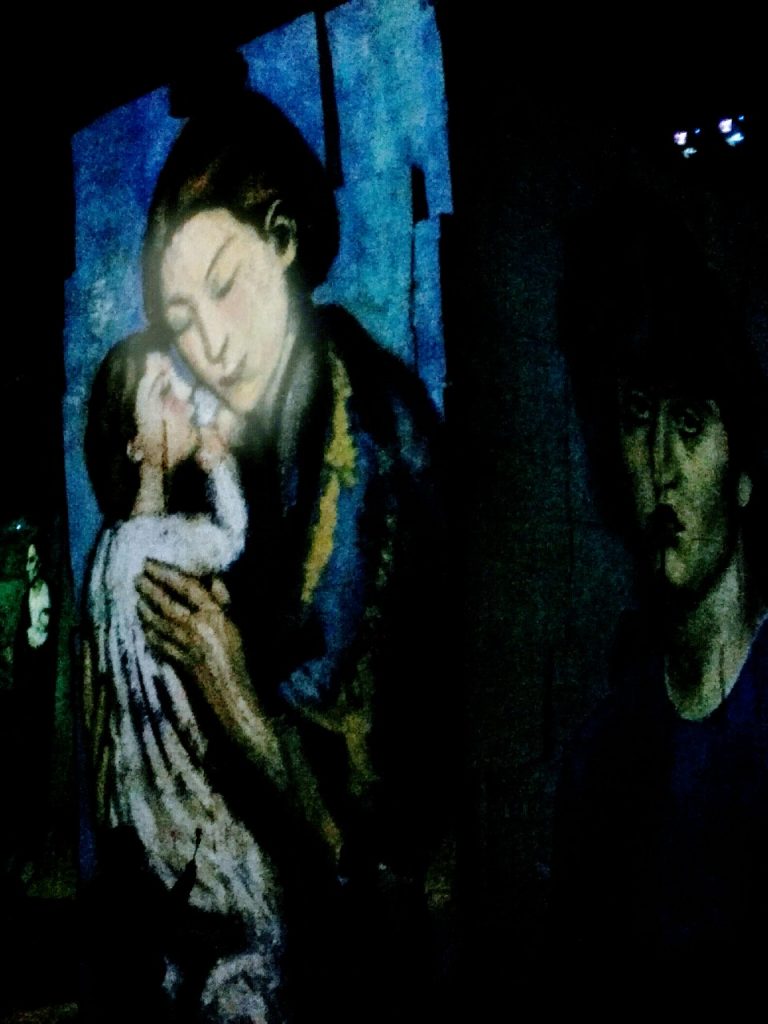 Picassos blå period